Simplifying Process and Regulatory Compliance via Process Automation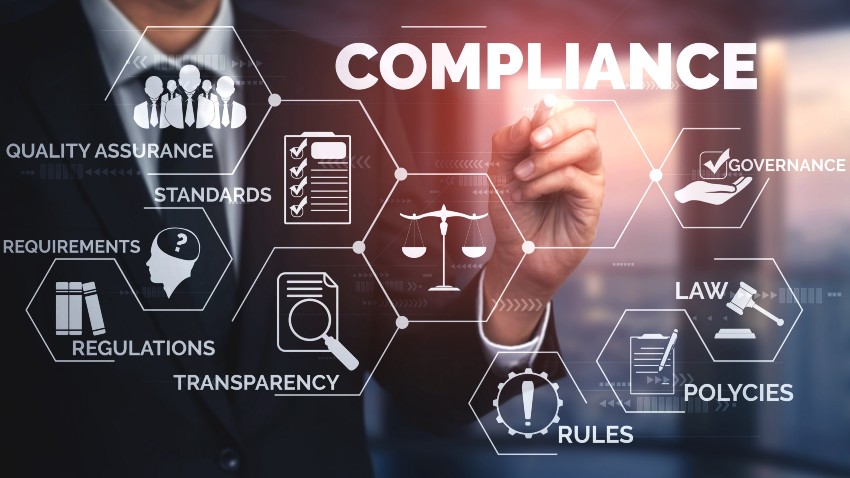 Complying with regulatory policies and labor laws is regarded as a top priority by most organizations. Non-compliance can affect the business adversely by throwing business operations out of gear. Moreover, companies can run into legal issues when the processes are not compliant with regulatory requirements or labor laws.
Staying updated on regulatory laws and ensuring process compliance is a labor-intensive process when done manually. Automating the repetitive admin activities of process compliance gives the compliance team a breather and lets them focus on more strategic activities. Read on to understand what process compliance entails and how automation can make the compliance process more effective.
What is Process Compliance?
Process compliance may be defined as the regulation and maintenance of industry standards and guidelines. Understanding the meaning of compliance in business is vital for smooth business operations. Regardless of the industry, the compliance function is responsible for ensuring that the company's policies and procedures are designed to comply with the internal policies, applicable laws, and regulations, and ensuring that those policies and procedures are followed. When we say a process is in compliance the meaning is that the processes are compliant with the regulations, standards, and legislations.
Most organizations have clear guidelines and standards relating to the execution of their business processes. Some of these standards are in reality laws and regulations, and failure to comply with these results in severe penalties or even jail time for company officers. Some compliance examples include:
• ANSI – American National Standards Institute
• ISO – International Standards Organization
• HIPAA – Health Insurance Portability and Accountability Act
• SOX – Sarbanes – Oxley Act
• Others – industry-specific guidelines
As the required regulations, standards, and legislation are ever-increasing, it becomes challenging to maintain or become compliant for a business. In growing organizations, processes and compliance become more complex due to the increasing complexity of international guidelines.
For example, SOX legislation covering IT, compliance guidelines are not the same thing as Germany's Deutscher Corporate Governance Kodex. International organizations, therefore, must be aware of and prepared for the compliance requirements of the country in which they operate. Compliance procedures get even more complicated in countries where each province has its own compliance standards.
In order to address the complexities of process compliance management, organizations increasingly turn to specialized software or consultancies that simplify their work. The main responsibilities of the compliance team headed by the Chief Compliance Officer (CCO) are to maintain process compliance and clear compliance audits.
The terms and guidelines of compliance audits are not static, they vary on factors like industry, size, data, and other circumstances. Although setting up compliance guidelines is an elaborate process, once guidelines are set they can guide/train the entire organization to maintain compliance with processes across business functions. When the business functions across the organization adhere to compliance regulations, they are audit ready at all times.
What is a Compliance Procedure?
Compliance policies and procedures are the foundation of any compliance program. The compliance policy and procedure documents can be used as a reference by organizations to ensure that applicable laws, regulations, and standards are followed by the organization.
Common Compliance Issues
The scope of compliance professionals' purview continues to expand as corporate boards and executive leadership teams need to deal with new threats and pressures due to changes in the compliance function. Compliance professionals also need to make sure that the decisions they make are business-friendly with as little impact on revenue and growth as possible. Some of the compliance issues that need to be addressed by compliance issues are:
External issues
External issues like Sarbanes-Oxley, the Gramm-Leach-Bliley Act, or ISO standards require in-depth knowledge so that they work well for the organization. They also need to educate and re-educate their employees about these standards/regulations.
Internal issues
managing internal issues like change management, training, and reporting can be challenging for compliance teams. The team also needs to focus on building a compliance culture for monitoring and auditing business processes.
Industry changes
Constantly changing industry processes cause policy amendments and additional risks for the organization. Engaging external consultants for improving the efficiency of the compliance function requires follow-up even after the consult is completed.
Need for Process Compliance
Compliance professionals are under the constant pressure of having to ensure that all processes are operating by the rules/regulations laid down by the legislature. The compliance management team needs to stay on top of internal and external regulations that guide business processes. In addition to getting into legal issues due to non-compliance, there are other reasons why process compliance is a must for organizations.
Building and maintaining trust
In order to build trust-based long-term relationships with various organizations or individuals, they need to show their commitment and responsibility. How can organizations build and maintain trust? By playing by the rules! Organizations that follow established and standardized operations and also ensure that all the staff is trained to follow regulatory procedures can be successful in establishing long-term business relationships.
Compliance regulations are essentially the rules that guide the conduct and operations of a business. Efficient compliance management is key to building successful business relationships.
Mitigating the risk of reputation damage
The reputation of a business is in the way it interacts with external entities like clients, vendors, partners, etc. Not having a standardized and compliant operating procedure breeds unpredictability with external relationships. Even a single compliance error may result in a loss of reputation for an organization. Without proper compliance management measures, an organization risks operating outside the rules which may result in reputation damage.
Shaping organizational value delivery
The brand value of the organization is closely tied to the value it delivers to its customers. Having process compliance procedures in place helps shape the brand guidelines that regulate operations and define the brand experience. Having such guidelines is one thing and ensuring team members or employees follow them is another thing. Ensuring high-quality delivery requires clearly defined compliance guidelines for operations and branding.
Improving consistency and reducing errors
When the decision-making process is not based on clear compliance frameworks, it is random and prone to inconsistencies. Compliance enforces standardization in business processes, which in turn reduces the chances of unforeseen errors and inconsistencies. The majority of the risks faced are internal rather than external. Given this, compliance procedures are extremely useful in exposing these risks before they cause irreparable damage to business performance.
Handling cyber threats
In the age of digitization, there is an increasing threat of cyber data theft or misuse. Organizations that work predominantly in the digital space need to ensure that all their operations are as per digital compliance terms and conditions laid down by the telecommunication department in their area of operations.
It is evident from the above points that the need for process compliance is greater than ever before. With digitization disrupting almost every industry, the need for organizations to comply with regulatory requirements is a necessity. Organizations need to have a robust compliance management team in place and empower them with updated compliance management tools so that they stay compliant at all times.
Various Process Compliance Standards
To understand process compliance, you need to first understand various compliance standards that tend to affect businesses. Process compliance is mainly categorized into internal and external compliance.
Corporate Compliance
This is also referred to as internal compliance. Adherence to all the protocols, rules, and codes of conduct that a business implements is referred to as corporate compliance. Keeping track of workplace industry standards, scheduling regular internal audits, and conducting regular employee training are ways of ensuring corporate compliance.
Regulatory compliance
This is external regulatory compliance that is governed by legislation outside the organization. The set of practices and regulations that an organization must adhere to include data and privacy compliances (HIPAA, COPPA, GDPR, etc), quality management regulations (ISO 9001), and employment regulations (FMLA and OSHA).
The other types of compliance standards are listed below:
Financial compliance
Being financially compliant means that the process meets all the necessary rules and regulations laid down by the industry, nation, and other regulatory bodies. To be financially compliant, organizations need to maintain detailed records, invoices, and receipts, that are able to provide evidence of payments when asked for. The rules and regulations for financial compliance are constantly changing.
IT and data compliance
Online compliance in areas like IT security and data protection is relatively new. The recent General Data Protection Regulation (GDPR) laws aim to control how companies use and protect their customer's data among other things. Some of the other compliance standards designed to protect personal data are SOX, PCI DSS, HIPAA, FISMA, and FedRamp. These are only some of the most common regulatory standards, there are many others that may apply to your data.
Health and safety compliance
Concerns about health and safety compliance are important for organizations because it directly relates to how safe and secure the physical workplace is. Any mistakes or inconsistencies in this area can lead to accidents and even loss of life, in addition to legal or financial complications.
Legal compliance
Legal compliance is a term used to describe overall compliance in an organization. Contractual compliance and abiding by the rules set out in an agreement are considered legal compliance.
End-to-end workflow automation
Build fully-customizable, no code process workflows in a jiffy.
Compliance versus Risk Management
Compliance and risk management are two distinct functions that are unified by one risk management strategy. A risk-based approach is a common risk management strategy in highly regulated industries that facilitates compliance while mitigating other risks. Process compliance protects the organization from regulatory risks caused due to exposure integrating control activities with day-to-day job functions. Risk management is based on risk analysis for protecting organizations from threats that arise from a wider variety of sources by prioritizing threats that harm the organization.
Risk management is the program an organization implements to help it identify and avoid unwanted risks. Risk management has a broader scope than corporate compliance, it encompasses an enormous range of risks many of which will not have anything to do with non-compliance.
For example, businesses want to avoid the risk of hackers in their IT systems stealing valuable intellectual property, this is more of a business imperative than a legal implication. And risk management programs can take any form.
| Activity | Compliance management | Risk management |
| --- | --- | --- |
| Day-to-day management | Integrates known regulations that apply to your business into day-to-day practices | Uses analysis to determine risks that are worth taking and mitigations worth implementing |
| Prescribed vs predictive | Focuses on specific tasks or outcomes a business must manage to remain compliant | Focuses on impact and likelihood the risks have on the business |
| Tools/software | Rely on tools like risk assessment, policies, and procedures, testing, documentation | Rely on tools like policies and procedures, risk assessments, internal controls, reporting |
| Usage | Exists in the second line of defense for helping senior management guide the operating function and the First line of defense | Exists in the second line of defense and in the First line of defense to achieve the company's objective |
| Operating state | Requires the same state of operation that relies on automated preventive controls | Requires the same state of operation relying on automated preventive controls |
Is it possible to integrate compliance and risk management? Most of the elements of compliance and risk management can be integrated. However, there are some elements that must remain separate.
Compliance and risk management can be combined in the following areas:
Risk management
Instead of conducting separate assessments for compliance and risk assessment, the two functions can be combined into a single enterprise risk assessment. Compliance risks along with other risks can be combined.
Third-party oversight
The focus of compliance and risk management is to detect any trouble caused by third-party stakeholders. All the third-party risk concerns can be consolidated into a single comprehensive due diligence exercise.
Internal controls
Some internal controls serve multiple purposes by reducing both compliance risk and other enterprise risks. Compliance and risk management teams can collaborate on reviews and remediation of internal controls.
Automation and Process Compliance
All organizations can benefit from having an automated compliance management system. Having an automated compliance management system protects the business from compliance risks. From startups to large Fortune 500 companies, it pays to have policies and procedures that are designed specifically to help businesses comply with internal and external regulations.
To make a decision on automating compliance management, businesses need to understand the benefits of compliance management. The straightforward advantages of automating compliance management are time and money savings, and a reduction in human errors and biases. The other advantages of automating the compliance management function are:
• Frees up workers to focus on more meaningful tasks
• Makes workers more productive and creative
• Facilitates seamless communication between systems
• Eliminates errors and inconsistencies
• Improves accuracy and consistency of compliance management
How to go about automating process compliance?
Embracing workflow automation helps enforce process-level compliance. Automating the compliance management process improves compliance strategy, planning, and training. Not all compliance tasks are up for automation. How does one make out which process is suitable for automation? The below-mentioned 4 elements must be present in the process for automation:
• Structured information collection
• Rule-based routing and notifications
• Process Transparency
• Self-generating audit trails
Capturing required information is one of the most important steps in automating process compliance. This information is captured through emails or spreadsheets, or other loosely structured formats. Lack of structured information results in costly rework or critical decisions based on incomplete information. Automated compliance management used interactive forms to capture data from employees. Using standardized, consistent online forms to gather information ensures that data is compliant and processes are more efficient.
Automation of compliance management provides standard and actionable data for the users. Drop-down lists, radio buttons, and field-level validations are provided by the automation software. Exception handling is another advantage of automating compliance management. It is important to recognize and handle exceptions appropriately. Automation routes tasks and information based on the data provided in the forms, so that information does not fall through the cracks.
Automation of compliance management enables a positive user experience. An automated compliance management software includes skipping logic and data lookups that make forms straightforward and smart. Rule-based routing and notifications ensure that everyone involved is sure of their roles and responsibilities. Automating the hand-offs is required for faster and more efficient approvals.
Cflow is a no-code BPM software that can be used for automating compliance management among other business functions. The visual form builder can be used to create workflows within minutes. Workflows can be customized according to the requirements of the business.
Conclusion
This blog talks in-depth about the meaning of compliance in business and the importance of automating process compliance. The benefits of using an automated system to ensure compliance are numerous. Businesses need compliance software that is built around the above-mentioned points. Cflow is a workflow automation software that brings insane levels of customization into workflow automation. The business can stay ahead of compliance regulations and policies by adopting workflow automation software like Cflow.
To explore the features of Cflow, you can sign up for the free trial today.
What would you like to do next?​
Automate your workflows with our Cflow experts.​
Get your workflows automated for FREE
---