Automated Support Ticket System – The Safest and Reliable Route to Exceptional Customer Service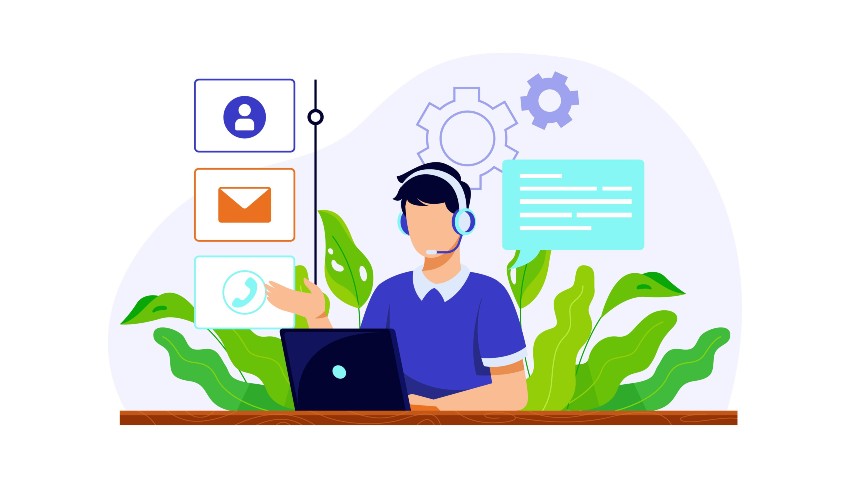 Exceptional customer service does not happen overnight. It requires careful planning and a streamlined support ticket system that can handle support tickets efficiently and effectively. Having a customer support ticketing system in place helps businesses track, manage, and resolve customer issues with ease.
A modern support ticket system must facilitate collaboration, minimize errors and inconsistencies, and deliver exceptional customer service. If you are looking for a solution that fits the bill perfectly, then this blog is for you. From what is a support ticket system to best practices in help desk ticketing to top 5 support ticket systems for 2024 – we have covered all these points and much more in this blog.
Challenges in Handling Customer Support Tickets Manually
In a manual ticketing system, tickets are assigned through the manual selection of an agent to resolve an issue. Not only is manual assignment tedious and error-prone, but it is also time-consuming. Managing IT tickets manually is one of the most common mistakes made by the IT help desk. Here are some of the challenges faced by the IT team while handling support tickets manually – 
Long response times
Manual ticketing systems make the customers wait too long to get their queries attended by and resolved. All customers expect their queries/complaints to be handled on high priority. Customers expect an instant reply to their questions through whichever communication channel they choose. People hate waiting, especially when they are in trouble. Manual ticketing systems take way too long to respond to and resolve customer queries/complaints. 
Inefficient ticket management
Given the volume of customer support tickets that the customer support teams need to handle on a daily basis, it becomes extremely challenging to track and categorize support tickets. Improper tracking and categorization of tickets, they can get lost in the shuffle or not receive the attention they need. Moreover, inaccurate categorization leads to delayed resolution times, frustrated customers, and an overall decrease in overall satisfaction. 
Inadequate training for Support Agents
Handling customer tickets efficiently requires a good amount of training and dedicated resources. Only when customer support representatives are trained adequately, can they handle complex issues and provide satisfactory solutions to their customers. Manual ticketing systems involve a lot of effort to handle queries, which leaves very little time for training support teams. 
Non-compliance to standards
The human resources ticketing system is ridden by human bias. Non-compliance with standards and policies is the result of this bias. Help desk professionals fail to follow standard procedures to ensure consistency and quality in customer service. Deviating from standard procedures can lead to mistakes and inconsistencies. Manual ticketing systems are prone to non-compliance. 
Do you need a Support Ticketing System?
Disgruntled customers? Delayed response to customer queries? These are obvious reasons why you need a support ticketing system. But, how do you decide whether you need support ticket systems? How do you decide whether you need a ticketing system for your organization? Here are some signs that mandate the need for automating IT ticket handling. 
Handling customer conversations is a struggle across multiple platforms

Tracking everyday repetitive tasks is challenging for the team

High-priority issues are frequently missed or the team struggles to meet deadlines

Organizing all the relevant data for a ticket is a challenging task

Slow response times disappoint customers

Poor feedback on customer service has become a routine
A ticketing system enhances the quality of customer interactions and enables seamless internal collaboration. Here are the main reasons why you need a customer support ticket system-
1. Streamlines customer communications
A ticketing system allows companies to centralize all customer queries that pour in through multiple communication channels. A centralized system consolidates all data into a single, easily accessible dashboard. The customer support teams can easily manage and respond to customer queries/inquiries in a timely and organized manner. 
2. Automation of routine tasks
Ticketing systems bring automation features that aid companies in automating routine support tasks. Mundane tasks like routing tickets to appropriate team members or sending out automated responses to common inquiries can be effectively automated with support ticketing software. When such tasks are automated, it saves a lot of time for the customer support team and improves their work efficiency.
3. Increases accountability and transparency
The wrong assignment of tickets in manual ticketing systems is a common challenge. This happens mainly due to a lack of transparency and accountability in manual work assignments. Automated IT support ticketing systems maintain a complete history of customer interactions and support team actions. This brings transparency and accountability into support ticket handling so that teams can easily track and measure the performance of customer support teams. 
4. Third-party integrations
Most businesses use several other business systems for conducting their business operations. Ticketing software must be able to seamlessly integrate with other tools like CRM, social media, and e-commerce platforms, among others to gain a complete understanding of the customer base and offer them customized support.  
Customer support teams rely on ticketing systems to organize their daily workloads and prioritize the most important issues that they need to work on. Teams can rely on the customer support ticketing system to track down an old email thread or call recording. Representatives can use a ticketing system to quickly search for archived cases and locate historical information. A support ticketing system is an important customer service tool that progressive businesses use to deliver a consistent customer experience. 
What is a Customer Support Ticketing System?
A customer support ticketing system is used by customer support teams to track, manage, organize, and prioritize customer requests. It is essentially software that keeps track of customer issues so that your IT or support team can address queries/complaints in a timely manner. The team is equipped with everyday tools that they need to do their job well. These tools help them manage IT support tickets to collaborate with other team members. 
In ticketing systems, a customer contacts the help desk with an issue and the system automatically creates a ticket. Each ticket gets a unique ID that allows easy and efficient tracking throughout its lifecycle.
The ticket management system stores all relevant information about the issue, including details like the customer's contact information, the nature (category) of the issue, the severity (priority) of the issue, and the status of the ticket. When customers and support agents close the incident ticket, they are duly recorded in the system for future reference. IT ticketing software can slice data in various ways to reveal performance metrics and generate reports. 
The main feature of the help desk ticketing system is its capacity for categorization and prioritization. Tickets can be easily classified based on criteria like type of issue, importance of the customer, or severity of the problem. This allows support teams to respond to the most critical issues and improve response times, which ultimately makes customers happy. 
The right ticketing software helps support teams to –
Provide support across all communication channels across locations

Automate repetitive tasks

Personalize conversations at scale

Integrate it with other systems and software

Making better business decisions with analytics and reporting

Collaborate more easily

Gather customer feedback for making improvements in customer service

Streamline workflows for improved customer experience
Must-Have Features of a Customer Support Ticket System
Choosing the right support ticketing system can be quite a challenge, especially when you are not sure about the features that the software must include. Although every software may offer a different set of features, there are certain must-have features that you must look for in a customer support ticketing system. 
1. Omni-channel support
A robust help desk ticketing software enables you to support your customers across various communication channels such as email, phone, chat, or social media. Communication across these channels is available in a single dashboard view.
All the incoming requests are combined into an omnichannel interface, which makes it easy to support agents in tackling queries from a wider audience, responding quickly and effectively. With customers changing their preferred communication channels frequently, the support ticketing system must offer omnichannel support.
2. Automated ticket assignment, prioritization, and ticket views
Automatic assignment and prioritization of support tickets is one of the basic functionalities that a support ticketing system must offer. Users must be provided with options to route tickets to service reps based on the expertise of the agent, team bandwidth, or customer requirements. The ticketing software must also enable the creation of custom ticket views on the ticketing interface with options to filter on priority, status, type, company, name, and other ticket features. 
3. Automated routing of tickets
The ticketing tool must enable easy automation of repetitive tasks like routing support requests, updating ticket status across the ticket lifecycle, and following up on customer requests with collaborators across and even outside your company. Setting up automation rules for assigning tickets and creating workflows must be done based on parameters like customer's location, and the language they use. Even the subject line content of emails can be used as a criterion for the categorization of tickets. 
4. Effective SLA management
Support ticketing software must help the support team follow service level agreements that underline service delivery expectations like the time within which agents should respond and resolve tickets. The ticketing system will automatically notify or alert agents of unresolved tickets, which ensures that SLAs are met for every ticket and support managers are notified of any deviation from SLAs. 
5. Prevent duplication of effort
Ticketing software allows agents to execute their routine work more efficiently. Rule-based routing of service tickets ensures that multiple agents do not work on the same ticket, thereby, preventing duplication of efforts. 
6. Knowledge base
Ticketing software must be able to host an extensive knowledge base that includes detailed solution guides and articles. This could be a valuable resource to customers, as they can quickly find answers to frequently occurring issues and resolve them easily. 
7. Reporting and analytics
Real-time reporting and analytics help support managers make informed decisions on the performance of their team and revise their work strategy as per the reports and analytics. Managers can keep track of the health of customer support at all times with ticketing software that provides real-time insights into the team's performance. 
How to Implement a Customer Support Ticketing System?
Setting up the customer support ticketing system is different in different ticketing software. However, there are some common steps that are followed across ticketing systems. 
Integrate all communication channels
Customer queries or complaints are logged through various channels like emails, social media accounts, website portals, etc. The first step while implementing the ticketing system must be integrating these communication channels into a centralized channel that allows you to view all the tickets from a single portal.
Configuring the support email address in the helpdesk ticketing system and setting up forwarding rules in the mailbox helps you access customer email requests as support tickets. 
Set up SLA policies and targets
Adherence to SLAs is very important in the customer support function. Configuring SLAs allows you to set deadlines and resolutions that the customer service team can follow for speedy and consistent resolution of customer inquiries or complaints. Defining different timelines as per the communication channel type, priority of the issue, or type of the customer, helps establish clear SLA policies. 
Assign roles
Once the SLA policies are set, it is time to assign roles within the team. The team of agents must be added to the ticketing system by creating profiles for each agent. While creating agent profiles, you need to specify the supervisor and the type of access for each member. Advanced ticketing tools enable users to set up time zones and languages that the agent can work on. 
Configure support workflows and automation
Once the SLAs are set and roles are assigned within the team, the next step is to set SLA targets. A series of conditions and steps that are to be undertaken for different business scenarios under individual workflows within the ticketing system need to be set clearly. Workflows can be built based on the urgency or type of customer request.
For example, you can have a separate process or team for processing returns or payment related requests. So, workflows for different types of tickets can be separate. Automating agent notifications and creation of standardized reply templates can be done at this stage. 
Add contacts and integrate with other tools
Having complete information on the customer within the ticketing tool provides better context about customer issues. In addition to adding your customer base, make sure you connect other business tools that have customer details. CRM, customer feedback tools, and payment portals are examples of tools that can be integrated with the ticketing system for a comprehensive context on customer issues. 
Define support metrics
Support ticketing systems generate a ton of data that provides insights on response times, volume of tickets resolved, tickets resolved by channel split, and many more details. This data must be utilized to gain insights into performance of the team.
Performance metrics derived from the data generated by the ticketing system can be shown on dashboards so that the entire team is aware of the requests, and managers can use the data to improve team performance and make better decisions regarding support strategy.
End-to-end workflow automation
Build fully-customizable, no code process workflows in a jiffy.
Best Practices in Help Desk Ticketing
It is not enough if you choose the right ticketing software and implement it. You need to follow some best practices in order to derive most out of the new help desk ticketing system. Here are 5 best practices that will help you derive maximum value out of the support ticket system. 
1. Learn the software fully
You choose a software for handling a business function, only to realize that it does not meet the requirements of the process fully. We have all been there! One of the main reasons why this happens is that we do not invest time and effort in learning the software fully. When the learning curve is gentle, getting used to the new software and the workflows takes time and effort.
However, when it comes to something like help desk software, investing time and effort in learning the system pays off big time! Free trial classes, an extensive help center, helpful blogs, or a detailed operational guide, are some of the ways that can make the learning experience effective.
2. Utilize time-saving features
Some of the most useful features in help desk ticketing software are the ones that improve the productivity of the team. Features like saved replies, automated workflows, or AI powered tools are some of the tools that are focused on saving time and improving productivity. Focusing on these tools will give your team more time for customers and ensure that issues are resolved quickly. 
3. Create a knowledge base
Encouraging self-service among your customers is a great way to improve customer experience. Embracing the concept of self-service can be done by creating an exhaustive knowledge base that can be accessed by the customers.
Writing detailed documentation is one thing, but including self-service options will help customers find their own answers and will cut down on the ticket volume, which ultimately reduces stress on the team. 
4. Anticipate customer expectations
Ticketing systems must provide customers with answers to their queries even before they reach out to the team. Anticipating customer needs can be achieved via self-service options like knowledge base, or via targeted campaigns that include proactive messaging features.
When customers get stuck in their journey, proactive messaging to surface a knowledge base article, offering a helpful tip, or launching a live chat with the support team, can be of immense help. Such proactive measures improve customer experience and satisfaction greatly. 
5. Make data-based decisions
As mentioned in the above section, help desk ticketing systems provide support teams with useful process logs. This data can be utilized to track the performance of the team and make informed decisions on support strategy.
Performance metrics derived from this data helps in making effective decisions pertaining to staffing, prioritizing content creation, or even planning the product roadmap.
When the ticketing system is integrated with other systems like CRM, product management tools, or e-commerce platforms, it becomes even more effective to make decisions within the team.
Benefits of having a Customer Support Ticketing System
Most businesses operating their support teams out of an email account will understand the pain of working without a streamlined ticketing system. While it may sound like a good idea to operate customer support manually for smaller companies, it becomes a headache when business operations expand. Consider the following benefits of using a support ticket system, before deciding to automate ticket resolution. 
1. Boosts agent productivity and efficiency
Finding newer and better ways to provide great customer service is invaluable for your business. Help desk ticketing software automates tedious, low-value tasks, so you can focus on improving customer service and training. 
2. Lowers process costs
When the efficiency and productivity of the team improve, the team is empowered to deliver top-notch customer service with fewer agents. This in turn reduces process costs without impacting service quality.
Building a knowledge base and other self-service resources like help center or FAQs, helps customers find their own answers quickly and conveniently. Using AI-powered chatbots further enables support teams to proactively connect with customers. 
3. Increases customer loyalty and retention
IT ticket systems help teams stay organized by streamlining workflows and providing contextual information on service requests. When customer support agents are equipped with customer data and the context needed to deliver timely, personalized service, they need not repeatedly ask customers for information about the ticket. With proactive customer service, more customers are likely to stick around and even spread the word about your brand. 
4. Provides actionable insights
Every customer interaction is duly recorded by the ticketing system on a centralized portal. Complete information on support requests and agents' responses is made available to the entire team so that they can learn from each interaction. Managers can use it for discovering and analyzing patterns, spotting areas of improvement, and making changes to enhance customer experience.
For example, a spike in ticket volume likely indicates that the help center articles need to be updated, or new articles need to be created. The data provided by the support ticket system can be used for identifying areas that agents are struggling, which indicates the need for additional training or coaching. 
Top 5 Support Ticket Systems to Consider for 2024
Armed with the knowledge of must-have features and best practices in support ticketing software, you must be forging ahead to choose the best support ticket system for your business. We have put together a list of top 5 support ticketing systems that you must consider before choosing the one that suits your business requirements. 
1. Cflow
A versatile workflow automation solution that can automate just about any type of business process. A labor-intensive business function like customer support can be easily automated with Cflow. The visual form builder in Cflow makes it super easy to create workflows by simply moving visual elements of the workflow. The intuitive user dashboard provides real-time status updates on service requests handled by the team. Live chat, omnichannel support, intuitive user dashboard, and reports and analytics are some of the other features provided by Cflow.
2. Hubspot Service Hub
This ticketing software helps manage customer support tickets all in one dashboard so that agents can view all the communication made on the ticket and oversee the case's progress. The tickets can also be linked to a customer's contact card in the CRM, which makes it easier for customer reps to reference past engagements with the company. 
3. HappyFox
This is a help desk software that is built around ticket automation. This software also provides templates that businesses can distribute within the team so that a consistent tone can be created for customer-facing communications. Collision detection, canned actions, and internal collaboration are some of the features that this software provides. 
4. LiveAgent
This software converts every new customer engagement into a ticket. Once the key is created, the case is distributed to an available employee or a shared inbox. Omnichannel support, universal inbox, Live chat, and a Hybrid ticket system are some of the features offered by this software. 
5. Zendesk Ticketing System
This is a help desk software that provides a variety of ticket management tools. The system integrates all customer communication into the platform, and provides agents with a detailed history of past customer interactions. Customizable automation, system reporting and analytics, ticket routing, and canned responses are the key features offered by Zendesk.
Conclusion
Businesses looking to deliver exceptional customer service must consider a support ticket system. Quality of customer service can be improved greatly by implementing a customer support ticketing system.
The choice of the support ticketing system must be decided after a thorough analysis of business requirements and features offered by the software. Cflow can transform the way customer support is done in your organization.
Try Cflow for free to see for yourself. Sign up for the free trial today.
What would you like to do next?​
Automate your workflows with our Cflow experts.​
Get your workflows automated for FREE
---