Power Automate Alternatives – A Brief Analysis of Automation Tools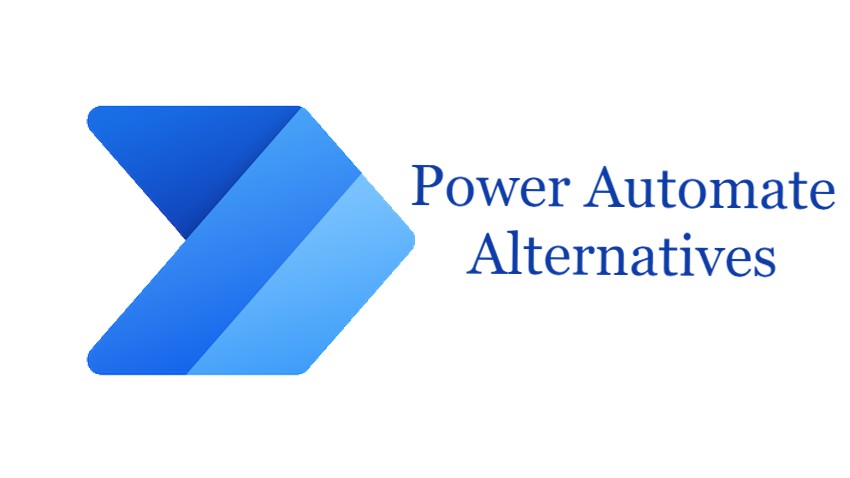 Going paperless and streamlining the business processes have become a basic necessity for organizations. A one-stop solution like automation has become the norm today. Traditional ways of performing business processes have failed to catch up to the results that are given by the new technological upgrades. The new approaches are taking over these processes making them more efficient and comprehensive.
This gives businesses an advantage over each other, heightening their customer satisfaction and product/service value. With hundreds of tools present for this purpose, choosing the right tool is essential. This write-up will give you a detailed comparison between Microsoft Power Automate and our workflow automation platform Cflow. Additionally, we will also look at the top 7 Microsoft Power Automate Alternatives.
Microsoft Power Automate
Microsoft Automate Power is an all-encompassing solution to streamline and optimize any organizational processes. It does the simple task of upgrading the processes to a high degree of proficiency. Just like any other automation tool, it aims to remove the inefficiencies like repetitive and delaying tasks. The platform is often termed the 'advanced automation platform' as it lays out a huge range of features like AI-based automation, RPA, BPA, DPA, and process or task mining. 
The Microsoft Power Automate provides the following functionalities:
Robotic Process Automation (RPA): Desktop flows offer to eradicate and take over repetitive tasks, which can easily automate UI-based actions. 
Business Process Automation (BPA): The Business Process Automation function works and ensures uniformity and standardization in the business processes. 
Digital Process Automation (DPA): Digital Process Automation enables integration between different apps, systems, data, and other services.
Process and Task Mining: Process and Task mining allows the scrutinization and optimization of business processes that will elevate the efficiency of the overall business
Cflow
Cflow offers a top-tier business automation platform where your employees can easily make intuitive workflows to optimize business processes. It majorly focuses on ease of use, where the workflows are visually appealing, comprehensive, and customizable. Our automation software enables integration with any essential business tools helping you multiply your goals and profit. 
Cflow is the best Business Process Management (BPM) tool. It effectively streamlines all the business processes, making it more productive for the company as well as the workforce. Most tasks within the are automated which enhances the process output. Our platform lets your workforce communicate efficiently with a sound workflow, giving them the clarity they have never experienced before.
As a no-code workflow platform, the user who is the workflow initiator can design and insert rules that would instruct the team on how to go about the given tasks. In such a system, the workforce's rules, duties, responsibilities, and accountability will be well-defined. Cflow can single-handedly perform the processes automation, RPA, BPA, DPA, and process and task mining all in one space. 
Cflow vs. Microsoft Power Automate: Feature Comparison
Features
Cflow
Microsoft Power Automate
Code

Cflow is a no-code platform. Even a non-tech person can easily work using this platform.

Microsoft Power Automate also does not require any sort of coding or programming skills to be used.

Workflow Generation

Workflow creation is made simpler with just a drag-and-drop action. Creative, customizable, and visually enticing workflows can be generated without coding. 

On this platform, creative workflows can be easily generated for running marketing campaigns and different business processes. 

Cloud Sync

Cflow offers a cloud storage system, where documents and data can be stored and maintained across multiple systems.

Power Automate also provides a cloud storage system that will effectively sync all notes, documents, bookmarks, etc.

Reports and Analytics 

Insightful and action-oriented decisions can be made precisely with the help of instant reports generated on Cflow. 

Reports and Analytics are provided instantly and help in deciding the right course of action.

Tracking and Managing Documents

Cflow lets you easily track and access any document instantly. A simple scan followed by the uploading of the preferred document is all the user has to do. The paperwork is eliminated. This is a centralized workflow where changes can be updated, and it is easier to track them. You will be able to access these documents through any device anywhere anytime.

Power Automate offers cloud storage that will allow easy access to documents and data. Document uploading and accessing is easier. However, a notable drawback is that Power Automate works well only with simple processes. With the increasing complexity, the tracking capacity is reduced.  

Integration

Cflow offers to seamlessly connect with SMB applications like Slack and Quickbooks, including Enterprise applications like Salesforce and SAP. This integration process is easily achieved with simple steps. The user does not have to leave the user interface. This integration feature will give a smooth working of all the organizational processes.

Power Automate also supports integrations with external systems, apps, software, etc. Additionally, Calendar integration is an important feature of Microsoft Power Automate, that aids in scheduling and timelining the tasks accordingly.

Customizable Reports

With Cflow, customizable reports can be generated according to the ideals, values, and objectives of your organization. The reports are generated graphically helping the users to gain decisive insights. 

In Microsoft Power Alternate, the approval responses can be modified according to the necessity. 

Templates

There are readily available workflow templates for all business processes. You have the option to customize these templates according to your needs.

Power Automate lets users easily generate workflows with pre-available templates for creating workflows. 

Process and Task Mining

Cflow supports and automates all sorts of business tasks and processes with the same platform

Process mining and Task mining are two important functions offered by Microsoft Power Automate. 

Ad-free

Cflow does not hold any external form of advertising

Microsoft Power Automate also does not contain any external form of advertising

Privacy and security

A high degree of privacy and security is offered for the users. On Cflow, the users can update and decide on the people who will be able to access certain data or files on Cflow. Proper restriction and accountability are promised. 

Privacy and Security are highly maintained in Power Automate. The entire app is end-to-end encrypted. There will be no chance of information leakage. 

Pricing

Offers three plans:

Happy
$7 (per user/month)

Joy
$11 (per user/month)

Bliss
$16 (per user/month)

Offers two plans:

Power Automate Premium
$15 (per user/month) 

Power Automate Process
$150 (per bot/month)
Best Alternatives to Microsoft Power Automate
With many advancements in the industry, more products with the latest and newer technologies are setting the standards high. So, here are some of the strongest Microsoft Power competitors to consider. 
1. Cflow
Cflow is an all-in-one platform that will provide you with the next-gen workflow experience. With a simple setting up of the automation rules, the features of Cflow will lead you to the optimization that you are aiming for. The tool is built on the strong methodologies of BPM and will elevate your processes with every height it reaches. Workflow creation is one of the major features of Cflow. The creation of a workflow is just a simple task, the employees can simply drag and drop the elements in the desired stage. Several pre-existing icons are available in the Control Center for you to choose from while creating or editing workflows. Pre-existing workflow series can be edited and changed even after the workflow is published. Pre-designed templates are available for you to do a thematic presentation. Important features of Cflow include the following:

Using Cflow, any user can generate workflow diagrams with just a drag-and-drop action.

Several visually appealing elements in the Control Center can be used to transform the workflows into more vibrant and engaging representations.

The Control Center offers a wide variety of tools that can be used to update or make necessary changes to the already existing workflows.

Pre-designed workflow diagram templates and flowchart templates are readily available for you. These templates can be customized to the process. 

Review and approval tasks are also made easily accessible and simple.

Cflow effortlessly integrates with third-party applications making your work experience seamless.

Automatic notifications and reminders will be sent to the workforce regarding their tasks. This will maintain the flow of work.
2. AutoHotkey
AutoHotkey is one of the most popular Windows alternatives that can effectively replace Microsoft Power Automate. It is a popular open source and free choice that exists to the users. As a script-generating tool, it allows its users to effortlessly build small and easy-to-complex scripts for any task. Some of the special features that AutoHotkey offers are listed below:
It is a lightweight product. In comparison, it consumes fewer device resources and space.

The tool is highly portable. It can be used using a USB stick or with no prior installment. 

By using keystrokes or just mouse clicks, or even using COM., users have the option to automate anything with these simple actions

The users can write a mouse or keyboard macro simply by hand or even a recorder. 

Reorganize and reassign the keys and buttons on the keyboard, joystick, and even the mouse.

Automatic expansion of the abbreviations as and when the user types.
3. IFTTT
Integration is the strongest suit of IFTTT, it is a popular web-based application that can be simultaneously used on Android, iPhone, iPad, and Android Tablet. This is one of the best available alternatives to Microsoft Power Automate. Some of IFTTT's unique features are as follows:
IFTTT is comparatively lightweight as it takes up very little space and resources.

The platform offers a zero-coding user experience that even a non-technical person can use with ease. 

All the operations can be controlled with voice commands, like Amazon Alexa and Google Assistant.

Allows effective streamlining of the social media of the users.

Backup and storage of the iOS photos are performed automatically.
End-to-end workflow automation
Build fully-customizable, no code process workflows in a jiffy.
4. FastKeys
FastKeys is an all-in-one Windows automation platform. Its functionality includes a fully configurable text expander, start menu, mouse gestures, etc. The tool allows the users to generate user-defined commands to operate files or to automate any function. Some features are as follows:
Autocompletion is a unique feature of this tool. It can effectively predict the following words or phrases of the sentence.

FastKeys can also be used without prior installment using a USB stick. 

There are more than a hundred presets that let the users have an outstanding experience. 
5. TagUI
Tag easily converts your intended actions into different human languages into the working JavaScript code lines. The automation process of this UI (user interface) aims to bring in cognitive interactions between the users and the system or the website. This will allow the actions to be automatically done by your systems according to the conditions or schedule set by you. Some important features of TagUI are:
In this software, Chrome can be automated visibly or headlessly

Users can write in 20+ languages and JavaScript. You can also include a Chrome extension for recording all the web actions.
6. Actiona
Formerly known as Actionaz, it is a process automation software. It aids in the creation and execution of tasks in a given process. With no programming language involved, its interface is easy to use in creating activity lists. Some essential Actiona features are:
The software is free and runs effortlessly under Windows and GNU/Linux. 

The program's base is built in C++ and uses the Qt framework for performing. 
7. AutoIt
AutoIt is a solution for automating Windows GUI and general scripting. It is a freeware software that uses scripting language for automation. The software is a dynamic combination of keystrokes, mouse navigation, and window manipulation for automation purposes. Important AutoIt features include:
It allows interaction with all the standard window controls

It uses BASIC-like syntax which is easy to learn.
Cflow: A Necessary Solution for Business Organizations
Cflow is the best business process automation solution available in the market. With the visible consistency and efficiency that Cflow offers, many organizations have started to embark on a successful journey with Cflow. With the rising complexity of business processes, it is highly essential to find a solution that will optimize your processes making them more efficient and productive. Being one of the cost-effective options, Cfow offers you advanced solutions like no other automation platform. Book a free trial today and give your business processes a new perspective.
What would you like to do next?​
Automate your workflows with our Cflow experts.​
Get your workflows automated for FREE
---