Spruce up Your Expense Management Process with Automation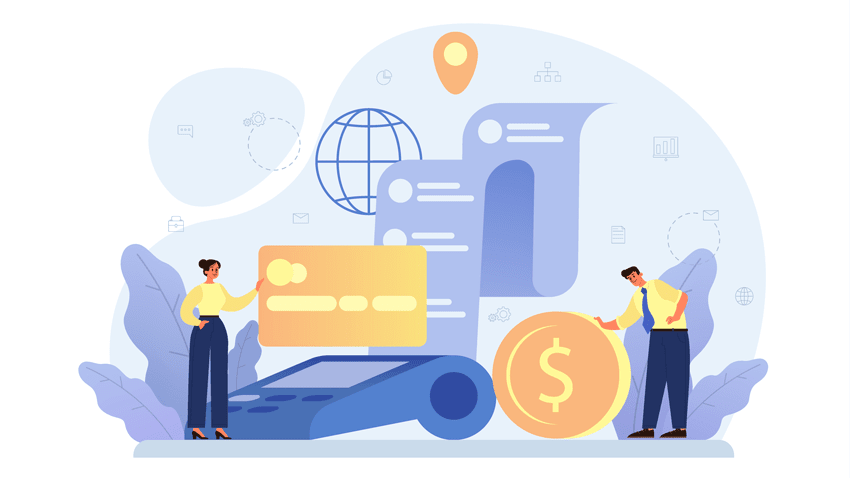 The travel and expense management process is considered one of the most complex business functions. Most businesses fail to recognize the complexity of this function and end up spending way too much money, effort, and time on it. A recent survey by Tallie on 585 survey respondents, revealed that not many companies realize the complexity of travel and expense management.
A majority of companies continue to use manual expense management systems as the losses without a professional travel and expense system are not obvious. The seemingly simple manual expense management process actually eats up productive work hours and leads to extraneous costs. Is there a cost-effective way to expense management? Read on to know more.
Expense Management at a Glance
All expenses incurred in a business right from the purchase of raw materials to marketing initiatives to business travel are to be filled in proper forms and approved by appropriate authorities. Any delay or error in expense management may cost a business dearly, both financially and otherwise. Expense management encompasses all the processes that help streamline business expenditures.
The expense management process follows a sequence of employees making claims for reimbursement and accounting for expenses they have incurred. When executed efficiently, the expense management process offers key business insights into business spending and helps keep a tab on the expenses incurred. The data captured by the expense management system in a business helps in budgeting and planning for future expenses.
The key functions in expense management are filling in expense requests, reviewing and approval of requests, employee reimbursement, and gathering and validating data for auditing and budgeting. The Finance department, employees, and the team/department manager are the key players in the expense management process.
Let us now consider the lifecycle of an expense reimbursement request.
Making a purchase is the first step in the reimbursement process. This is done after the necessary approval for the purchase has been obtained.
Once the purchase is made, the employee obtains the receipts issued for the purchase.
These receipts are submitted along with the reimbursement request to the manager.
Once the manager reviews and approves the request, it is directed to Finance for review and approval.
In case the manager requires additional information the request is redirected to the employee asking for missing or additional information.
After approval by the finance, the claimed amount is reimbursed into the employee's account.
When all the steps of the process are executed smoothly, the reimbursement is credited quickly.
In practice, manual expense reimbursement is marred by inordinate delays and bottlenecks. Apart from expense reimbursement, there are many other components in an expense management system that need to be executed seamlessly for efficient business operations.
Components of Expense Management
Irrespective of the type and scale of the business, the expense management process is made up of different components. The method in which expense management is carried out varies with the structure and policies followed in the organization. Ideal expense management consists of the following components:
1) Filling in Expense reports: Once a business expense is incurred, supporting documents like receipts, hotel bills, and invoices are collected. The reimbursement claim is submitted along with the supporting receipts and invoices to the department manager.
2) Review and Approval of Requests: The reimbursement request usually goes through 2 or more review and approval stages. The first review and approval are done by the line manager. Based on approval limits set for different approvers, the request may optionally be routed to the Head of the Department and Director. From here, the claim is submitted to Finance for review and approval. Finally, the Accounting team sends the payment and completes the process.
3) Book Keeping: The entire lifecycle of an expense request; from submission to payout needs to be recorded.
4) Auditing of data: Adherence to companies' policies and regulations is a must for all business processes. The data gathered by the expense management process is validated and used for auditing purposes.
5) Budgeting: Creating the annual budget and planning for future expenses can be done based on the data gathered by the expense management system.
Perils of Manual Expense Management
Managing expenses using conventional methods may seem the easiest option for a small organization. Manual expense management methods are incapable of scaling up to the needs of growing businesses. Traditional expense management systems are not robust enough to provide a seamless expense management experience for your clients and employees.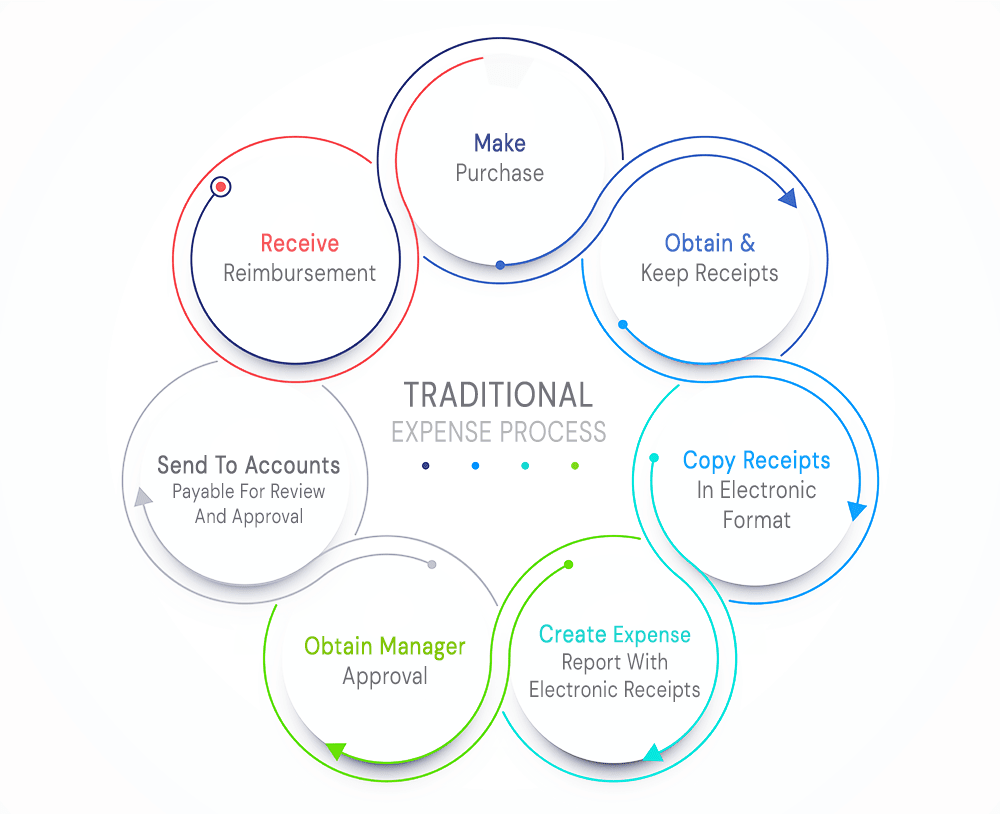 Here are some disadvantages of using manual expense management methods:
Tedious: Manual data entry and validation are typical of traditional expense management methods. Such methods are time-consuming and eat up the productive time of employees.
Fraudulent practices: There is an increased possibility of submitting exaggerated or duplicate claims through manual expense management systems. Lack of policy and regulation compliance arises due to manual expense management.
Erroneous: Manual processes are run by humans. So, the scope for human error or overlook is more in manual processes.
Compromised productivity: Since a lot of time is spent on reporting, claiming, and validating expenses, the time spent on project-related activities is reduced. This results in decreased productivity and efficiency.
Transparency and visibility: All the transactions are carried out through emails or personal interactions in a manual process. As a result, visibility and transparency into the status of the claim are restricted.
Manual expense management is ridden by hidden costs due to the above disadvantages. The inherent disadvantages of manual processes, push businesses to explore cost and time-effective alternatives to expense management.
Reasons Why Businesses Hesitate to Automate Expense Management
Despite expense management being one of the most critical business functions, most businesses do not recognize or appreciate the inherent complexity of the process. Here are some interesting statistics from the 2019 Travel and Expense Management Trends Report are given below:
Nearly half of the organizations did not track the cost to process expense reports
43% of the companies are following manual expense reporting
Nearly 44% of the companies do not intend to automate their expense management process
Out-of-policy expenses are flagged off in a meager 27% of the organizations
The above statistics reveal that most organizations are not giving expense management the importance that it deserves. Also, there is considerable reluctance to adopt automated expense management systems. Why? Some of the most popular reasons why companies do not see the need to shift to automated expense management are:
We are happy with our current processes.
The volume of expense reports processed in our company does not require automation.
Automating the expense management process is a cumbersome and costly affair.
We are too busy or do not have the resources to spare for facilitating the transition to automated systems.
We do not possess the necessary skills or knowledge for the transition.
Despite the growth of expense management automation solutions, many organizations continue to process their finance operations manually. Procrastination and lack of technological knowledge seem to be the main reasons why companies are not adopting automation.
Automated Expense Management System
Businesses looking to overcome the drawbacks of manual expense management consider automating their expense management process. Does automation mean the complete elimination of human intervention? Not exactly! Only the repetitive and redundant steps that can be performed without human intervention are automated.
Simplifying the expense management and reporting process for employees and management is the main reason why businesses are moving to automated expense management. Deploying an automated expense management system can translate into rapid ROI for companies of varying sizes. Here are a few reasons why you must consider moving to an automated expense management system:
Cut down on hidden costs
Improve accuracy and policy compliance
Increase visibility and transparency into processes
Focus on strategic work rather than mundane admin work
Improve employee satisfaction
Automation of expense management aims at reducing the manual burden on finance and admin teams, by automating repetitive tasks. Uploading supporting documents is greatly simplified in an automated process. Any inconsistency or violation of policies is immediately recorded and reported to the concerned employees and managers. Explanations or corrections of the violation can be provided immediately and the admins can directly view these explanations and respond to them.
End-to-end workflow automation
Build fully-customizable, no code process workflows in a jiffy.
Automation of expense management is worth every penny of investment. Businesses realize the return on investment from day one. The 2019 Travel and Expense Management Trends report by Tallie revealed that 57% of the 585 respondents realized a positive ROI in one year or less by investing in automated expense management solutions.
Traditional versus Automated Expense Management
The table below compares traditional and automated expense management systems based on key performance metrics.
| Metric | Traditional | Automated |
| --- | --- | --- |
| Process time | Tedious and time-consuming | Reduces process time by eliminating redundancies |
| Productivity | Compromised productivity | Improves productivity and efficiency |
| Visibility and transparency | Restricted visibility into statuses | Complete transparency and visibility into process status |
| Process Compliance | The scope for fraud and violations is more | Standardization of process leads to 100% compliance to policies and regulations |
| Process cost | Redundancies and repetitions lead to high process costs | Optimal use of resources and time leads to reduced process costs |
| Employee satisfaction | Lowers employee satisfaction and morale due to more time spent on low-value tasks | The employee feels more valued as more time is spent on productive and strategic initiatives |
Cost Cuts through Automated Expense Management
Automation of expense management helps cut many hidden costs like loss in productivity, loss of time due to bottlenecks, etc. Here are some of the hidden costs that can be avoided by automating expense management.
Loss of money due to claimed expenses:
The pressure to meet deadlines often makes employees enter erroneous data while submitting an expense claim. Manually entered claims are prone to errors and overlook. Some employees also take this as an opportunity to earn quick money through fraudulent entries. Validation of manually entered claims takes a long time.
Loss in productivity and efficiency:
Traditional expense management is cumbersome for the employee and Finance team. Employees spend time gathering supporting documents, entering claim data, and uploading the details. Approvers or managers spend too much time validating the data, and adhering to policies and regulations. If there is any missing or incorrect information, the claim is sent back to the employee asking for information. The entire process from submission of a request to approval eats up the productive time of employees. As a result productivity and efficiency comes down, leading to a loss of money.
4 Uses of Automating Expense Management
Here are 4 significant benefits of automating expense management in your business.
Saves a significant amount of money and time: As discussed above, automation eliminates the hidden costs associated with loss of productivity and fraudulent entries. The time saved by eliminating repetitive and redundant steps in a process translated to huge cost savings. Employees get to focus more time on strategic work, and as a result, project productivity goes up. Increased productivity means more revenue from the project.
Better compliance and accountability: Standardization of business processes ensures 100% compliance with the company's policies and regulations. Reduction of human intervention means lesser errors and overlooks. Duplication and fraudulent data entries are also eliminated through automation.
Improved employee satisfaction: Employees get more time to focus on meaningful tasks. They feel more valued while working on project-related work rather than mundane admin tasks.
Real-time reporting and analysis: An automated expense management system provides real-time visibility into expense-related data. Businesses are always audit-ready with complete data on the lifecycle of every expense claim.
Partnering with the most trusted workflow automation solution provider like Cflow puts your business on the fast track to success. Cflow is a no-code BPM platform that automates key business processes within minutes.
Future of Expense Management Software
The Travel and Expense Management Software Market report by Grandview research reveals that the market is poised to grow at a CAGR of 12.4% from 2020 to 2027. Business expansions at a Global level translate to a rise in the number of employees. The need for an efficient and cost-effective way to manage operations at a global level is the main reason for the rise in the adoption of automated expense management systems.
Transform your expense management process now. Sign up for a free trial to experience Cflow.
What would you like to do next?​
Automate your workflows with our Cflow experts.​
Get your workflows automated for FREE
---