We got some strong points to say why E-commerce Workflow Management is essential.
With the massive evolution in the world of online shopping, e-commerce websites have flourished like no other times. People are more interested in buying stuff online because they can instantly read hundreds of reviews, have easy money back policies and the ability to get items delivered directly to their doorstep.
While it's bells and whistles for an online vendor, they do have their fair share of obstacles to overcome. Competing against e-commerce behemoths like Amazon is no easy task which is when e-commerce workflow management comes to your rescue.
In order to successfully run an online business, you need to make sure your stock inventory is properly managed, customer questions are replied to and keep a close watch in business trends to adopt them quickly before everyone else.
Here is an example of an ecommerce workflow diagram:
Diagram: Ecommerce Product Catalogue Update
5 Reasons Why Automation is Needed for Your E-commerce Platform
1. Make Vendor Management Easy
Getting new vendors onboard quickly is a marketing strategy that you need especially when still new to the e-commerce sector.
Automation can help simplify the vendor management process by creating a consolidated workflow for all new vendors. All major elements including contract templates, contact form and agreements to be signed can be uploaded into the workflow servers to be shared with new vendors when required. It will be streamlined and moved from one department to another so that your finance team, operations, and managers can approve them after making appropriate changes. You can close use the software to send notifications to vendors, alerts if deliveries are not made in time to improve overall quality.
2. Automated Listings Approval
The number of products on your website, the higher the sales will be when visitors have lots of options to choose from.
However, adding new lists with product images and description involves a lot of manpower. You can consider automating it by using a workflow automation software. When the product meets a set of pre-defined guidelines, it will automatically be added to your own website or on a third party site like eBay where they will approve it.
3. RMA Process – An Important Area to be Automated
Returns and Orders cancellation is an important process which is already fully automated in major seller websites like Amazon, eBay, and Alibaba.
If you are planning to provide service quality on par with such known brands, make sure to automate your RMA process. Some of the conditions have to be met which the software can later care of you if you mention it. If an order is cancelled before it is shipped, the notification should be sent to the warehouse to save time and money. Similarly, returns, refunds and replacement requests from customers should be synced with the item inventory. A centralized process will ensure you don't annoy your customers and provide them with what they need or notify them of unavailability quickly to maintain a positive outlook at all times.
4. Handling Complaints and Feedback in a Timely Manner
Things have changed for online sellers because any delay in refunds or response could immediately cause a lot of chaos on the internet. People tend to easily leave reviews in forums, Facebook and Twitter which you can avoid by being a proactive seller. Automating ecommerce workflow management in order processing is key to being highly responsive and ensuring that their refunds, complaints or feedback is responded to in a deep and timely manner to improve brand image.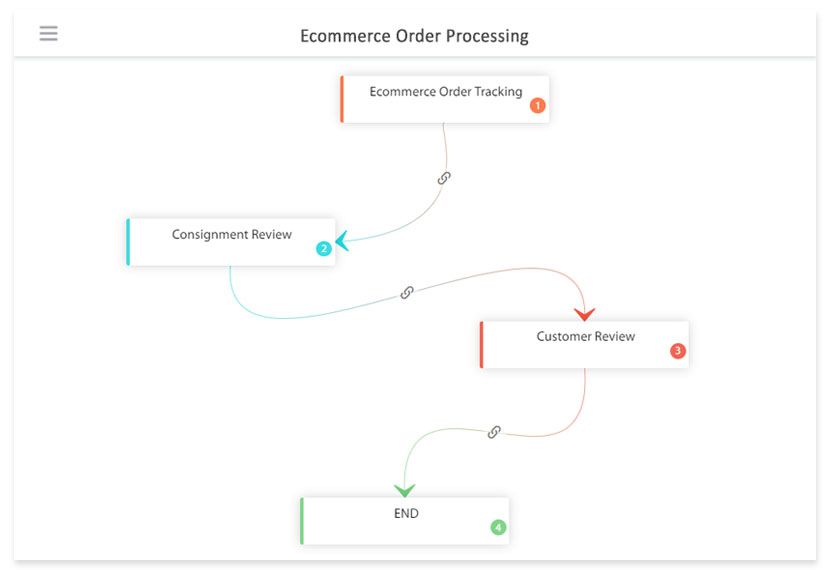 Diagram: Ecommerce Order Processing Workflow
While spending on marketing is one way to acquire new customers, word of mouth is a powerful marketing tool which you can rely on by investing small on a BPM software.
5. Optimizing Internal Processes Such as Invoicing and Purchase Requests
Internal processes when streamlined will have a very positive impact on company operations on the outside. By establishing an automated software to automatically approve invoices when certain conditions are met, forward purchase requests to finance team or managers for perusal before approval will also save manpower, time while improving process efficiency. Such a step up ensures your ecommerce store is as streamlined as any big brands, ready to take on the competition while providing great customer service.
Build a customer base and improve customer satisfaction with E-commerce Workflow Management software
Fig: Ecommerce workflow template
Cflow is a simple yet feature-rich E-commerce workflow management software which when integrated into your work ecosystem can change it for good. Right from creating workflows for vendor onboarding to automatic invoice approval and inventory management workflows can be created using the bundled templates or come up with your custom templates.
Give Cflow a test ride now! Try 14 days of Free access.
Get your workflows automated for FREE