Improve Banking Processes using Workflow Management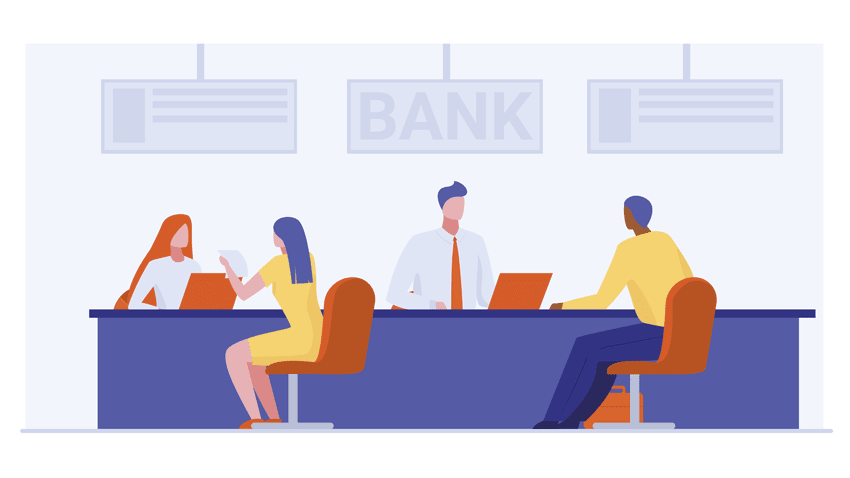 Banking Processes in the Age of Workflow Management
The banking and financial services industry provides multidimensional services, with several processes running at the front and back end. Several banking functions like account opening, accounts payable, closure process, credit card processing, and loan processing, can be effectively automated for a seamless customer experience. Banking process automation enables improved productivity, superior customer engagement, and cost savings.
Introduction to Banking Processes
The first step to understanding the role of automation in the banking industry is to know the types of bank accounts and the services offered by banks. Banks are there to help you manage your finances. In an effort to help manage an individual or a business account, banks offer a number of services. Banking services at a glance:
Individual Banking Services:
Banks offer current/savings account opening, debit and credit card processing, insurance, and wealth management services for individuals.
Business/Retail Banking Services:
For business or retail accounts, banks offer business loan services, checking/savings accounts, debit and credit card processing, merchant services, and treasury services.
Digital Banking or Omni-channel Banking Services:
The disruption of technology in the banking and finance sector requires banks to offer digital or Omnichannel banking services to their customers. Typical digital banking services include
Online, mobile, and tablet banking
Mobile check deposits
Text alerts, and notifications
eStatements
Online bill pay-services
Lending:
Lending is another important banking service. Banks offer personal, business, home, auto boat, and home equity loans. The loan processing and approval process eats up the productive hours of the banking personnel.
Banks are upgrading their services to suit the evolving needs of the millennial consumer.
In addition to the knowledge of bank services, we need to understand the typical activities that happen in a bank. Once we know the operational activities in a bank, identifying the ones that require and benefit from workflow automation will be easier and more effective.
Operational activities in the banking industry are:
Account opening and acceptance of deposits
Lending of funds
Clearing of cheques, demand drafts
Remittance of Funds
Operation of lockers and safe deposits
Online bill payment
Digital banking
Credit and debit card management
Wealth management
Investment banking
Overseas banking services
End-to-end workflow automation
Build fully-customizable, no code process workflows in a jiffy.
Need for Automating Bank Processes
Banking and financial services run a multitude of functions, both in the background and foreground. The face of banking and financial services has evolved over the past few decades. The banking industry is among the top consumers of information technology and services. As per a Gartner report, Global IT spending in the Banking and Financial Services industry is estimated to reach $742 billion by 2024. Despite having highly sophisticated software like Marketing Automation (MAS), Customer Relationship Management (CRM), and Enterprise Resource Planning (ERP), banking and finance companies are still stuck with disparate systems that are not integrated.
Despite the disruption of digital technology, a number of banks are still stuck to manual processing methods. Not only are manual methods a waste of time and effort, but also prone to inaccuracies and inconsistencies. From an employee's perspective, manual processes rob them of their productive work hours and work satisfaction. Automation technology can streamline and optimize the banking process workflow, which in turn increases customer satisfaction significantly. Here are 5 compelling reasons why banks should adopt banking workflow solutions:
Better and faster customer service
Lesser or nil human errors or biases
Increased productivity and operational efficiency
Lesser operational costs
Higher employee engagement and satisfaction
Automated bank workflow management is the way forward for progressive banking institutions looking to build strong customer relationships.
Automating the Banking Process Workflow
Bank process workflow management is a methodology followed for increased coordination between various banking tasks. Through banking process workflow software, a banking organization examines the existing processes and designs new optimized and streamlined workflows for increasing productivity.
Automating the banking process eliminates the drawbacks of manual processing and also improves operational efficiency. Intuitive banking process workflow software like Cflow can be used for automating the banking workflow. Automation also helps in overcoming the risk and compliance issues that banks are facing due to major policy changes that occur frequently.
Robotic process automation (RPA) is being adopted by banks and financial institutions to sustain cutthroat market competition. RPA is a combination of robotics and artificial intelligence to replace or augment human operations in banking. A Forrester study predicts that the RPA market is expected to cross $2.9 billion by the year 2021. Repetitive and low-value tasks can be effectively automated by RPA.
Use Cases of Banking Process Automation
Banking process workflow management has proven to be more effective in certain banking operations than others. Some of the successful use cases of banking process workflow software are
Account opening
KYC
Customer onboarding
Loan processing
Fraud mitigation
Risk and compliance management
Other banking operations like credit and debit card operations and wealth management are strong contenders for automation.
Conclusion
Banking process workflow automation is a thing of serious interest to the banking and financial sector. A number of forward-looking banks are deploying workflow automation technologies to scale up their businesses to higher levels of productivity and cost savings. Cflow is an intuitive workflow management software that is an end-to-end banking process automation platform. To know how Cflow can be a game-changer, try it for free.
What would you like to do next?​
Automate your workflows with our Cflow experts.​
Get your workflows automated for FREE
---