Automation in Banking: How to Streamline and Enhance Banking Processes with Automated Workflows?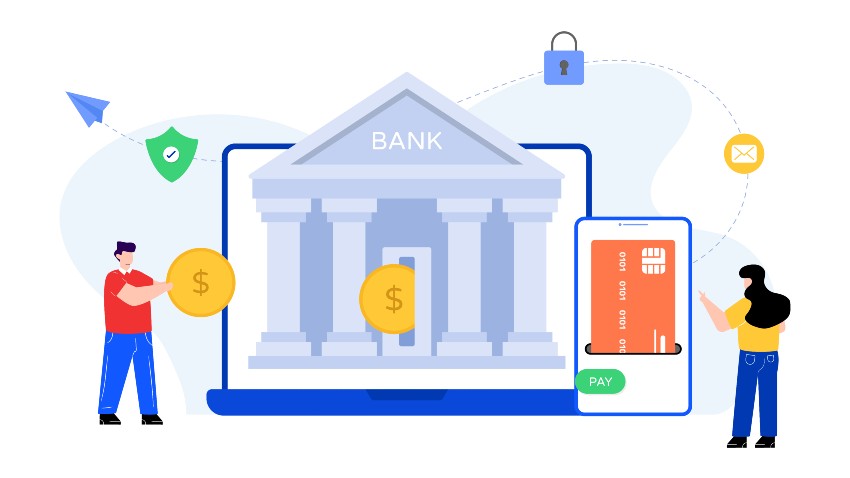 With the rise of numerous digital payment and finance companies that have made cash mobility just a click away, it has become a great challenge for traditional banking organizations to catch up to that advanced service. Most of the time banking experiences are hectic for the customers as well as the bankers.
This is purely the result of a lack of proper organization of the works involved. With the involvement of an umpteen number of repetitive tasks and the interconnected nature of processes, it is always a call for automation in banking. This blog will give you an insight into the advantages of automation in streamlining banking processes, the banking processes that can be automated, and some essential attributes to look at in a banking automation system.
Banking and Automation
Majorly because of the pandemic, the banking sector realized the necessity to upgrade its mode of service. By opting for contactless running, the sector aimed to offer service in a much more advanced way. Therefore, streamlining the processes became crucial. But automation is not a new approach in this industry. In the 1960s, Automated Teller Machines were introduced which replaced the bank teller or a human cashier. 
So, what does automation in banking entail today? Banking automation is the process of streamlining all of the banking processes like customer accounting, managing deposits, withdrawals renewals, customer acquisition, and retention, etc, to increase their efficiency and optimize the customer experience.
This minimizes the involvement of humans, generating a smooth and systematic workflow. Comparatively to this, traditional banking operations which were manually performed were inconsistent, delayed, inaccurate, tangled, and would seem to take an eternity to reach an end. For relief from such scenarios, most bank franchises have already embraced the idea of automation.
Streamlining Workflows in Banks
How effectively you can streamline your process completely depends on assessing the different processes and analyzing factors like the measure of resources, especially time, that goes behind it. For this, understanding the different processes becomes necessary. The core banking processes are the set of banking processes offered to the customers. It is a back-end system that takes care of money transactions and financial handles. The core banking processes include:
Customer Accounting

Process Deposits and Withdrawals

Interest Calculations

Customer Relationship Management

Risk and Compliance Management
Managing these processes, which can be cross-functional and demanding, needs to be processed without causing unnecessary delays or confusion. It also becomes mandatory to know whether any tasks within these processes are redundant or error-prone and check whether it involves a waste of human effort. If it ticks any of these checkboxes a yes, it is high time to shift to an automation setup gradually.
Business Process Management offers tools and techniques that guide financial organizations to merge their operations with their goals. Several transactions and functions can gain momentum through automation in banking.
An effective workflow will act as a guide in optimizing the experience of your customers. Automation holds the advantage of generating workflows for you according to your resources and needs. Why have a workflow in the first place?
Navigating customers' journeys becomes simpler. Beginning from account opening to other engagements, they entail many touchpoints. When these processes are jotted down using workflows, it provides an easy understanding of the customer journey and additionally helps in knowing the improvement areas. 

The action of creating a workflow will also help you understand and finalize the processes that need to be automated. A workflow can tell you which tasks are repetitive, monotonous, and time-consuming, and lets you automate accordingly. 

Documenting KYC and reviews becomes important as it requires data analysis and reporting. Documenting these processes will bring standardization and help you improve compliance and risk management.
Advantages of Automation in Banking
With the drawbacks posed by manual working, banking enterprises have come to the realization of how automation is a comprehensive solution that can hold a large chunk of operations, which requires high precision, instantly without human intervention.
The following are a few advantages that automation offers to banking operations.
1. Reduction in Cost:
Operational costs trickle down extravagantly when automated. Compared to a manual setup, the repetitive processes are removed from the workflows, providing less scope for extra expenses.
2. Fraud Prevention and Nurturing Trust:
The ultimate aim of any banking organization is to build a trustable relationship with the customers by providing them with service diligently. Customers tend to demand the processes be done profoundly and as quickly as possible. They also invest their trust in your organization with their pieces of information.
Automation creates an environment where you can place customers as your top priority. It also integrates all the processes finishing them instantly. Without any human intervention, the data is processed effortlessly by not risking any mishandling. Fraud can be completely negated in such a system.
3. A Surge in Overall Efficiency and Productivity:
In this working setup, the banking automation system and humans complement each other and work towards a common goal. This arrangement has proved to be more efficient and ideal in any organizational structure. This allows the low-value tasks, which can be time-consuming, to be easily removed from the jurisdiction of the employees. 
4. Flexibility in Service:
By shifting to bank automation employees can be relieved of all the redundant workflow tasks. The workforce experience flexibility and can deal with processes that require human action and communication. They can develop a rapport with your customers as well as within the organization and work more efficiently. Additionally, it eases the process of customer onboarding with instant account generation and verification. 
5. Accuracy and Risk Reduction in Operations:
The automated banking processes are performed seamlessly without any errors. Being in the financial sector, banks are most required to be conscious and attentive about the data that they handle. The processing of data through automated banking reduces such risks and errors to zero. 
6. Less Paper-Oriented Work:
Automation in banking operations reduces the use of paper documents to a large extent and makes it more standardized and systematic. Handling e-documents is simpler, more accurate, and hassle-free. Even manually entered spreadsheets are prone to errors and there is a high chance of a decline in productivity.
Furthermore, documents generated by software remain safe from damage and can be accessed easily all the time. With this processing of data becomes less complex. 
7. Build Process Compliance:
When highly-monitored banking tasks are automated, it allows you to build compliance into the processes and track the progress of it all in one place. This promises visibility, and you can perform the most accurate assessment and reporting.
8. Developed Online Interactions:
Automation enables you to expand your customer base adding more value to your omnichannel system in place. Through this, online interactions between the bank and its customers can be made seamless, which in turn generates a happy customer experience.
9. Smooth Agility:
Automation makes banks more flexible with the fast-paced transformations that happen within the industry. The capability of the banks improves to shift and adapt to such changes. Data can be easily changed, shifted, and stored. Processes remain streamlined and a better work culture is promoted. 
10. Erase Data Silos:
Through automation, communication between outlets of banks can be made easier. This is essential for banks that work on a global scale. The flow of information will be eased and it provides an effective working of the organization. 
Banking Operations that Benefit from Automation
Bridging the gap of insufficiency is the primary goal of any banking or financial institution. To achieve seamless connectivity within the processes, repositioning to an upgrade of automation is required.
Automation in the banking industry has been a successful journey so far in most firms. It has given them the utmost clarity and authenticity. It has helped customer agents to work smarter with automation. This is because a lot of the banking activities are carried out harmoniously. So, what are all the banking operations that can be automated and benefitted from? Let us look at them:
Commercial Loan Lending
:
Any data from the onboarding of the customer to the current period can be retrieved without any hassle. In the case of data entry, data from structured and unstructured loan documents can be entered automatically, moving further into loan processing and account opening systems. Thus, making the process of commercial loans much easier.
Supply Chain Finance
:
Manual engagement with the financing and discounting requests can be an impediment to finance related to trading. From the payment of goods to the delivery there is a lot of documentation and risks involved. Implementation of automation can reduce the communication gap between supply chains and effectively ensure the flow of requests, documents, cash, etc.
Payments
:
Repeatable payments can be automated to speed up the process. It enables you to open details of all the automated fund transfers instantly. The data from any source, like bills, receipts, or invoices, can be gathered through automation, followed by data processing, and ending in payment processing. All payments, including inward, outward, import, and export, are streamlined and optimized seamlessly. 
Regulatory Compliance
:
Maintaining regulations and compliance is a hectic task with consistent changes in policies and regulations. With automation's ability to erase complicated workflows, it enhances all operations.
Customer Service
:
Customers' expectations are always at the highest level. Banking services like account opening, loans, inquiries, deposits, etc, are expected to be delivered without any slight delays. Automation lets you attend to your customers with utmost precision and involvement. 
Know Your Customers:
Automation lets you carry out KYC verifications with ease that otherwise captures a lot of time from your employees. This is an important process when it comes to customer retention. Data has to be collected and updated regularly to customize your services accordingly. Hence, automating this process would negate futile hours spent on collecting and verifying. 
Billing and Discounting
:
Automation can reduce the involvement of humans in finance and discount requests. It can eradicate repetitive tasks and clear working space for both the workforce and also the supply chain. 
Anti-Money Laundering and Fraud Detection:
With automation, fraud can be negated completely in banking. An approval screening is performed where it identifies any false positives. 
Account Termination:
In case of any fraud or inactivity, accounts can be easily closed with timely set reminders and to send approval requests to managers.
Maintenance of General Ledger:
Regularly updating the general ledger is an important task to keep track of expenses, financial transactions, and financial reports. Automation does all by automatically assembling, verifying, and updating these data.
Features to Look for in a Banking Automation Tool
When you decide to automate a part of the banking processes, the two major goals you look to attain are customer satisfaction and employee empowerment. Both these factors act as the backbone of any business. For this, your automation has to be reliable and in accordance with the firm's ideals and values. Any random workflow automation tool may not do the right job for you. 
For this very purpose, choosing the right automation software is a crucial step. Look for the following basic features:
Design No Code Workflow:
A workflow automation software that can offer you a platform to build customized workflows with zero codes involved. This feature enables even a non-tech employee to create a workflow without any difficulties. 
Drag and Drop Form Creation:
Forms have to be visually appealing to expand your customer base. Always choose an automation software that allows you to generate visual forms with just drag-and-drop action that will help further the business. 
Adaptability:
Always look for automation software that is adaptable in nature. With the fast-moving developments on the technological front, most software tends to fall out of line with the lack of latest upgrades. Therefore, choose one that can accommodate the upgrade versions and always partners with you.
External Device Compatibility:
One of the most basic features of any software is that it supports mobile (or any device) compatibility. Automation software that supports built-in mobility is important for banking workflows. Mobile compatibility offers flexibility where your workforce can work when and where they desire.  
Security and Controlled Access:
the banking sector demands the highest security standards. Therefore, access to banking data has to be controlled. Your choice of automation tool must offer you fraud-proof data security and control features. 
Reminders and Notifications:
Your automation software should enable you to customize reminders and notifications for your employees. Timely reminders on deadlines and overdue will be automatically sent to your workforce. Customized notifications by the workflow software should be linked, and automatically to all common tasks. 
Third-party Integration:
Choose an automation software that easily integrates with all of the third-party applications, systems, and data. In the industry, the banking systems are built from multiple back-end systems that work together to bring out desired results. Hence, automation software must seamlessly integrate with multiple other networks. 
Cflow is one such dynamic platform that offers you the above features and more. As a no-code workflow automation software, employees and customers enjoy a smooth and fruitful banking experience.
End-to-end workflow automation
Build fully-customizable, no code process workflows in a jiffy.
How to Go About Automation in Banking?
Shifting to automation need not be an overwhelming task at all. Developing an automation strategy will be a perfect guide to achieving a seamless shift. For banking automation, a detailed plan, user-friendly software with necessary features, and the right insight assessment could give you the result that you are looking for. In most cases automation software is the most affordable technology that an organization can go for. This is also the change that promises a major change in the outcomes as well. Here are four major steps that you could follow when implementing automation:
Identify the business processes to be automated

Evaluate the available automation technologies 

List out the pros and cons of each and make your choice

Draft an implementation plan for your banking culture

Run a test and evaluate the Key Performance Indicators
Seamless Workflow automation with Cflow
Cflow promises to provide hassle-free workflow automation for your organization. Cflow focuses on the ease of use for the workforce. Employees feel empowered with zero coding when they can generate simple workflows which are intuitive and seamless. Banking processes are made easier to assess and track with a sense of clarity with the help of streamlined workflows. Cflow is also one of the top software that enables integration with more than 1000 important business tools and aids in managing all the tasks. 
As mentioned in the features, Cflow seamlessly works with some of the essential third-party applications like SAP, and Zapier among many others. It also supports additional features or external support outside of its structure if the customers demand it. This can be easily done with the integration features of our platform and it can be done without disintegrating yourself from the user interface. This is how it lets you follow your workflows without any interference. 
Automation: A Necessary Solution
In 2018, Gartner predicted that by the year 2030, 80% of traditional financial organizations will disappear. Looking at the exponential advancements in the technological edge, researchers felt that many financial institutions may fail to upgrade and standardize their services with technology. But five years down the lane since, a lot has changed in the banking industry with  RPA and hyper-automation gaining more intensity. 
As mentioned earlier, customers and employees are the cornerstones of the banking sector. You have to constantly be on par with your customers and a few miles ahead of your competitors for the best outcomes. For this, aligning with technology has come to be an important parameter. Conventional banking will not suffice the current customer expectations. 
That is why, adopting a platform like Cflow will guarantee you a work culture where you grow, your employees grow, and your customers grow. This is your chance to empower and enhance your cornerstones. 
Want to book a free demo with Cflow? Click here.
What would you like to do next?​
Automate your workflows with our Cflow experts.​
Get your workflows automated for FREE
---