Content Marketing Workflow: Mastering Content Management Like A Pro!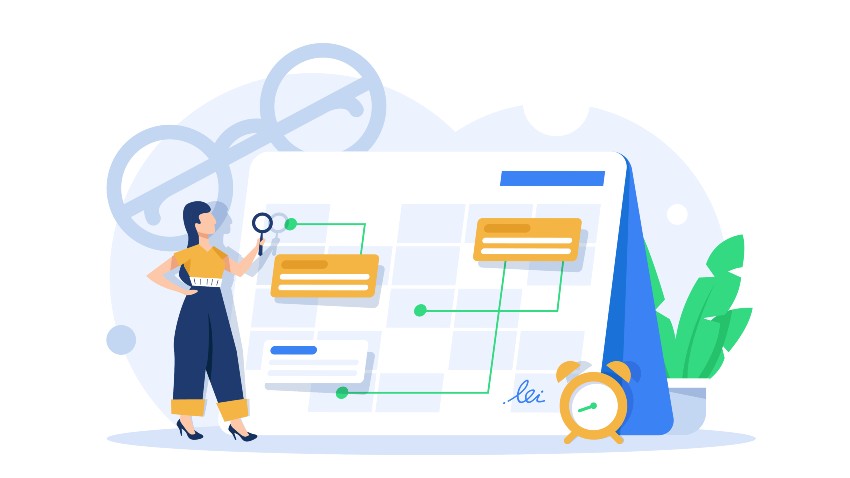 We live in a digital world where online visibility has become fiercer than ever before and content marketing has become an art of captivating the audience! You ought to deliver valuable, captivating, and relevant content with the right strategies consistently to your targeted audience to win the race. Behind every engaging content, there is an efficient team and behind every comprehensive content marketing strategy, if rightly said, there lies a well-structured and efficient content marketing workflow!
Content marketing workflow streamlines the key components involved in content production and marketing strategy to be robust with a dynamic and strategic approach. The marketing workflow caters to planning and orchestrating the series of tasks involved in content production to generate tangible results and drive growth. This space gives you a complete rundown on developing a refined content marketing workflow template and effectively implementing it. So let us explore!
What is Content Marketing Workflow?
Content marketing is a strategy to build your brand identity online and engage your audience. A content marketing workflow is a comprehensive approach involving a set of tasks to create, manage, and distribute content to engage targeted audiences or attract sales. 
A content marketing workflow aids in visualizing the tasks involved in developing a sound content strategy, creating compelling content, optimizing, and distributing the content across multiple channels to engage your audience in a consistent manner. 
An effective content marketing workflow software aids your captivating brand voice echo everywhere online driving insightful growth and success. Content production and marketing strategies work fine with proper workflow in place, while the headaches that an inefficient workflow brings in are countless. So, it is typically important to define a content marketing workflow template before the content for the project is even envisaged by your team.
Defining a Content Marketing Workflow Template
Does reworking the content exhaust your team? Missing deadlines getting on your nerves? Is the collaborative effort of your team on content exorbitant and hardly generating leads/ sales? If it is a yes then It's time to make use of a content marketing workflow in your marketing strategy.
The content marketing workflow template should visualize and outline the tasks of content marketing. The template should be designed in such a way as to engage the target audience with a determined conception of their needs, preferences, and demographics.
The content formats (blog posts, ad copy, video, white paper, infographics, video content, etc.) should be organized legitimately so that things go according to plan and schedule on the editorial calendar. But here are a few basic tasks involved in content marketing:
Precise plan on goals and strategy

Ideation

Content creation

Review

Editorial check

Content approval

Content optimization

Promotion plan and content distribution (in various social media platforms/CMS)

Publish
A content marketing workflow is the documentation of your content marketing process helping you optimize your content strategies with new tactics. Make sure the content is visually appealing, well-structured, and readable in a way to improve the user experience.
Share the content as optimized by your team and leverage the required marketing strategies like ad campaigns to make your content perform and generate leads. Reiterate the process to refine your strategy with data-driven insights to thrive and succeed. Always ensure to use the terms that are used by your team in the workflows to make them more convenient to use.
Marketing Content Workflows
:

Task-Based/Status-Based?

It is never a one-size-fits-all model in a marketing content operation workflow. Generally, status-based charts are used to streamline the process and track them. Marketing content workflows have a series of concurrent tasks involved in the process that require alignment with the plan and schedule to make your strategy a winning call.

Content of any format, in status-based Kanban charts given a status at every phase succeeded by another status. The statuses can be:
Assign

In draft

In-progress

Publish
Status-based Approach
Status-based approach leaves room for invisibility in the process which affects the collaborative approach of the team. There is even a choice of labeling a wrong status to the content which slows down things and results in unwanted confusion. 
In the worst case, the team should be conscious about what each status means and when to update.  Misinterpretation would be worse in its impact. This requires the managers/editors to micro-manage all the simple tasks and be involved in the error process all the time as it is least insightful in a status-based approach.
In essence, status-based workflows can be chaotic imprating confusion and lack of clarity in the process. The user should be informed about the status( what it actually means) and the system (how it works). Status-based charts are not a great idea since workflows are meant to make things easy for the user while organizing and optimizing processes.
Content marketing workflow software outlines tasks so that it won't be overwhelming for users to remember/ recognize a term used in a workflow. Posing a memory load on the user is the problem with status-based workflows while task-based workflows are flexible and easy to use.
Task-based Approach
Task-based workflows facilitate the marketing content strategy like a conventional to-do list. This enables the user to assign a task to one and get along with the process in a particular order as defined in the workflow. Task-based workflows are simple as they are descriptive with the terms if required.
A simple task-based content workflow would be like:
Plan and schedule

Write/create a post

Edit Post

Review post

Approve post

Mark platform and Schedule post

Publish
This approach is simple and easy to understand so that the user doesn't get lost in the process while searching for what it means. The users find task-based workflows easy to use and navigate as they are visually and mentally intuitive (they don't need to recall what something indicates). Task-based workflows allow a user-friendly approach and also enrich the process visibility while enhancing control over the progress of the process. 
Status-based workflows do wonders for sequential or recurring tasks while with concurrent tasks like content marketing – the working wonder idea would be combining the task-based and status-based workflows! 
You can custom create a workflow template where tasks like content creation, and validation approval are designated to the team where updating the status of each phase can be an option.
For instance, the content creation workflow for a blog post involves a writer, editor, designer, reviewer, and approver.
The task-based workflow would be like:
Write a blog, edit a blog, design the visuals, review the blog, and publish the blog.
Whereas in the status-based approach:
Assigned, in progress, and published. This is insanely opaque, leaving you with questions like who is assigned what content. What is the ongoing task (writing editing or reviewing or designing)?
When both approaches are utilized in a workflow:
You are clear with who is assigned what type of content, who edits, reviews/approves, and when it is being done.
P.S: It would be unmindful if we forget to mention that Cflow embarks as a content marketing workflow by combining these status and task-based approaches!
End-to-end workflow automation
Build fully-customizable, no code process workflows in a jiffy.
Why is a Template Necessary for a Content Marketing Workflow?
Defining a workflow template is necessary for content marketing as it makes things easier to perform, track, analyze, and improve. Templates enable better and repeatable usability of the workflows i.e. you are not supposed to reinvent the wheel rather build a  template from scratch and customize the workflows depending on the project or formats involved. This improves the time budget management, and efficiency of your team.
An efficient content team makes plans and strategies based on their deadline: they start working towards producing quality content prior to the due date without any hasty rush.
Streamlining content creation is essential to bring clarity to the process. The template aids in making you informed about effective planning, producing, and publishing content. The content marketing workflow template draws an outline of the involved steps and roles and responsibilities of everyone to be transparent and clearly documented. 
Content production is a process where reviews and validations are paramount and unavoidable. A content marketing workflow template helps you address the following at a glance:
What are the process requirements?

Who is involved in the process?

What are their roles and corresponding tasks?

What are the phases involved in every task?

What are the loopholes?

What tools/practices should be implemented to improve?
With clarity over these, a content marketing workflow template helps you break down content creation into simple tasks and scheduling deadlines. Being informed about the objectives of the strategy, an efficient workflow template helps you save time and assets. It also provides a framework that would be replicated with required minor changes for new ad campaigns. This also enriches your brand voice and ensures consistency in your marketing practice.
To-Do List to Implement A Content Marketing Workflow Template:
Having a content marketing workflow in place is indeed part of your solid content strategy to embark on excellence in your marketing journey. Strategy and workflows go in tandem to make content marketing effective and efficient. Here is a checklist to consider before implementing content marketing workflow software.
1. Figure out the essentials
Type, and format content you should produce, what is the purpose of the project, and who is the audience. Extend research about the needs and requirements of the audience.
2. Plan and strategize
Build a strategic content marketing plan to generate well-structured content and engage your audience. Plan on the marketing strategy to be implemented. Deciding on the publishing platform, running ad campaigns, paid ads to be run ( how many and when to run), newsletters, email-marketing tools and platforms, ebooks, blogging sites, landing pages, or any other supporting content.
3. Assign roles and responsibilities
Designate your team with clear job roles and make sure they are informed about their tasks and responsibilities. Bring transparency in who is accountable for what, what is expected from whom, and who is the final approver/ reviewer.
4. Schedule as the editorial calendar speaks
The efficiency of every process in an organization is likely to be influenced by the team size, capability, internal hierarchy, tools, and budget. Map out the content with their published data and share this editorial calendar with your content and marketing team. Involve stakeholders too. Make this calendar public and accessible.
Although there are several assets and strategies in content marketing, creating a template and documenting it is an ideal strategy.  Over time, you ought to see a pattern; you can use this pattern as a base and customize your workflows to meet the changes without the need to reinvent the wheel every other time you run ad campaigns or publish a blog post.
Why Cflow for Content Marketing?
Content marketing is a concurrent process where every task is interrelated and works towards the same goal of improving your sales/brand identity. This requires a dedicated workflow solution that could provide a clear roadmap of phases/ tasks involved in the process. 
Cflow, being an

automated workflow solution

provides a comprehensive and structured framework to strategically streamline your content marketing process.

The drag-and-drop interface enables you to custom-build your workflows with ease. Building workflows is easier than planning your strategies when Cflow is in place. 

The rule-based workflows help you determine the scope of a particular role in a task.

Every other task in content creation should be approved before being forwarded to the next phase to ensure that the draft is devoid of errors or any discrepancies. 

You can even assign rules that trigger a new workflow. The dynamic approval workflow ensures that the approval is on time without any delays with tailored notifications. You can customize the notification type and even personalize them. When the final approval in content creation is accomplished, you can define rules in Cflow to trigger the marketing workflow automatically. 

Cflow is cloud-based and the editorial calendar is easy to access and helps everyone stay on the same page. Being a no-code solution, it is easy to use and manage and requires no technical expertise.
Final Note
Content production and marketing is nothing less than an art form. Start prior and be proactive to avoid the last-minute hassle with content marketing workflows. As ad-hoc arts rarely perform!  Visualize the process with workflows, to categorize, segregate and schedule. Make content marketing easy-breezy with customizable workflows and opt for a solution where building such dynamic workflows is a matter of minutes. 
The workflow builder in Cflow with the drag-and-drop interface spices up things to make your content marketing strategy simply streamlined. Organized tasks and a coordinated team are a wish for every marketer to succeed- Cflow makes this a reality!  Experience the power of streamlined workflows in your content marketing strategy by signing up now!
What would you like to do next?​
Automate your workflows with our Cflow experts.​
Get your workflows automated for FREE
---