Understanding the What, Why, When, and How of HR Management Software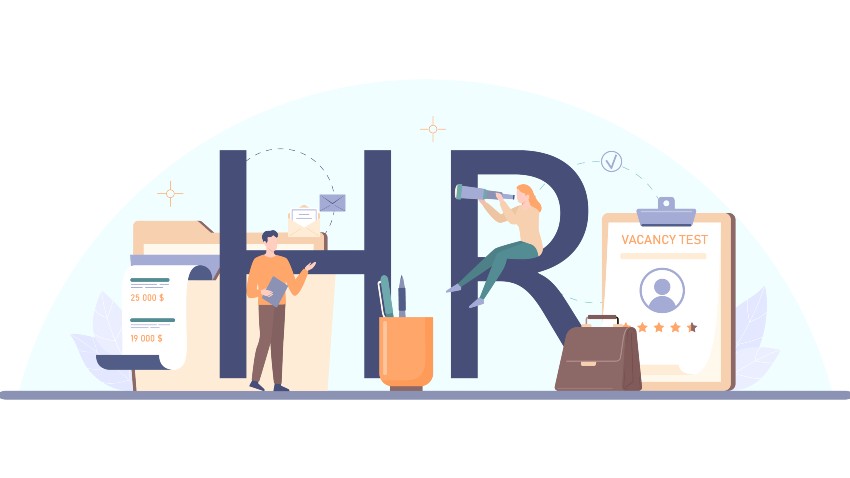 Just as capital funds are essential for running a business, human capital is essential for the smooth functioning of the business. Failing to handle human resources well in an organization is a recipe for failure. Efficient human resource management helps protect human capital and paves the way for the continuous growth of the organization. Several organizations are turning to HRM software to automate human resource processes throughout the organization.
Using software for HR management automates several key HR functions like job training, payroll, employee information management, candidate screening, performance appraisal, and recruitment. Read on to understand the need for HR management software and how to choose the right software for your organization.
Key HR Workflows for Automation
Human resource management is an integral part of every business function. Whether it is hiring new employees training new employees or ensuring labor law compliance – most HR workflows are labor intensive.
A majority of the HR teams in organizations are so used to carrying out all their duties manually that and feel that they need to get the job done personally. This approach is slowly changing, thanks to the adoption of HRM software. HR automation is invading the labour-intensive HR function to improve process efficiencies and business productivity.
Why should you automate HR workflows? Before we answer this question, we need to first understand the key HR workflows that exist in an organization. Here are the main HR workflows in an organization that is best suited for automation.
New Hire Management
Hiring new employees is among the most important HR functions. Hiring is just a part of the new hire management process. New hire management includes sourcing profiles, screening candidates and interviewing shortlisted candidates, performing background checks, onboarding new employees, and scheduling orientation and induction sessions.
All these processes involve a considerable amount of effort and time. Also, the manual execution of these tasks lacks clarity and transparency during execution. Any delays or bottlenecks in any of these processes result in a painful onboarding experience for the new hire and a waste of time, effort, and money for the organization.
Timesheet Approvals
Client billing is totally dependent on timesheet approvals. Filling of timesheets by the employees must be done on time. A simple and transparent timesheet filling and approval of timesheets ensure that client invoices are sent and payments are received on time. Delayed or flawed or erroneous approvals can result in delayed client or wrong payments, which in turn causes a dip in revenue for the organization.
Organizations that span several locations routing, reviewing, and approving timesheets are into further trouble with manual timesheet approvals. Employees are left guessing on the status of timesheets, while management is burdened with manual review and approval of timesheets.
Employee Information Management
Managing employee information involves updating organizational records when a new employee joins or existing employees leave the organization, changing the employee status after promotions, changing employee contact details, and payroll updates. When information management is done manually, it can be tedious and prone to errors.
Leave Management
Leave management systems to take care of time off or vacation request submission, review, and approval/rejection. Managing leave requests manually is prone to delays and errors. The employee is not updated on the status of the leave request, which makes it difficult to plan for leave. Overlooks and overlaps of leaves happen when leave requests are managed manually.
Using HR management software for managing leaves ensures that reviews and approvals happen on time. The approver is issued alerts and notifications when approvals are pending or due. Overlap or overlook of leaves is a thing of the past when leave management is automated.
Candidate Screening
Finding the right fit for open job positions within the organization is a challenge faced by the HR department. The hiring team needs to screen several candidate profiles for a single job opening to find the right fit. Following manual methods to evaluate candidate skills can be overwhelming for the hiring team and is also ineffective in screening the right fit for the role. Automating the candidate screening using pre-employment skill assessment software enables quick and effective candidate screening.
Performance Management
Evaluation and review of employee performance at regular intervals is a must to ensure that employees perform up to their potential. Analysis and review of employee performance also ensure that it is aligned with the overall organizational goals. Keeping track of candidate performance manually is a tedious process for HR. Automating employee performance management keeps human bias out of it and ensures accurate decision-making.
Key HR processes like the ones mentioned above can be effectively automated using HR management software. Automating these processes brings efficiency to HR operations and improves the overall productivity of the organization. Human resources management software helps to automate these processes.
End-to-end workflow automation
Build fully-customizable, no code process workflows in a jiffy.
What is HR Management Software?
Human resources management software (HRMS) is a digital solution that combines several processes and systems to manage and optimize daily HR tasks and the overall HR goals of the organization. An HR workflow is a process of moving data between various HR systems and other applications in order to fulfil a specific HR objective.
HR management systems computerize and automate several processes related to HR like payroll management, training, recruitment, candidate screening, and employee information management. By automating repetitive and standard HR activities, organizations can reduce the cost and time spent on these activities.
The use of HR management systems improves the productivity of HR departments by saving them from tiresome manual tasks and enabling them to focus on higher-value tasks. HR software streamlines business operations. From document filing to creating files, and sharing information, HR software makes it easy to handle all critical admin tasks. Depending on the needs of the organization, they can choose from any of the following categories of HR management software.
Employment information systems – These systems track personal information and essential details of employees.
Position control systems – Different positions within an organization can be tracked using this tool.
Performance and goal management system – Employee performance on individual and team projects is tracked and monitored.
Time tracking and attendance management system – Time and attendance tracking to maintain proper workflow.
Recruitment and applicant tracking system – Evaluation, monitoring, and background checks on candidates can be done by this system.
Compensation and benefits information system – Keeping track of employee payments and additional benefits is done by this system.
Employee training and development – Training new recruits and bringing them up to speed with expectations of their new role
Global HR system – Businesses with operations spread across different locations can use global HR systems to track business operations.
HR reporting system – This system provides feedback to the HR department on employee data.
Organizations can choose one or more HR management systems from the above lists as per their business requirements. Businesses can choose an integrated HR module that combines the above systems or separate systems.
Types of HR Management Software
Based on their usage and purpose, HR management software can be classified into the following types.
Applicant tracking systems (ATS) –
Applicant tracking software is an HR management software that can be used for the hiring process. Using an ATS greatly simplifies the organization's hiring process. Hiring tasks like storing applicant data, posting job openings to multiple boards, and screening applicants for potential job positions are some of the features provided by ATS.
Performance management –
Performance management software is a tool for HR professionals, managers, and employees, for evaluating employee skills, setting performance goals, and tracking their improvements.
Human resources information systems (HRIS) –
This HR software can be used for handling multiple HR functions like recruiting, tracking applicants, managing payroll and benefits, storing employee data, and maintaining legal and regulatory requirements.
Employee onboarding software –
Employee onboarding software streamlines the employee onboarding process. Tracking employee onboarding status is simplified by the software. Electronic signatures, training tracking, employee questionnaires, and other automated functions are included in employee onboarding software.
Employee management –
This software can be used to improve employee and team engagement. The software is used for gathering feedback, coaching, analytics, and everyday work priorities on employees.
Need for HR Management Software
From the hiring process to employee onboarding to payroll, HR workflows can work like clockwork with the right human resource management software. The right HR software can help companies reap several benefits. Why is HR software a must for organizations?
Reduces paperwork and protects privacy –
The most important advantage of using HR software is that it reduces the need for paperwork in all HR transactions. The HR teams are spared from handling voluminous paperwork that comes with the manual processing of profiles, managing employee information, and payroll management.
It can get cumbersome and time-consuming to search for a document in a room full of files. Moreover, the chances of documents getting misplaced or damaged are more when there is too much paperwork. Using HR software to manage HR processes digitizes HR data. When data is digitized, searching for relevant documents becomes easier and frees up office space as well. Admin-based controls on sensitive data also provide safety and security of data.
Accelerates your processes –
HR in any organization is in charge of addressing the concerns of employees. Addressing all of the employees' concerns can be cumbersome for HR. Some of the queries could be trivial but take up a lot of time for the HR team. Automating HR processes using chatbots makes it easy to handle trivial queries that do not require the intervention of HR. HR software makes it easy to manage every member of the organization.
Interaction with third-party applications –
Manual HR processes operate in silos. As a result, the interaction between these processes is limited, which brings down the visibility and transparency of HR processes. The adoption of HR software integrates disparate processes, which paves the way for seamless information exchange between these systems. For example, payroll systems can easily collect all the employee-related data needed for calculating their salaries from the HR system, without HR managers having to enter the data manually.
Attendance and time tracking –
Tracking and maintaining employee attendance and the number of work hours have a direct impact on business revenue. The HR personnel spends a lot of time sorting through spreadsheets, time logs, and other important files. This brings down the productivity of the HR team. Using HR software helps track the number of hours and employee attendance automatically and generates customized real-time reports.
Improves productivity –
Manual HR software is ridden with repetition and redundancy. The HR team is forced to focus on labour-intensive and mundane tasks rather than productive tasks. Automating HR processes using workflow automation software eliminates redundancies and repetition from the workflow. It also reduces costly errors and everyone in the HR team benefits from user-friendly automation solutions. Using HR software boosts the morale of the HR team by enabling them to focus on strategic activities.
Improves operational efficiency –
Manual data entry and information management systems prove costly for the HR teams. Most of their productive work hours are spent searching for employee records screening through prospective profiles or doing background verification of candidates. Automating HR processes ensures that the HR department has all the user data at the tip of its fingers. Employee data is available to HR at any time and HR can also update employee records in just a few clicks. Quick and effective execution of HR processes improves operational efficiency.
Frees HR staff –
Repetitive and mundane HR activities can tire out the HR and make them feel less valued. When HR personnel spend their work hours on useful and strategic HR activities they get to learn new concepts and grow in their career. When HR personnel are free from mundane activities, they get to focus on the growing complexity of organizational development, employee training, and retention techniques. More focus on such activities also increases the engagement of the HR team and their work satisfaction.
Data security –
Automated HR processes ensure the safe and secure handling of sensitive employee information. HR software enables HR personnel to provide controlled access to data so that not everyone can access sensitive data. Moreover, HR management software stores data on a cloud server for the highest levels of security. Two-way authentication of data also keeps it safe from hackers.
Choosing the Right HR Management Software
There are several HR software available in the market. Some vendors provide an integrated HR solution, while others provide specialized modules for specific HR functions. Most of the vendors promise to deliver unique solutions to suit your business requirements, but how many of them actually deliver on their promise? How do you choose the right HR management software? Here are some pointers that will help you choose the right HR management software.
Does the software satisfy all my needs?
You need to first ascertain if the solution fulfils all your HR requirements. The solution must be customizable to the company's needs. Common HR needs of the organization include:
Actionable insights generation for faster and better decision-making
Complete audit visibility into HR processes
Omnichannel access
Automated alerts and notifications to keep employees on track
Automated workflows that are aligned to every HR process
Does the solution integrate with relevant solutions?
Organizations could already be using HR solutions to manage their processes. The new HR software must be able to seamlessly integrate with existing HR solutions. Integrating disparate systems improves business productivity and operational efficiency.
Does the solution scale up according to business growth?
The HR software must be able to scale up to the growing needs of the organization. Flexible and scalable HR software for small businesses aligns seamlessly with expanding the scope of operations as the business grows. The software should be able to accommodate organizational growth and changing business needs.
Does the solution provide any self-service features?
HR software that provides self-service features will be able to take care of small issues without HR having to spend too much time and effort on resolving these minor issues.
Does the software provide customer support?
Any issues that might arise while using the software must be addressed so that HR operations are not affected. The software vendor must provide solid customer support so that any issues while operating the software can be resolved quickly before the business is affected.
Is the user interface easy to use?
The user interface of the HR software must be intuitive and easy to use. Software that involves complex operations requires extensive training of HR personnel. An easy-to-use interface is a must for the software.
Cflow is a workflow automation software that provides all of the above features and much more. The visual form builder in Cflow enables HR managers to build custom workflows within minutes. Trusted by over 20,000 users, Cflow is an ideal cloud BPM for small, medium, and enterprise businesses.
Top 10 HR Management Software
There are several HR management software options available in the market to choose from. The below list of best HR software as per Capterra research.
1. Ceipal ATS – This is a leading AI-powered solution that is used by recruiting and staffing firms. This solution can be used for finding and placing more hires using less time and resources. Using this software better quality candidates can be hired for open positions.
2. Oorwin – This AI-powered talent intelligence solution is useful for sourcing, hiring, onboarding, and development. This can be used for companies of all sizes. Rich dashboards, reporting, and AI-powered analytics are some of the features provided by this HR software.
3. Remote – This software helps employ global teams for a low flat rate. HR personnel can handle payroll, taxes, benefits, options, and compliance using this software. This is an easy-to-use solution for a global team that strongly protects intellectual property.
4. Alchemus – This is a cloud-based talent management and HR solution. This software includes features like applicant tracking, onboarding, business intelligence, and goal setting.
5. Darwinbox – This is a unified HRMS platform that helps HR manage the entire employee lifecycle. This is exclusively built for large enterprises across the globe. This is a mobile-first platform that provides self-service capabilities and a superior user experience.
6. Akrivia HCM – This is an advanced hire-to-retire platform that is built with the goal of creating an application with enterprise-grade architecture and functionality. All the functionalities have been built with the needs of the future workforce in mind and to create a positive experience throughout the lifecycle.
7. AddettoHR – This is a cloud-based onboarding, leave and attendance, payroll, performance review, and employee record management software. Other features include a mobile application with a geo-fencing feature, tracking employee location, and monitoring compensations.
8. Pocket HRMS – Known as Pocket HCM previously, Pocket HRMS is a new-age cloud-based Payroll and Human Capital Management Solution (HRMS) that combines the strengths of cloud and mobility.
9. SAN Payroll – This is payroll and HR software that aims to manage, organize, and automate your employee's salary and financial records management. Employee salary structure, bonuses, incentives, deductions, investments, timesheets, and attendance verification can be easily done using this software.
10. Deel – This is a global payroll and compliant hiring software that can be used for remote teams. With Deel, you can hire employees or independent contractors across the world within minutes.
Conclusion
According to Grandview Research, the global human resource management market size was valued at USD 19.38 billion in 2021 and is poised to expand at a CAGR of 12.8% between 2022 and 2030. The increasing adoption of automation and digitization of HR operations to create agile and effective approaches is the main driver of market growth. Software for HR functions is no longer good to have, it has grown into a must-have feature for the smooth functioning of the organization.
HRM software simplifies the work for HR personnel by automating repetitive admin work. Adopting HR management software improves operational efficiency and business productivity. Cflow is a workflow automation software that can be used to automate key business workflows within minutes. This is a no-code workflow automation software that can be used to simplify day-to-day operations in the HR department.
To explore the features of Cflow, sign up for the free trial today.
What would you like to do next?​
Automate your workflows with our Cflow experts.​
Get your workflows automated for FREE
---