Standardize, Structure, and Scale Content Workflows with the Best Content Workflow Software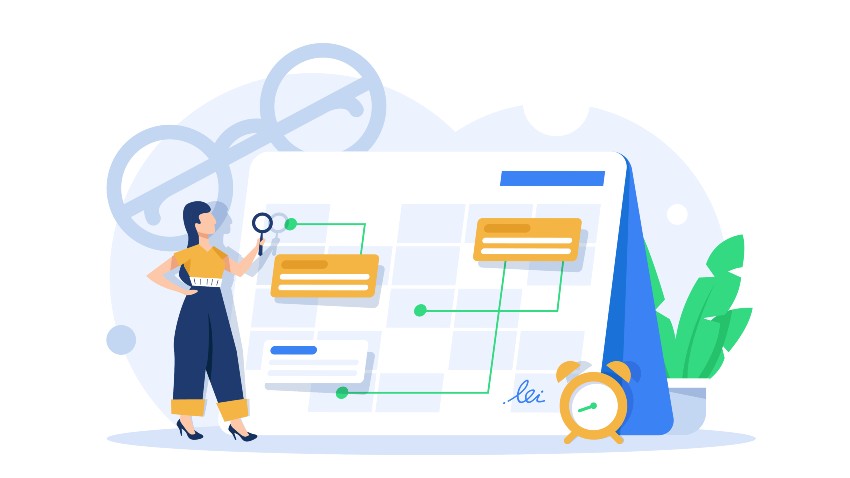 The right content can create a great impact on the target audience and achieve high SEO rankings. A streamlined content creation process can improve the effectiveness of content and coordinate content publishing across channels.
Content workflow software helps teams manage and streamline the content creation process. The best content workflow software can help teams organize and store content from a centralized console, monitor engagement, and determine ROI.
Read on to understand how content approval workflow software works and the best content workflow software for 2024. 
Content Workflow at a Glance
Content creation is an extremely important part of the agency's marketing strategy. Good content can increase brand awareness, generate new leads, and boost overall engagement. Generating good content involves many moving parts and collaboration from members of the content team.
A carefully designed content workflow can streamline the content creation process while improving content quality, accountability, and collaboration. Like any other business workflow, content workflow too is a series of tasks the marketing team performs to take your content from ideation to delivery as efficiently as possible. 
A content workflow outlines the process and relies heavily on people, tools, and resources for creating content. For a successful content workflow, the role of each person in the workflow, documents and materials required for each task, and timelines for completion of each task must be clearly defined. Ideally, materials, people, and timelines should be defined in one workflow that can change depending on the content you create, such as blogs, videos, web copy, or live stream. 
Content workflows can be task-based or status-based. To build the right workflow for your business case, you need to know the difference between the two types of workflows. Task-based workflows are those in which each stage of the content creation process is a task that needs to be carried out before moving on to the next step.
In this type of workflow, each step is described in good detail and everyone working on the project is aware of what is expected of them. These types of workflows are especially useful for new content teams because task assignment is made very clear and the next steps after each task are clearly defined. 
Status-based workflows on the other hand are mostly used by more experienced teams. Each stage in the process is defined by status, and the stages do not include detailed descriptions of what needs to be done, unlike task-based workflows. Tracking in such workflows is much easier and can be used in a variety of content types. To use such workflows effectively, team members must understand the content creation process and their roles within the workflow. 
Building a Content Creation Workflow
Building a content creation workflow requires a complete understanding of the content strategy of the marketing team.
What are the content goals?
Who will be the target audience?
What will be the campaign targeting?
The steps for creating a content workflow are common irrespective of the type of content or the marketing campaign. Follow these steps to create effective and impactful content workflows. 
1. Establish the content goals and target audience
The goal of the marketing campaign will determine the content you want to create and the audience being targeted. Is the main aim to create brand awareness? Are you doing a short-term campaign to promote a new product? If this is the case, then you can create product-related blogs or video posts. Or if you are working to delight and retain existing customers, then an email campaign would be the right strategy. 
2. Define roles and responsibilities
Once the goals of the campaign and target audience are understood, you are ready to decide on the roles and responsibilities within the content workflow. A clear definition of who in the marketing team will be working on what is an essential part of the workflow creation.
For content creation workflows, content creators, editors, copywriters, etc, are the basic roles. Irrespective of whether you are doing a task-based workflow or a status-based workflow, everyone involved must be clear on their roles, duties, and where they fit in in the overall workflow. At this stage, it is important to assign approvers within the workflow.
3. Determine the content types and frequency of the output
Figuring out the type of content you wish to create and how often you want to post/use this content is an important factor to consider while creating content workflows. Creating a content calendar to plan your projects in advance and get the necessary approvals on time is a great way to ensure the content is launched on time. 
4. Define the content creation process
It is a good idea to brainstorm with the team about the steps in content creation and the must-have components of the campaign. The steps will depend on the type of content being generated. For example, blog post creation might entail strategizing, planning, creating, editing, publishing, and analyzing steps. More or less all types of content require these steps, with addition or deletion of steps as the case may be. Every step in the process needs to be accounted for so that it can be assigned to the appropriate team member. 
5, Document and automate your workflow
Typically, companies follow standard operating procedures for operating and documenting workflows. Editorial workflow management software allows users to align all the processes followed by the team so that each team member is clear about their task assignments. Content templates help teams create content regularly and efficiently with reduced errors. Content approval workflow software allows teams to document workflows clearly as per standard operating procedures.
Automating the Content Workflow
A content workflow provides a centralized platform to plan, create, and publish content. Editorial workflow management software also allows teams to manage a host of content-related activities, such as –
Asset management – This function is concerned with organizing and storing content in a centralized location.
Content planning – Content creation activities like compiling keywords, and topics, creating audience personas, and content calendar creation can be performed here. 
Task assignment – This function is concerned with the assignment and tracking of the progress of content tasks. 
Content creation – Creating a draft and editing content documents of all types is categorized as content creation. 
Compliance management – Tracking and streamlining all approvals as per compliance procedures comes under compliance management.
Content distribution – Coordinating content publishing across various channels comes under content distribution. 
Reporting and analytics – The performance of the content workflow software needs to be tracked, reported, and analyzed to ensure optimal performance. 
Once you automate the content creation workflow, it becomes easy to track the status of marketing content, and approvals are also accelerated. From keyword research to publishing content, all the steps in between can be automated to boost the productivity of content workflows. 
Is Content Workflow Software the Same as a Content Management System?
Both content workflow software and content management systems are a part of the content marketing strategy. Implementing a solid content development strategy can be overwhelming, especially when you don't have the right SEO or editing tools.
Content management systems (CMS) and content workflow software are important for implementing a content strategy, but one needs to understand the difference between the 2 to ensure that they are used the right way. 
CMS is a system that is used to create a website and its content without coding it from scratch. The most popular example is WordPress. Users can use templates provided in WordPress to create a website with very little or no HTML coding.
Once the website is created, users can continue to use WordPress to publish and schedule new content. The available features and extensions can be used to enhance content and help it perform better. 
Content workflow software on the other hand is a tool that is used to automate all the activities related to content creation and publishing in various channels. Review and approval of content can be streamlined with content workflow management software. A CMS can be used as part of the content workflow for creating content. 
If you are looking to keep all your team members on the same page with a unified content creation process, content workflow software is your best bet. A CMS can come in handy when you are publishing new content, however, it cannot be considered as a replacement for content workflow software. 
Must-Have Features of Content Workflow Software
The decision to automate content workflows must be backed by choosing the best content workflow software. With so many options to choose from, how to choose the right content workflow software for your organization? As you explore various workflow solutions, here is a guide to choosing the one that fits your requirements. 
Provides the right toolset for your team structure and size
Choosing the right content workflow software must be done based on the size of the content team and the working structure. For instance, a large content team that works remotely requires workflow software that has plenty of collaboration tools that bring the entire team together.
In addition to collaborative features, the tool must include asynchronous communication features for team members working in different time zones. Automation features that help the team save your team time tracking through tasks in the project.
For example, an automated check in feature updates team members on the project's progress on a daily or weekly basis. Workflow templates are another feature that helps people working on different types of content. 
Integration with your working style
The working style of each team varies, so it is important to find a content workflow solution that will easily integrate with the existing setup. The workflow solution must have a user-friendly design and an intuitive interface that allows teams to quickly adapt to the new software with minimal interruptions in the flow of work. Dedicated integration support is a must-have feature of the software. The software also must be able to work seamlessly with the existing content management tools used by the company. 
Multiple communication methods
Content teams use different types of communication methods for their daily work routine. The chosen workflow software must support the communication style preferred by the team. For content teams spread across multiple time zones or at different hours of the day, integration between other communication platforms may be necessary. Seamless communication between content team members will keep everyone on the same page and keep projects on track. 
Variety of workflow views
The workflow automation software must offer a variety of views for the team to stay updated on content creation. A variety of views provides each member of the content team with the ability to visualize and process information differently. A varied view of the workflows provides each member an option to suit their needs. This allows everyone on the team to work more productively and efficiently, which ultimately results in quality content. 
Customization of task and workflow
The best content workflow software allows plenty of customization that aligns with the needs of the content team. Task management and workflow customization options are a must in the workflow software, which allows team members to tweak existing templates until they are completely tailored to each project. Solutions that provide minimal customization options can be frustrating for the team, especially when teams work with different types of content that require different workflows or steps. 
End-to-end workflow automation
Build fully-customizable, no code process workflows in a jiffy.
Top 6 Content Workflow Software for 2024
Now that you know the features that a content workflow software must have, you are ready to look at the best content workflow software in the market. Each of these tools offers a host of features that help teams create high-quality content faster and more efficiently. 
1. Cflow
A no-code workflow automation software that is capable of automating key business workflows, including content creation workflows. The visual form builder in Cflow helps teams put together content workflows by simply dragging and dropping workflow elements. The reports and analytics feature in Cflow lets teams stay informed on the status of each task in the workflow. The document management feature lets you scan and upload documents into Cflow. 
2. ClickUp
This is the best project management tool that offers some of the best features for content management and workflows. ClickUp is the perfect content workflow software to help you define and stick to your process so that you can build better synergy across teams. Customizable task lists and templates for different types of content to organize your editorial calendar make Clickup the perfect editorial workflow management software. 
3. Wordable
This is a content workflow software that simplifies moving content from Google Docs to WordPress, Hubspot, and Medium. Exporting documents can be done with just a few clicks, even tasks like formatting, images, and other media can be done with Wordable. The built-in editor lets you pull in and review your content from the Google Drive of team members before publishing, saving you time and effort in editing. 
4. Ahrefs
This is a highly efficient SEO tool that offers powerful features like keyword research, competitor analysis, and backlink information. With this software, you can boost your website's search engine rankings and generate more traffic for your content. Ahref's vast database of more than 10 billion keywords and their search volumes, offers comprehensive keyword research insights that help optimize the content for maximum search engine visibility. 
5. Surfer SEO
This is one of the most powerful and best workflow tools that can help you turn ordinary content into SEO-friendly content within minutes. This content workflow tool can be used to analyze top-ranking pages for a given keyword to provide valuable insights into the content, structure, and optimization needed for a page to rank well in search engine results.
Content teams can use this tool to optimize their content creation process to meet the specific requirements of search engines, including keyword density, page structure, and semantic analysis. This software provides comprehensive content optimization tools, like the content editor for content analysis and recommendations for on-page improvements. 
6. Co-Schedule
Content marketing needs to maintain consistency across various communication channels. Co-Schedule is a tool that helps build and maintain a full editorial calendar that publishes consistent content across various channels. The easy-to-use drag-and-drop calendar and the advanced scheduling features in the software can help you plan and organize your content production and publishing process from start to finish. There are also collaboration tools that help your team work together and share content marketing strategy with management. 
Conclusion
Choosing the best content workflow software for managing content creation and publishing should be done after considering all the features of the workflow automation solution. Creating content that creates a greater impact on the target audience can be done with the help of content workflow software.
A workflow automation software like Cflow can help marketing teams create impactful content across multiple communication channels. The no-code workflow solution that Cflow provides enables even marketing professionals without much technical expertise to create content workflows easily. You can try Cflow for free to experience its workflow management features firsthand.
Sign up for the free trial of Cflow and start streamlining your content workflows right away. 
What would you like to do next?​
Automate your workflows with our Cflow experts.​
Get your workflows automated for FREE
---