Expense Automation: How to Automate Expense Reporting?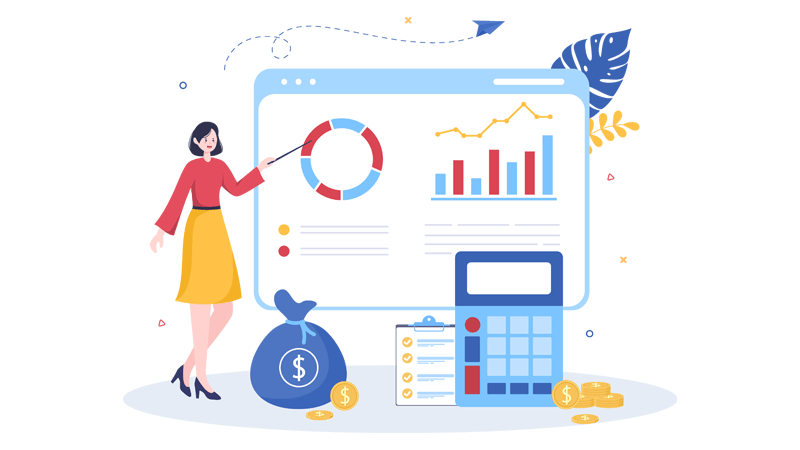 Finance teams spend a substantial amount of their productive work hours on routine expense reporting and approvals. When the volume of expense reports increases, it can get overwhelming for the finance teams to manage reporting and approvals manually.
Especially during month-end, quarter, or annual closure, the team spends hours finding receipts and checking bills. Automated expense management to the rescue! When you automate expense reports, the reporting and approval process is greatly simplified and accelerated.
Read on to understand the need for expense report automation, ways to automate expense reporting, and top 10 expense management software solutions.
Need for Expense Management System
Expense management is a hassle, but most of the time it cannot be avoided. To carry out expense management efficiently, the tasks in the process need to be streamlined.
The first step to streamline the expense management process is to understand the elements of an expense report. An expense report is essentially an itemized list of business expenses an employee has made out of their own pocket on behalf of the organization.
The employee files the expense report to the department manager for review and approval. Once the expense report is approved by the manager, it is sent to the finance team for approval. 
The expense report includes data on transport costs, accommodation costs, and food costs, during the business trip. Expense reports are essential for keeping a tab on business spending.
Having complete control of business expenses can be challenging especially when huge volumes of finance transactions need to be handled. Filing expenses exist for pretty much every business. The expense report helps the employer and the finance team determine the money that was spent, what was purchased, and how much of the expense comes under approved reimbursement levels.
Some of the categories of deductible expenses include advertising, dues and subscriptions, bank fees, insurance, maintenance and repairs, office supplies, legal expenses, rent, salaries, vehicles, and licenses. 
Expense reports play a crucial role in expense reimbursement, but they are also important for filing tax returns, claiming tax deductions, and conducting tax audits. Expense reports are organized by categories like office supplies, mileage, or meals.
Typically, an expense report is submitted along with corresponding bills and receipts as proof of expense. Expense reports are useful in tracking business spend, and are usually generated on a monthly, quarterly, or yearly basis. Yearly expense reports are also used to deduct expenses for tax return filing. Here is why expense reports are needed in an organization – 
Facilitates efficient expense tracking and cost control
Cost control for any organization begins with effective tracking and reporting of expenses. This is where expense reports come into the picture for giving organizations a clearer picture of how much money is being spent and on what it is being spent.
A comprehensive expense report also provides details on how much employees are spending with respect to various expense categories, and which expense category is driving up costs. Armed with this information, teams can also strategize on how to reduce or eliminate unnecessary costs. 
Helps financial budgeting and forecasting
Running a business smoothly requires accurate finance budgeting and forecasting. Detailed and accurate expense reports help with structuring a strong and informed financial planning for budgeting and forecasting. Accurate forecasting allows for more appropriate budgets to be allocated for various projects and departments. 
Accelerates expense reimbursements
In the majority of cases, employees pay out of their pocket for business expenses. They would expect fair and speedy reimbursement of their expenses. Expense reporting brings standardization into the reimbursement process, where employees are made aware of what can and cannot be expensed, and it also gives organizations a faster way to determine if a claim is legitimate. 
Simplifies tax deductions
Most of the business expenses are tax deductible. In order to claim deductions for business expenses, you need a proper record of the expenses. Expense reports simplify the process of keeping track of deductible expenses and writing them off during tax season. 
Filing expense reports is usually done using spreadsheets, templates, or expense reporting software. Creating expense reports manually is a tedious task that requires substantial effort from the employees and finance team. Expense report automation takes over the heavy lifting in the expense reporting process so that employees and finance teams can focus on tasks that add value to the business. 
What is Expense Automation?
From the above discussion, the tedious and time-consuming nature of manual expense reporting is evident. The best way to streamline the process is to automate expense reports. Expense report automation eliminates the most painful aspects of filing and processing expense reports. Traditional methods of filing expense reports like the use of spreadsheets or report templates are replaced by digital methods of filing expense information. 
Automated expense management systems simplify the process of filing reports by providing templates for each category of expense. While expense report automation may come in many different shapes and sizes, there is a standard structure that is followed by expense report automation software. 
1. Employees incur a business expense
The expense details are logged into the automation tool. The automated expense report software must contain complete details on the type of expense, category of expense, and amount of expense. 
2. Logging in details of the expense
When users log details of the expense into the system, they scan the recipes and bills and attach them to the expense log. All details of the claim are thoroughly checked before submitting the claim. 
3. Notification to the manager
Once the user submits the expense claim in the system, the department manager is notified of the submitted claim. Details submitted in the expense claim are verified by the manager for authenticity of information and whether the expense amount is within the limit allowed for the employee. The manager can either approve or reject the claim or sometimes resend the claim to the employee for additional information.
4. Routing for finance review
Once the department head approves the expense claim, it is then routed to the finance controller for review and approval. Finance controllers review the claim details, and they can either approve it immediately or wait until they have a batch of similar claims for approval. 
5. Finance approval
Finance controllers simply check the details on the claim that look correct and match them with the details on the receipt. If the details match, then the claim is approved for payment. 
6. Payment processing
The expense claims that are approved are either reimbursed immediately or processed as a batch at the end of a month. All the claims that are processed are sent to the company's accounting tools for reimbursement. 
Features to Look for in Automated Expense Reporting Software
Automated expense reports are far more accurate and are processed faster when compared to expense reports that are processed manually. With the right expense reporting software, it becomes easy and quick to process expense reports and keep a tab on the expenses incurred by the business. So while choosing expense reporting software, what are the features you must look for? 
Simple installation setup
Complicated and long set-up procedures for the reporting software can put off the user. The main reason why we go for automation is to simplify and accelerate the expense reporting process. Contrary to this expectation, expense automation software that entails a long and complex setup and usage procedure beats the whole purpose of automation.  So the first and foremost point to be borne in mind is that the software must be easy and quick to set up. 
Easy-to-use Interface
Once installed, the software must be easy to use. Users must not require extensive training to understand and use the interface. Expense reporting software that requires specialized training for the staff is not preferred by teams. 
Flexibility and scalability
Automation solutions must scale seamlessly as business operations expand. You should be able to add or remove users any time you like without any hassle. Also, the software must provide the flexibility needed to adapt to changing business needs. When scope of business operations changes, the software must adapt seamlessly. 
Role-based access
Finance information needs the highest level of security and safety. Access to sensitive financial data must be provided to relevant users only. The expense reporting software must provide role-based access to finance data. Different permission levels must be provided by the software. For example, the CFO or the financial controller must be given process owner permissions, while managers must be given approver permissions, and employees must be given reimbursement request permissions. 
Accounting integrations
The expense reporting software must enable seamless integrations with other accounting systems. Seamless communication with other accounting tools is a must-have feature for the expense software.
End-to-end workflow automation
Build fully-customizable, no code process workflows in a jiffy.
Top 10 Expense Management Software for 2024
When it comes to managing organization spend, you cannot take any chances. You need the best automated expense management software that can take over the heavy lifting in expense reporting and analysis. When we automate expense reporting, a significant amount of time and money is saved in the reporting and analysis process. Moreover, the accuracy and consistency of the reporting process improves considerably when you automate expense reports. 
Make no mistake when it comes to choosing the right expense reporting software, make sure that the software provides all of the above features, and aligns with your organizational needs. We have curated a list of the best expense reporting software from which you can choose the one that aligns with your organizational requirements. 
1. Cflow – No code workflow automation at its best
Cflow is a no-code workflow automation software that ticks off all of the above features and offers many more features that make expense reporting simple and effective. The visual workflow builder in Cflow can be used to create any type of process workflow required by the business.
From processing expenses to auditing employee expenses, visual workflows can complete all such processes within minutes. Real-time reports and analytics provided in Cflow enable users to stay informed on the status of every task in the process. Not just expense management, Cflow can automate just about any type of business workflow. 
2. Expensify – Easy-to-use expense management software
Expensify is a financial management software that helps individuals and businesses to simplify the way they manage expenses. With more than 12 million users, Expensify offers several features like corporate cards, expense tracking, invoicing, reimbursement, and travel booking. Whether you own a small business manage a team or close books for clients, Expensify takes up labor-intensive tasks so that you can focus on doing what really matters. Expensify can be used by account executives and customer success managers to simplify their operations. This is a user-friendly software that is easy to upload and saves time for the business. 
3. Brex – Expense software that is optimized for quick responses
A unified spending platform that gives complete control over business spending. Some of the features provided by this software are worldwide spend management with corporate cards, expense management, reimbursements, travel, bill pay, and business accounts. All of these features are provided in one single platform. Switching to Brex from existing expense management software is quick and easy. Brex can be customized to handle complex and diverse types of spend and enable the highest levels of compliance with the least amount of friction for employees. 
4. SAP Concur – Optimized for quick response
SAP Concur is the leading provider of integrated travel, expense, and invoice management solutions that is driven by a relentless pursuit to simplify and automate everyday finance processes. In SAP concur, charges are effortlessly populated into expense reports, and invoice approvals are automated. By integrating near real-time data and AI, an audit of 100% of transactions can be achieved. Tedious tasks in expense reporting can be eliminated, so that they run at their best.
5. Airbase – Expense reporting software that provides maximum control over spend
Airbase is the second easiest-to-use expense management software. Expense management of businesses with 100-5000 employee counts can be managed with Airbase. It is the best way to control spending, close books faster, and manage financial risk. The powerful and user-friendly software combines accounts payable automation, expense management, and corporate cards into a package that employees, finance and accounting teams, and vendors are comfortable using. This software takes a modern approach to spend management to bring efficiency into complex business processes. 
6. BILL Spend and Expense – All-in-one expense management solution
BILL is a comprehensive expense management solution that combines free software with corporate cards to provide users with real-time visibility and customizable control over business finances. This is a user-friendly software that saves time and money and provides customized expense automation. 
7. Pleo – Europe's leading spending solution
Pleo simplifies spend management by giving employees smart company cards to buy things they need and forget about chasing lost receipts. You can get real-time visibility into expense management, which makes you feel in control of spending, and slash down admin tasks. With this expense software, you can get more transparency and set individual spending limits. Users get a better overview of how the company's money is being spent. 
8. Zoho Expense – Leading travel and expense management solution
This software streamlines corporate travel and automates expense reporting so that organizations can get complete control over spend. The main aim of this software is to cut overspending at the source and minimize manual intervention. Zoho Expense provides insights into discretionary spending to improve business productivity. This software is available as a web-based and mobile application. It also offers a high degree of customization that ensures easier and quicker implementation without changing existing processes. 
9. Fyle – Modern expense management platform for accountants
This software is used by accountants to streamline their expense reporting process. It integrates directly with existing Visa and Mastercard credit cards. Automated matching of receipts, automated reconciliation, and faster time to close are some of the features provided by Fyle. Employees can submit expenses on the go, extract codes, and categorize data from receipts with this software. Fyle is best suited for an organization's strength of 50 to 500 employees. 
10. TravelPerk – Faster and easier booking of business trips
TravelPerk enables a richer and smoother travel booking experience for everyone and gives businesses the control they need over spend management. Using this software, you can plan every aspect of the trip from one place, and you need to pay only when you travel. 
Conclusion
From streamlined reimbursement process to better visibility to improved efficiency – automated expense management solutions provide several benefits to businesses. When expense reporting and analytics are automated, it becomes easy and fast to fill reimbursement claims and get them approved. Cflow is a no-code workflow automation tool that can automate just any type of business workflow.
To explore the robust automation capabilities provided by Cflow, sign up for the free trial.
What would you like to do next?​
Automate your workflows with our Cflow experts.​
Get your workflows automated for FREE
---