Forms Workflow – Effective Data Capture for a Streamlined Workflow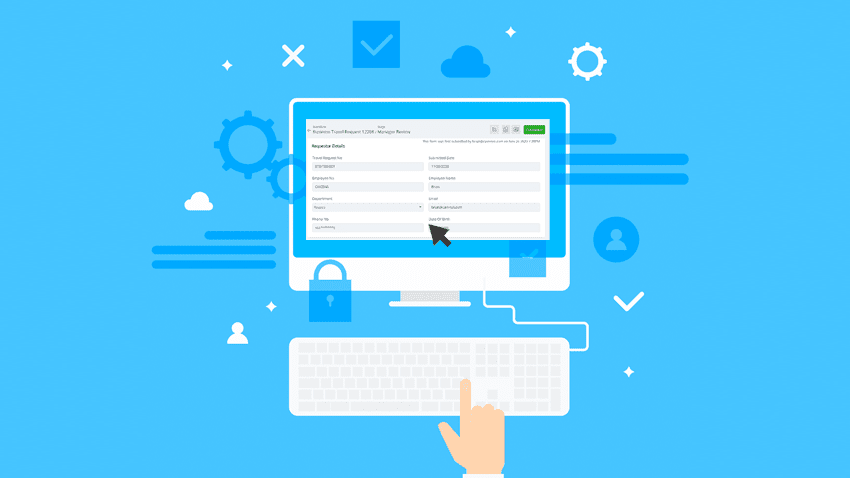 Data is power in the digital world. Effective data capture is imperative for workflow automation. Almost all workflows use forms of one kind or the other for gathering data. The response to the form can be easily transformed into triggers for workflows. Workflow forms are like gateways to process automation.
The Importance of Workflow Forms
Online process workflows were invented to reduce paperwork and make everyday work routines more effective.
We do not have anything against paperwork except that it is a cumbersome process that is prone to errors, damage, and misfiling. Paperwork robs a business process of its productivity and efficiency, especially on a large scale.
Online forms on the other hand are easy to build and use. Customers, job applicants, employees, vendors, and just about anyone can fill out an online form.
Workflow forms are a critical component of the automation process. The success of a business is driven by data in the digital age.
Well-designed forms are capable of collecting data that helps enhance business functions
Workflow forms are scalable, which means that they can handle large-scale data efficiently
Online forms enable easy manipulation of the captured data to suit business needs
Data capture is fast and efficient with online forms as opposed to paper forms
Forms are an indispensable part of workflow automation. Once captured the data can be easily transferred to different members of your teams in the organizations.
The information captured by a form can be sent to multiple teams to collect their feedback or approvals. Security of data is another feature in favor of workflow forms. Server-stored forms are free from damage or data theft or misplacement, unlike paper forms.
Enhancing the Effectiveness of Workflows
A number of important tools build a workflow automation solution, and workflow forms are among these tools. Forms play a pivotal role in the success of workflow automation. A properly designed workflow form can make all the difference in the success of workflow automation.
Here are a few ways in which a well-designed form enhances the effectiveness of workflows:
Effective data capture: A well-designed form includes only relevant fields of information. A flexible design allows for the addition/deletion of fields as per changing business needs.
Eliminates the need for paperwork: Online forms eliminate the need for bulky, error-prone, and messy paperwork.
Easy and Simple Usage: Employees of a company will find it easy to fill out the required information and submit the form in digital format. Employee satisfaction and productivity increase with online forms.
Scalable: A scalable and modifiable data capture format is required for capturing the sheer abundance of available data. Workflow forms fit the bill perfectly, they are capable of handling data as it increases.
Data security: The data captured through online forms is stored on a server, safe from theft and misplacement. Also for audit compliances, forms help in identifying the source of false or extraneous data in the workflow.
End-to-end workflow automation
Build fully-customizable, no code process workflows in a jiffy.
Form-driven Process Workflows
Since the success of workflows is dependent on the design and use of workflow forms, it is important to invest time and effort in designing them. Whenever there is an activity on a form, a workflow is triggered. A single form can trigger multiple workflows as well. In such cases, you need to establish a sequence in which the workflows are executed.
When a form is related to a workflow, it provides the data to trigger a task in a workflow. The three things to be considered while designing a workflow automation solution are
For the effective capture of data, workflow forms should be simple and easy to use. To engage people effectively in workflow automation, forms must be user-friendly and engaging.
Mobile-ready forms are the in thing now
Workflow automation aims at simplifying work processes. Workflow forms need to be built with users in mind. Forms that are too complex or ask for too much user information irk the user. Information in the form must be relevant to the process so that the right workflows are triggered by the data entered.
There are a number of form automation software available for creating forms. Cflow is a workflow automation solution that comes with a pre-built workflow library that can be utilized by organizations of all sizes.
The interface of Cflow is simple to use, and it can be accessed through a web interface, mobile, or tablet. Cflow empowers organizations with the necessary analytical tools that identify bottlenecks, streamline processes, and enhance productivity.
Conclusion
Forms are part of a bigger picture, they either drive processes or help management in making data-driven business decisions. Simple forms supported by an effective workflow are a winning combination. Forms tied to workflow automation bring about better business outcomes. Cflow enables easy and quick automation of all your business processes. To know more about workflow form automation and process automation solutions, sign up for a free trial today.
What would you like to do next?​
Automate your workflows with our Cflow experts.​
Get your workflows automated for FREE
---