Document Review Process: Restructuring Creative Workflows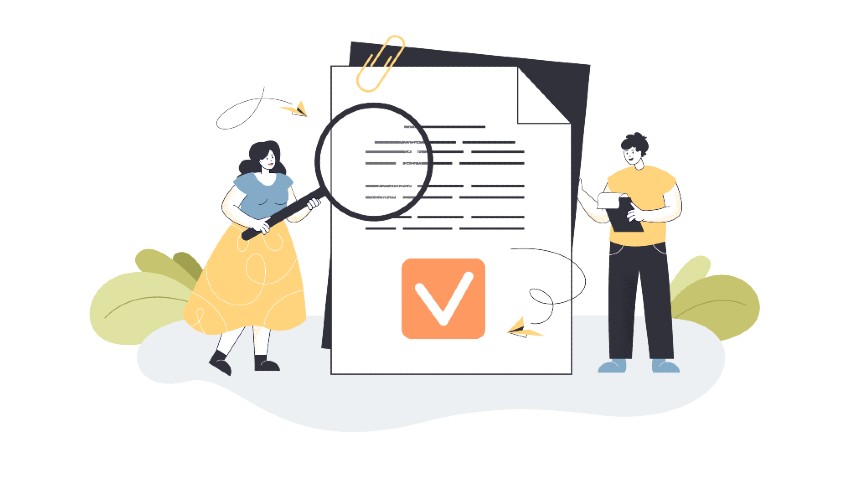 Documentation is a crucial and labour-intensive task that requires a lot of focus and attention. The document review process is an integral part of the documentation workflow to ensure the quality and accuracy of organizational data. Sometimes an orthographic pitfall can be embarrassing enough to cost you your business reputation. 
An impeccable document review process can save your day from any technical errors or discrepancies over intended purposes. Embracing new technological software in the documentation workflow can enhance document quality and help utilize time more productively. This blog explores what the review process is and how vital it is to enhance document quality.
What is Documentation Review?
The document review process involves a series of steps that have a unified focus on ensuring the quality and accuracy of end-user documents. Document review is commonly known to be just skimming and spotting grammatical errors to make a document error-free. But the real meaning of documentation review is much more than spotting errors.  
The reviewing process not only involves eliminating typos and grammatical mistakes but also pays heed to logical mismatches, poor readability, and information gaps. The documentation review process should also focus on the document structure and style formats. Thus, the right review process ensures that a particular document adheres to the defined style guide and format, making it a high-quality one.
Although reviewing documents starts at the drafting stage itself, it thoroughly checks the document reviewer to make sure that it is ready to use/publish. Document review helps fulfil the intended perspective of the document and satisfy the end user's needs and queries. An exquisite document review never compromises the content quality and will never let the wow factor of the document diminish.
Why is the Document Review Process Necessary?
Document review is important for several reasons that are vital for effective and quality documentation. Document review is an important process that helps ensure accuracy, identify potential issues, ensure compliance, save costs, and mitigate risk. This helps everyone involved know the importance of the review process.
Planning the review cycles with the right reviewer will help organizations determine what is needed for the documentation review and approval process and decide on the expected results. This helps businesses identify the right solution, cut down on exorbitant documentation costs, and manage the associated time efficiently.
A thorough review process is necessary as it can help documentation with the following:

Ensure Accuracy: Reviewing documents

ensures that the information contained within them is accurate and free of errors. This is particularly important in legal and medical documents, where inaccuracies can have serious consequences.
Identify Potential Issues: Reviewing documents

can help identify potential issues in advance, allowing for proactive measures to be taken. For example, a legal document review may identify clauses that could be problematic, allowing for adjustments to be made before signing.
Ensure Compliance:

Many industries are subject to regulatory compliance requirements that require document reviews to ensure adherence to specific requirements.
Save Costs:

Document reviews can identify duplicate or unnecessary information, leading to cost savings through streamlined processes and reduced document storage needs.
Mitigate Risk:

Document reviews can help mitigate risks that emerge from legal disputes by identifying potential regulatory claims before they become larger problems.
Types of Document Review Process
Reviewing documents is a complex process, and being aware of the complexities will help you avoid common pitfalls. Knowing the review document type, the review purpose, and its importance helps you determine the required evaluation or review stages.
You should proactively decide on the reviewer groups and time slots that are to be set up in the workflow.  Deciding how many reviewers are required and whether they should be internal or external teams ensures the feasibility of the process. This will ensure that the review is done well and provide you with documentation of the highest calibre.
The process of document review falls into the following categories:
Legal document review

Regulatory document review

Technical document review

Business document review

Manuscript review
Legal Document Review Process:
Legal documents need to be reviewed with more responsibility since they hold more sensitive and confidential data. Reviewing legal documents involves two distinct steps. Identifying the pertinent documents and evaluating the same in case of disputes that require document redaction (fully or partially) from other parties or the production team due to their confidentiality.
Importance:
The goal of

document review

is to make sure that the document meets the accuracy standards and adheres to the regulations without taking a call on data security.

Document review is an inevitable thing in legal documentation as per GDPR and CCPA (regulatory authorities), which require legal policies, notices, contracts, or any other form of legal documents to be documented in plain language to enhance user readability




Simple language in legal documents can help customers understand the document and be more informed about their stance or decisions. 
"I have read and agreed to the terms" is the "biggest lie on the web", claims the site Terms of Service; Didn't Read (ToS; DR). – This statement, in a way, puts forth that poor readability in such documents hinders user engagement. 
Legal teams collect huge volumes of the dataset and analyze it to understand and find information. Based on the facts and evidence, legal teams create judicial theories and manage them to identify the key witnesses in a case. The legal teams cull the collected data to find the right claims to be deposed. This in turn has put pressure on the legal teams to find automated solutions to narrow down these data volumes and streamline their management. 
Who Does The Review?
Since there are several types of document reviews, who does the review depends on the nature of the documents being reviewed and the purpose of the review. Document reviews can be conducted by a variety of professionals who have expertise in reviewing and analyzing documents. It can be a technical expert, Subject Matter Expert (SME), technical documentation writer, editor, SEO analyst, support engineer, or anyone relevant to the document for that matter. Be it a legal document or contract, regulatory compliance, financial reports, marketing materials, or manuscripts, a thorough review is necessary to improve clarity, coherence, accuracy, and relevance. 
Reviewing legal documents by available subject matter experts is risky enough to lose the originality of the documentation. So, it is of the utmost importance to seek advice from legal experts while reviewing a legal document. They help predict the confidentiality of the documents and take the necessary steps. 
The review team may decide which papers should have access to their contents completely or partly redacted or designated as private to prevent their exposure. To keep track of such situations, the team may also create privilege and/or redaction records.
Stages of Document Review Process
The documentation review process has different stages that validate the information in end-user documents. Reviewing a document through different stages deters the end-user from acquiring unintended information/knowledge. Inputs from past evaluations will help the reviewer have a clear understanding of what needs to be done throughout the document review process.
Several factors like review document size, importance, structure, and purpose influence review stages. Multi-stage reviews reflect and reward you with high-quality documentation.
Self-Review:

This check by the reviewer is essential to avoid any grammatical or orthographic mistakes. It can be termed the initial stage of review and is a must-have check for any type of document review.



Peer Review:

The relevancy of the content is reviewed here. Any kind of irrelevant content can end up changing the entire tone of the document. Peer reviewers watch for the content structure and the intended flow. Some documents will require peer review, while others won't. It is the responsibility of the documenter to decide on peer review.



Editor Review:

This review is done by the seniors or editors to enhance the quality. Document standards and a check for style formats are done at this stage.



Stakeholder Review:

 This review is done by the end user or the SEO experts. This review stage is done before the publishing stage, or reaching the end user. This stage primarily focuses on enhancing the user experience.



Compliance Review:

This review looks at the regulations and their compliance with the legal claims.  This is a mandatory stage while reviewing legal documents. Any misleading information in such legal papers can create judicial disputes, so it requires much attention while reviewing. 
Steps For the Seamless Document Review Process
Documentation review is a collective and strategic process that requires prior planning and preparation. Document review is considered complicated not just because it requires more focus and attention, but also because the strategy involved and the optimization of the entire process require more attention to detail.
Specifying what has to be evaluated and what should be done throughout the review process will make the process of reviewing documents more seamless. You must have a clear knowledge of the reviewer's deliverables involved in the review.
Clear review objectives and evaluation standards will be the game-changer here. Usually, the documentation workflow cycle involves stages of planning, pre-review preparation, review, correction, validation, and approval.
Planning:
This stage involves identifying the purpose of the document review, determining the scope of the review, establishing review objectives, and defining review standards and protocols. 
Preparation:
This stage involves setting up the document review system, gathering all relevant documents and data, reviewing the relevant laws and regulations, preparing review guidelines and checklists, and establishing a review timeline. 
Review:
This stage involves the actual review of documents, which may include reading, analyzing, categorizing, coding, and tagging documents as per the guidelines and checklists prepared during the preparation stage. 
Quality control:
This stage involves checking the quality and accuracy of the review work conducted during the review stage and verifying that all relevant documents have been reviewed according to the established procedures and guidelines. 
Validation and Approval:
This stage involves preparing and submitting a report summarizing the findings from the review, including any identified issues or concerns, recommendations for improvements, and any remedial actions taken or proposed. 
Follow-up:
This stage involves tracking and monitoring the implementation of the recommendations and remedial actions identified in the report. It is not necessary in case the document is published or at the end-user level. 
These steps make the documentation review process more efficient and make workflows more cost-effective. Knowledge of review goals and accomplishing what should be done ensure the readiness to provide high-quality documentation. Not everyone involved in the review process will necessarily agree with the goals and objectives.
Creating a customized workflow will be a major step toward achieving such readiness. As far as cost reduction is a vital growth element for the business bottom line, in-house documentation review software will be a stress-free and cost-effective option. In such instances, investing in the right documentation workflow software is a wise choice.
End-to-end workflow automation
Build fully-customizable, no code process workflows in a jiffy.
What to Look for During a Documentation Review: Making the Review A Win-Win
The goal of a documentation review is to make the document more accurate, complete, consistent, clear, compliant, accessible, and timely. A few criteria to look for when reviewing a document are:
Accuracy:

Ensure that the information provided in the documentation is correct, complete, and up-to-date. Providing reliable information helps build fair trust relationships among your customers.
Completeness:

Check to see whether all the necessary information has been included and if nothing is missing. The organized flow of sentences drives the tone of the document and makes it structured. This boosts the user's readability, resulting in enhanced quality.
Consistency:

Ensure that the documentation is consistent in terms of formatting, language, style, and tone. Adherence to such specific aspects in a consistent manner will help reach your intended audience with ease.
Format & Clarity:

Check to see if the documentation is organized in a logical and easy-to-understand format. Ensure that the language used in the documentation is clear, concise, and easy to understand.
Compliance:

Check to see if the documentation complies with relevant standards, regulations, and policies. This check is mandatory when you review legal claims, finance documents, and contracts.
Accessibility:

Ensure that the documentation is accessible, i.e.,  it can be viewed and understood by its intended audience. Using custom review software can aid easy accessibility of the document to the intended audience and restrict access in cases of shared databases.
Timeliness:

Check to see if the documentation is delivered on time and update it regularly to keep it relevant and useful. Updation is a vital part of the documentation as it vanguard users in various ways. 
Being transparent about the goal of the review, the review kind, what's to be done while reviewing documents, and available review tools gets you there. Reviewing documents for privilege, confidentiality, and relevance will never let your sensitive data lose its security or quality standards. 
How to Identify The Right Documentation Software
Choosing a document review software can be a daunting task as there are many options available on the market. Knowing the unique features and technological functions of the tool will be the deciding factor. Here are some queries that will help you choose the best document review software:
Purpose:

Determine why you need document review software and what features you are looking for. Do you need it for legal review or regulatory compliance purposes?

Ease of use:

Is the software easy to use and understand? Is it user-friendly? Does it have a user-friendly interface?

Security:

Never sacrifice your stand on security. Look for software that has data encryption and multi-factor authentication. Ensure that the software protects your data and files.

Collaboration:

Does the software allow multiple users to collaborate on a single document? Can they view, comment, and edit documents in real-time?

Cost-effectiveness:

Consider the price of the software and whether it fits within your budget. Look for software that offers a free trial period or has a demo version available.

Customer support:

Look for software that offers excellent customer support or resources such as tutorials, FAQs, and community forums.

Compatibility with the trend:

Ensure that the software is compatible with your existing systems or software. Invest in advanced cloud-based software to propel your documentation workflow without any hurdles.
Businesses that value data security and a quicker turnaround consider investing in advanced software which has high cost and security advantages. Automated solutions like Cflow foster better streamlining of business procedures while maintaining better document control throughout all stages of the review process.                                                                        
Final Thoughts:
As businesses thrive, all the key business processes are up for expansion and improvement.  And whenever processes expand their scope, the data volumes handled by them also increase. The solutions that scale will be the realistic option to invest in to achieve sustainable document management. Rising organizational pressure to reduce ad-hoc costs should not impact spending on document review solutions.
Be wise to choose a solution like Cflow that scales to bring routine document review in-house. This facilitates your business's ability to maximize the utilization of resources, thereby offering huge savings and security benefits. Modern documentation tools help organizations pivot their spending to more complex and high-risk areas of productivity.
Level up your review process with Cflow – Experience frictionless document management by signing up today!
What would you like to do next?​
Automate your workflows with our Cflow experts.​
Get your workflows automated for FREE
---