Project Management Basics – Managing Projects in a Combative Business Environment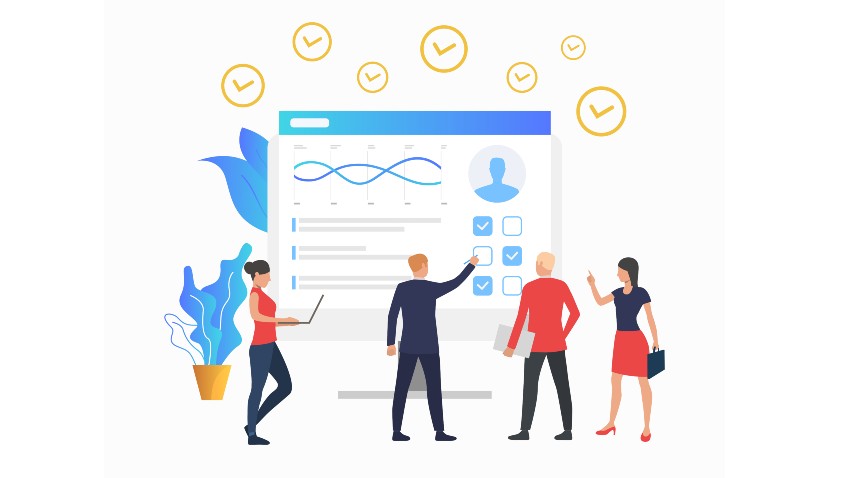 Project management is a skill that can be applied in any industry. Whether you're organizing an office move or organizing a new product launch, project management techniques are used to ensure things go smoothly, and deadlines are met.
In this article, we'll discuss the basics of project management so that you can apply them to your business environment.
Project Management Definition
You can define project management as the process of managing a project from start to finish. Projects are temporary endeavors created to meet specific goals, and they generally have a set beginning and end date. Successful project management requires excellent communication, collaboration, and teamwork skills.
Project managers are responsible for ensuring that the project scope is met while maintaining control over both costs and timelines.
To get things done on time and within budget, you need to know how to properly manage your team while staying organized throughout the duration of the project.
Creating A Project Management Plan
Create a project management plan. The project management plan is the blueprint for your project, defining every aspect of it. It should include:
Define your project
Defining your project is a crucial step in the process. When you begin a project, it's important to clarify what it is that you're doing and why you're doing it. Otherwise, how else will anyone know where to start? Therefore you need to define your project, including its goals and objectives, clearly.
Set measurable goals and objectives for your project
Defining the problem is the first step in any project. Before you start making plans, it's important to understand what your goal is. It's also vital that you set measurable goals and objectives for your project. The more specific and actionable your goals, the better off everyone will be.
Create a project schedule outlining milestones and deadlines
Get out your calendar, and make this the year you learn to manage projects like a boss.
Start by creating a project schedule outlining milestones and deadlines. The most important thing to remember is that it's not an exact science—you can't control everything in life! You've got to allow flexibility and adaptability when setting up your schedule. Make sure you're realistic with your goals, but also push yourself just enough so there are challenges along the way that will help keep things interesting.
Identification of stakeholders
Identify potential stakeholders who will be affected by or otherwise have an interest in the completed product or result. Clearly explain the resources required to complete the task at hand—both people and equipment/supplies.
Finally, a schedule detailing
Formulating a schedule detailing when certain tasks must be completed on your work calendar, with deadlines noted if necessary. You may also include timeframes for different phases or components of your overall plan (for example, "Complete research phase by September 30").
So, your project management plan should comprise all these:
• Schedule milestones for each stage of your project: * Create a plan
• Research & development (R&D) phase
• Implementation phase * Pilot program or experiment
• Roll-out or public launch
• Maintenance phase
• Closing down program/project
Project Management Lifecycle
A project is a temporary endeavor undertaken to create a unique product, service, or result. Projects differ from routine activities because they are not repetitive, do not continue indefinitely, and have no inherent value in themselves.
Project management can be thought of as a set of functions to be performed at each stage of a project's life cycle.
The five stages are initiation, planning, execution, control, and closure/termination.
Initiation
The initiation stage is all about getting the project started. During this stage, you define your goals and objectives for your new project or initiative; typically, this includes creating documentation such as business justification documents and feasibility studies. You will also work with stakeholders from across all departments to gain support for your plans.
In this stage, you'll identify the problem to be solved, who will be involved in solving it, and what resources are needed for achieving those goals. This includes:
• Defining the goals of the project and writing a statement of work (SOW)
• Establishing an initial budget and timeline for completion
• Determining who will be responsible for each aspect of the project
Planning
Planning is the process of defining the scope, goals, and objectives, and requirements for a project. It's also often referred to as scoping or defining a project. Planning is the most important part of the project lifecycle because it helps you define what needs to be done in order to meet your business goals. Without proper planning at this stage, it won't be possible to determine whether or not all requirements have been addressed by working plans and schedules; if you go forward with execution without understanding all aspects of your project, you run into risk management issues later on when something goes wrong.
Execution
During the execution stage, you'll be focused on making sure all of your resources are being utilized and that your team is working with maximum efficiency. You'll also have to watch out for any potential roadblocks or issues that could slow down progress or harm the quality of your work.
The execution phase is key for getting projects completed on time and within budget. If you're able to manage this stage well, it's possible that future clients will want to work with you again in the future!
Control (Monitoring)
Monitoring is the process of collecting project data and comparing it to the baseline data. This is a way of determining if your project is on track, or if adjustments need to be made to get back on track. Monitoring should be done at regular intervals (such as weekly), and it should take into account all four phases of a project: initiation, planning, executing, and controlling. It's also important that monitoring focuses on each aspect of each phase separately in order for results to be comparable across different phases or tasks within one phase.
Monitoring should include collecting data from multiple sources rather than just one source because different sources may give you very different perspectives on what needs to happen next in order for your goal(s) to be achieved successfully.
Closure
The closure is the last stage of the project life cycle. It is where all remaining tasks are completed, including finalizing reports and lessons learned, archiving results, and closing out payments.
End-to-end workflow automation
Build fully-customizable, no code process workflows in a jiffy.
Must Have Project Management Skills
To be a great project manager, you'll need to have a few key skills. These include communication, analysis, time management, and problem-solving. But the most important skill of all is team management.
Project managers are responsible for managing their team members—and those people are responsible for working on the project. If there's one thing that will make or break your projects, it's how well you manage your team members' performance and motivation.
In addition to this, a project manager should have a complete understanding of the methods and techniques used for managing different parts of the project. Only then can they successfully manage a project and bring it to its completion.
Project Management Methodologies Explained
A project management methodology is a system used by a team to plan, organize and manage a project. It provides guidance on how to make decisions, allocates resources, and ensures that the project stays on track. There are many different approaches to developing methodologies; however, they all have similar characteristics, such as:
• A hierarchical structure
• Processes for managing scope changes (scope management)
• Processes for managing risks
There are several different types of project management methodologies and frameworks. Each one has unique characteristics with differing levels of professional competence suitable to handle different business scenarios.
Scrum
Scrum has to be one of the most commonly adopted project management methods by enterprises around the world. Scrum lets you split your product development into small cycles which can be completed in a two-week time span and this can be used to review and further fix up problems with the help of daily meetings. Scrum can be used not only for software development projects but also for marketing and other teams to create high-value products. Scrum framework is especially useful in complex environments where teams have to be productive and creative and develop highly valued products in a short period of time.
Kanban
Kanban become popular in the IT industry in recent years. It is a pull-based manufacturing method. It is both a method and a visual tool that provides you with a quick glimpse of how the project has evolved so far. You can grasp how all the project activities are being done by different teams. The tasks are mentioned in the form of cards which can be moved back and forth by teams as the project progresses. Kanban is especially helpful when several teams need to work collaboratively in product development.
Scrumban
The name itself suggests that it is a combination of both Scrum and Kanban. If you want the best of Kanban and Scrum then you need to have Scrumban. It is a hybrid solution for your project management as you can have daily meetings using Scrum and movable tabs in the Kanban forms which help you keep updated about the work in progress without limiting the continuous workflow. Scrumban lets you handle the sudden changes that occur in the project smoothly.
Agile
You might have heard the term "sprint" during project discussions in your company. Well, sprints are an integral part of the Agile project management methodology. As the name suggests, Agile means it has the power to adapt to dynamic customer needs. The agile methodology comprises a set of standard principles which can be able to help enterprises face diverse situations. The sprints are the brief delivery cycles are coupled with regular feedback sessions which help teams to keep order. Agile doesn't use a well-established roadmap rather it lets you change the deliverables at any point during the project's progress.
PRINCE2
PRINCE2 can be used when you have to do projects in a completely controlled environment. In this project management methodology, you will distinguish the project accountability between the board and the project manager. The board's responsibility is to bring in the necessary resources and maintain business justification. The project manager is responsible for handling different teams and conducting progress meetings daily. One advantage of PRINCE2 is that it will help your teams to be consistent, enhance risk management, and drives your team toward the success of the project.
Critical Path Method (CPM)
This method is used to establish priority for each project activity. You can reassign roles, conduct risk evaluations and allocate resources accordingly. CPM lets you create a model and add elements where you can set the duration for each task. These tasks can be either floating or dependent based on the sequence of activities. These activities are interconnected and when a task is regarded as "critical" any delay in it will change the flow of the outcome. Therefore, CPM can be used only when there is a notion of work and new tasks cannot be started without completing the previous tasks. However, with CPM you can easily identify bottlenecks and avoid them in time.
Adaptive Project Framework (APF)
APF is a framework that lets you customize your own project management methodology where you can borrow elements and processes from other project management methods and frameworks. So, first, you need to talk to the team and decide on a suitable approach that can be easily adaptable to your own project. You can include clients in the discussion to ensure that they can know the full project development process. You also can achieve a sense of balance and set your own objectives based on the dynamic customer demands.
Critical Chain Project Management (CCPM)
CCPM mainly focuses on reducing project timing, estimating project budgets, calculating buffers and notifying teams of project completion, measuring progress, and setting priorities. Any team that uses CCPM should develop an initial project schedule. The following are some of the key elements of CCPM:
The critical chain scheduling technique involves identifying all tasks required for a project and then prioritizing them based on their dependencies with one another. Buffer management is used to determine how much time should be allocated for each task before it gets started. Critical chain analysis involves calculating how long each task will take based on its dependencies with other projects or tasks within your organization's project portfolio.
Extreme Project Management (XPM)
You need to know that XPM is not a project management methodology rather it is a flexible framework created to address volatility. It combines leadership values and principles. The principles in XP are more suited for fast-paced and unpredictable changes happening in a project with extreme twists and turns. Here, a failure is never an option and it always focuses on innovation, productivity, and profitability. Since it's spontaneous, you have less control but any mistakes and bugs will be fixed on the go.
PRiSM (Projects integrating Sustainable Methods)
Prism is said to be the most sustainable project management methodology of all as it was built considering environmental factors. This is the project management methodology that analyzes how environmental factors may influence a project's outcome. Prism deals with labor values, human rights, and corruption prevention. This approach helps you to include nature and eliminate pollution and save energy.
Benefits Realization Management (BRM)
The BRM framework realizes the importance of stakeholders and ensures that they are included in the progress. BRM mainly focuses on analyzing the benefits of tasks and evaluating them at each stage. Business change managers will be appointed to help business owners to reach the set business goals. There are three steps that a BRM framework takes your project: identifying the befits, executing benefits management, and sustaining the benefits realization.
Extreme Programming (XP)
When you follow the agile methodology, you are to consider programs from the XP framework. XP comes with work iterations, constant integrations, test-driven development, pair programming, refactoring, and daily sprints. It is quite similar to scrum and helps increase collaboration with stakeholders and improve productivity.
Crystal
Crystal is quite similar to Agile but with slight distinctions. Since not one methodology can suffice all your project management needs, the approach that you select should be light and communication centric. There are three important elements in crystal: frequent delivery, close communication, and reflective improvement. It has color-coded (clear, red, yellow, orange, etc.) entities that offer unique tools for completing specific tasks. Crystal is generally suitable for small projects and teams as it focuses on six main elements: people, community, interaction, skills, talents, and communication.
Lean
Lean was originally developed as a product manufacturing method but till today it is used for product development. Lean mainly helps you with how to develop high-quality products using fewer people in less time. You can frequently improve the project outcomes, remove possible risks and create greater outcomes. Lean lets you quickly adapt to the changing client standards.
Six Sigma
Six Sigma is mainly used for identifying and removing defects so as to enhance your process quality. It has certain principles and strictly imposes them for quality control. The main goal is to reduce defects, bugs, and errors until they can no longer affect the project outcome. It has six unique phases and each phase teaches how to properly analyze and improve the quality of your products: define, measure, analyze, improve, control, and synergize.
Lean Six Sigma
Lean Siz Sigma combines the power of both lean and Six Sigma to help reduce waste and identify risks associated with it. This hybrid approach can provide you with better results and makes you more efficient by lowering the budget and effective use of resources. It can change the way how your company handles a project and implements integration.
Waterfall
This is more of a traditional approach where it comprises of series of tasks which has to be completed one by one before beginning a new one. It requires extensive planning and involves multiple teams working together simultaneously before moving on to a new stage. When you clearly plan all your activities, the chances of errors and hazards can be lowered significantly.
There are five core phases in the waterfall approach: requirements, design, implementation, verification (testing), and maintenance. Waterfall practitioners believe that careful planning in the initial stages can save more time and effort and prevent risks in the future stages of product development. However, quality control is a downfall in this approach.
Rapid Applications Development (RAD)
RAD is adopted when you want to keep up with the competition and want to step up your game. RAD is an iterative process developed mainly to increase the speed of your product development and deliver high-quality products. Despite its speed, RAD fulfills all the project management requirements and document specifications completely. You don't need fully developed planning before you begin your product development when you use RAD and can emphasize the actual development in real-time.
Dynamics Systems Development Method (DSDM)
When you want to have a better structure of your project progress, then you need DYDM. created in 1994, it is generally used as an alternative to the Rapid Application Development approach. This method is used by teams to set priorities, enhance reliability, and proactivity, and establish an iterative process for completing the tasks in order. You can clearly define goals and set responsibilities for strategic goal attainment using its eight core principles:
• Focusing on business needs
• Delivering projects on time
• Collaboration
• Never compromise on quality
• Build solid foundations for future development
• Iterative development
• Clear and enhanced communication
• Demonstrating control
Rational Unified Process (RUP)
Rational Unified Process is similar to Extreme Programming. RUP helps you to choose the best project management practices, templates, and standards for software development. The main objective of this method is to establish high-quality software requirements based on the client's specifications and also consider the budget. RUP enhances team productivity and contains all tools which can essentially be adapted to the dynamic requirements of the project. The four stages of RUP include inception, elaboration, construction, and transition.
Feature Driven Development (FDD)
Feature Driven Development is an iterative delivery process that focuses on software development. It is a product development methodology that breaks down the work into small chunks or features and builds them one by one.
FDD provides an effective way to develop software products incrementally through a series of small releases. It allows you to manage product complexity by organizing your work into features that can be implemented independently from one another. Features are high-level descriptions of functionality that must be implemented in order to satisfy a particular customer need or use case. Each feature corresponds to a set of related functional requirements, which are detailed enough so that they can be implemented by a single developer in less than one week. A feature may be further decomposed into subfeatures if needed.
How Important it is to Know the Project Management Basics
Project management is a multi-disciplinary area of study that applies knowledge, skills, tools, and techniques to project activities to meet specific objectives. Project management is a continuous process of planning, organizing, motivating, and controlling resources to achieve specific goals.
Project management is a broad subject area that covers the entire spectrum of activities required to successfully deliver a project from inception through completion. It includes planning the work, organizing and allocating resources, building consensus on priorities and expectations, monitoring and controlling the work, identifying risks and issues, making decisions, communicating information, and managing change.
Knowing project management basics is important as it includes:
1. Defining your project's objective(s) – Determine what you want or need to achieve by your deadline (or within the time frame stated).
2. Planning how you'll reach those objectives – Determine the best way to get there based on your resources (human & financial).
3. Organizing your team(s) & their workloads – Assign responsibilities for each task within each phase of your project's life cycle (planning/execution/control).
4. Communicating with key stakeholders – Get buy-in from all parties involved with your project so they're aware of its progress at all times.
Only when you know the basics of project management will help you to complete a project successfully.
What Is The Best Project Management Software?
There are several different types of project management software. Some may be specific to certain industries or tasks, but the most common categories are:
• Project Management Software for Project Managers
• Collaboration and Communication Tools (for teams)
• Reporting Tools (for executives)
With solid project management, you can create a workflow that works for your team. A project management methodology is a system used by a team to plan, organize and manage a project.
Among the hundreds of tools available out there, Cflow is a no-code workflow automation tool with which you can transform and streamline your processes. The software is highly customizable with which you can manage all your projects efficiently. It will help you manage all your project progresses in a user-friendly dashboard and its simple interface keeps you productive.
The comprehensive guide is to help you understand the project management basics. There are other approaches as well. No matter which one you choose, make sure it fits into your company's culture and has been tested by others before you adopt it into your own process
What would you like to do next?​
Automate your workflows with our Cflow experts.​
Get your workflows automated for FREE
---