Real-time Tracking and Efficient Spend Control with E-Procurement Solutions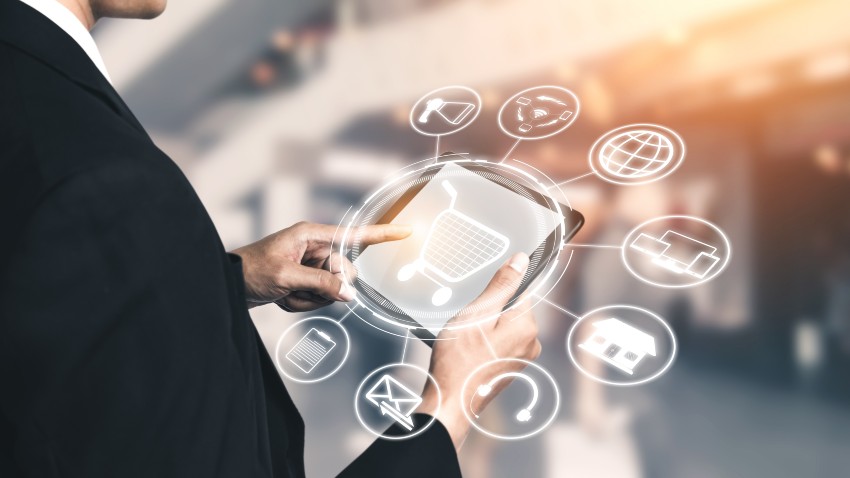 Choosing the Right e-Procurement Software for Your Organization
E-procurement software is a must-have for every business that wants to streamline its procurement process. The right e-procurement software will help you improve the way your company buys, stores, and processes its data so that it can make smarter decisions in real time. Here is our comprehensive guide to help you choose the right one for your business. 
e-Procurement Defined
The process of buying and selling goods and services over the internet is generally referred to as e-procurement. It creates a communication channel between the buyer and their suppliers. This, in turn, supports the process of ordering, requesting, and exchanging goods in the B2B world. 
The eProcurement concept was first developed in Europe in 2002. In India, it was first introduced by the Centre for Internet & Society (CIS) in 2005. Since then, many other countries have also started using this method for their eProcurement projects including South Africa, Israel, and Brazil among others.
The main objective behind using an e-procurement system instead of traditional paper-based options like tender notice or RFPs is to integrate various stakeholders involved during procurement activities so that all parties can contribute towards achieving better results without compromising on either time or money spent during each step along with reduced risks involved in each stage of purchasing process itself – from identifying suppliers till delivery/installation etc.
e-Procurement Software Defined
E-procurement software is a piece of software that helps businesses sell or buy goods and services online. It also allows companies to manage their inventory, track orders, and payments, create invoices, send notifications to customers, and more.
E-procurement platforms are becoming increasingly popular because they make it easier for small businesses (and even large ones) to conduct business online. They don't need to invest in expensive technology or hire specialists like accountants or attorneys just to run an online store. 
E-procurement systems have made it possible for many organizations around the world. They help small retail shops selling products on Amazon's marketplace site in South Africa all the way up to multinational corporations with thousands of employees worldwide. Using these tools, they can sell their products directly through their websites instead of relying entirely on third parties like wholesalers who act as middlemen between buyers and suppliers.
The eProcurement Process
Pre-Sale Planning
The e-procurement process begins with pre-sales planning. After you have identified your procurement needs, you can begin the process of finding suppliers and vendors who are able to provide what you need. This is where eProcurement comes into play; it allows companies to use automated systems that allow them to perform searches based on criteria they specify.
The next step in this process is sourcing. This means looking at different options and determining which ones would work best for your company's needs, then selecting those suppliers based on price, quality or service levels (or other factors). 
Once a supplier has been selected for its ability to meet your requirements, he or she will be contacted via email or phone call—depending on how much information was needed from him/her—to arrange an appointment where everything can be discussed further in person
e-Sourcing
eSourcing is the process of identifying the need for a product or service, gathering information on suppliers, evaluating their ability to meet the requirement, and selecting the supplier.

eSourcing is done at the pre-sales stage.
e-Tendering
The e-tendering process is the second step in the procurement process and involves soliciting bids from suppliers. It is a two-phase process: first, you prepare tender documents and then open bids. This can be easily done using online bidding platforms. 
The main purpose of this stage is to reduce costs by giving companies more information about each other's capabilities so they can make informed decisions on who they want to work with during negotiations (which will occur later). 
Additionally, by encouraging transparency between parties involved with bids it makes it easier for everyone involved when making final selections after all participants have submitted their proposals; thus reducing confusion among clients while also increasing efficiency since more people understand what needs doing before any contracts are signed off on..
e-Auctioning
e-Auctioning is the process of receiving and evaluating bids from suppliers, selecting the most appropriate bid, and awarding the contract to the supplier. E-auctioning is an online bidding process that allows buyers to solicit bids from suppliers by publishing a request for proposal (RFP).
The RFP will include all relevant information required by bidders in order for them to submit their proposals:
Description of product or service needed – including technical specifications and pricing. This should include any special requests made by your company such as delivery dates or quantities required etc. 

You may also wish to include any other requirements unique to yourself such as certifications required prior to delivery or warranties offered after the purchase has been made (see below).
e-Ordering
After your order is submitted, it will be displayed on the e-ordering page. You can then choose to:
Accept or reject the offer. If you accept it, details about how to pay for your order will appear below the e-Ordering page.

View details about your item and enter any additional information needed to complete checkout (e.g., shipping address). This step also allows you to edit any of the items in your cart before submitting a new request for one of them by clicking on "Change Quantity" or "Edit Details" respectively under each item's listing in which they are located within their respective dropdown menu.

At this point in time, this process would allow users who have already placed orders prior but still want them shipped out faster because there might've been some delays due to delays elsewhere within those companies' systems themselves.

Those shipments have been prevented from leaving until further notice has been given by those companies themselves due to delays elsewhere within these companies' systems along with several other factors like weather conditions etc. 
eProcurement is a process that can help your business save time and money, while also increasing customer satisfaction. With the right software and processes in place, you can have access to all of these benefits without having to hire extra staff or spend too much money on consultants or contractors.
Benefits of e-Procurement Solution
These are the many benefits that you can procure with having an e-procurement solution.
Strategic benefits
Consolidated purchasing practices can lead to better service and greater discounts from suppliers.

Helps you enhance the flow of communication between the buyer and suppliers.

Reduces administrative work, which helps staff to concentrate on other important tasks.

Dynamic response to highly competitive market entrants. 

Enhances compliance and helps formulate spending strategies. The spending can be equally distributed between static and dynamic catalogs and negotiated contracts.

Creates many opportunities to win new businesses. 
Operational benefits
Automation helps eliminate mass paperwork and its costs.

Strengthens your financial control by giving control over matching orders.

Better auditing and security enable auditors to verify the movement of orders through the e-procurement system.

Cut shorts the delivery time by eliminating the paper trail.

Eliminates obstacles involving time zones.

Reduction in inventory levels.

Make efficient decisions at every stage by cutting cycle time delays, errors, and buffer inventories. 

Maximize labor power.

Have flexible access from anywhere, anytime.

On-time deliveries at all times.
Opportunity benefits
Helps enhance corporate trading relationships and image.

Improve your buyer/supplier relationship.

Precision in accuracy.
What are the Main Features of e-Procurement Software?
The e-Procurement Software should be easy to use and navigate. It should integrate with other business applications, such as ERP and CRM. The software also needs to manage all aspects of procurement processes, including purchase order creation and management, invoicing/billing, and payment processing.

The key features of e-Procurement include the ability to create a searchable database of suppliers, manage supplier records, view purchase orders, and generate performance reports. eProcurement also allows you to make payments directly through the software interface.

E-Procurement Software is designed to help businesses and organizations manage their procurement process more efficiently and cost-effectively. It helps companies save time and money by eliminating manual process delays in sending out tenders to suppliers and reducing errors made during the tender process.

The e-procurement platform also allows you to track your inventory levels to know when it's time for a new order or whether any stocks left over from previous ones need replenishing before they spoil.

It also helps reduce errors by providing an easy way for businesses to update their searchable database of suppliers electronically.

The software can save time by automatically importing supplier data from other applications and eliminating the need for manual updates.

It helps you avoid costs associated with incomplete records, duplicate listings, lost paperwork, and more.

The e-Procurement software should also offer a number of advanced features like price negotiation, advanced reporting, project management tools, etc., all helping organizations save time and money while increasing efficiency.

With e-Procurement software, you can easily manage supplier information, upload new contracts and manage existing contracts quickly. It also allows you to create a searchable database of suppliers, making it easy to find any relevant data about them. You can use this information to understand your suppliers better and make informed decisions when purchasing from them in the future.
The best e-Procurement Software will have a good reputation in the market: if your company is looking for an online supplier management solution that can help streamline your business processes, it's important that you choose one from an established brand name rather than an upstart competitor.
End-to-end workflow automation
Build fully-customizable, no code process workflows in a jiffy.
How to Choose the Right e-Procurement Software?
Features

. The features of the e-procurement software should be easy to use and understand, with a user-friendly interface that will allow you to manage your supply chains efficiently.

Reviews

. You can find reviews on various websites such as Google, G2, Capterra, and even social media pages like Twitter or Facebook by searching for "e-procurement software" and reading what others have written about them.

Pricing

: The price tag is one thing you need to consider before purchasing an e-Procurement Software because it will ultimately determine whether it works well for your organization's needs! You don't want a program that costs too much money because other options are available at lesser prices but still offer great functionality and excellent customer service support too!

Support

: It's important that any new product comes with adequate support options so as to avoid getting stuck once installed onto computers but also be able to contact technical experts whenever needed via phone lines/email etc.
Top 5 e-Procurement Software
Cflow
Cflow is an e-procurement software that helps you to track your spending and make better decisions. It's cloud-based software, so it allows you to access the data from anywhere. If you're looking for an e-procurement solution that will help you track your spending, Cflow might be the right choice!
Cflow has a free trial period where users can test out their product before committing to purchase any licenses or subscriptions. There are also no restrictions on how long the trial lasts; however, once it ends (or if there are any issues), users must pay for their subscription upfront before continuing to use the service. The subscriptions are customizable and are available to users at highly affordable prices. 
SAP Ariba
SAP Ariba is a cloud-based e-procurement solution that integrates with SAP's other business applications. It's an integrated suite of applications, including procurement, contract management, spend analysis, and supplier management. The software can be used by small to medium businesses (SMBs) as well as large enterprises—and it has been designed specifically for the needs of these companies.
SAP Ariba offers access to all your company's suppliers through one interface. You'll have access to their latest prices and terms; this means less time spent searching for new suppliers or negotiating contracts with existing ones. With SAP Ariba's pricing toolset installed on your website or Intranet site (or both), it will scan incoming bids from potential vendors based on price comparison algorithms that take into account supply chain dynamics such as lead times or product availability at different locations around the world. This can be done while keeping track of how much money each bid represents in order to figure out which offer looks best overall and to make sure there aren't any hidden fees included in those bids. 
Oracle E-Business Suite
Oracle E-Business Suite is a suite of business applications that allows you to manage your entire business. It includes:
Oracle Enterprise Manager (Oracle EM): This management tool helps you track and monitor your IT environment, including servers, desktops, and mobile devices.
PeopleSoft Human Resources Management System (HRMS)—The HRMS provides workforce management functionality like classification, compensation planning, and time tracking using an employee self-service interface.
Supply Chain Information Management System (SCIMS) —SCIMS can help companies manage their supply chain processes by providing real-time order fulfillment functions through the creation of purchase orders or invoices automatically generated from sales orders entered into SCIMS by suppliers. 
Oracle Cloud Marketplace
Oracle Cloud Marketplace is a marketplace for buying software. It offers business apps, data analytics and infrastructure as a service (IaaS). The marketplace helps you find the right app or solution for your needs by allowing you to search across multiple vendors and products.
Oracle Cloud Marketplace offers several benefits when compared to other e-Procurement software:
It's easy to use – Oracle Cloud Marketplace has been designed with ease of use in mind so that you can quickly find what you need without having to spend hours researching each option manually. You'll also be able to compare pricing before making a purchase ensuring that your budget is being kept under control while still being able to get exactly what will fit within it!
Salesforce Pardot
Salesforce Pardot is a cloud-based software that helps businesses manage their marketing and sales activities. It uses predictive analytics to help you find the right leads, then it automates the entire process of closing them.
Salesforce Pardot is also known as an e-marketing automation platform, but it's more than just that: It's a complete marketing solution that can be used for webinars, email campaigns, social media management, and more.
These are the top five e-Procurement software tools to help you organize your business and compete in today's market.
Looking for the Perfect e-Procurement Solution? Here is How Cflow Can Help!
If you are looking for an e-procurement solution that will help you streamline your business transactions, then you've come to the right place. At Cflow, we understand that a simple click can be enough to save time and money in your organization. With our e-procurement solution, we have helped thousands of businesses across the world with their procurement process management needs by offering them a holistic approach to the entire process, from quoting to delivery of goods or services.
Here at Cflow, our goal is simple: help businesses achieve greater efficiency and productivity through our cutting-edge technology platform, which includes features such as:
Automated quoting & proposal generation options (e-letters)

Spend analysis tools to track spending trends over time;

Complete data capture capabilities for every stage in your supply chain journey – from initial request through receipt at destination point;

Flexibility so that each customer can customize their experience based on their own specific needs – including customizing reporting formats based on company size/type, etc. 
In conclusion, it is important to note that you may have to pay a fee to use e-procurement software. This is true of any application or tool that you use in business. The difference between these programs and others is that they tend to be very efficient and can save you time while also providing other benefits such as automation functionality. 
What would you like to do next?​
Automate your workflows with our Cflow experts.​
Get your workflows automated for FREE
---