Real-time Tracking and Efficient Spend Control with E-Procurement Solutions
A decade ago, who would have thought that the role of Chief Procurement Officer (CPO) would be as important as the Chief Finance Officer or the Chief Operations Officer? The procurement function has grown into a critical business function that contributes actively to improving the business bottom line. To maximize the productivity of the procurement function, businesses need to do away with legacy procurement systems and adopt electronic procurement or e-procurement solutions. An e-procurement solution refers to the process of buying and selling goods and services over the internet. E-Procurement platforms enable businesses to stay competitive even under volatile market conditions.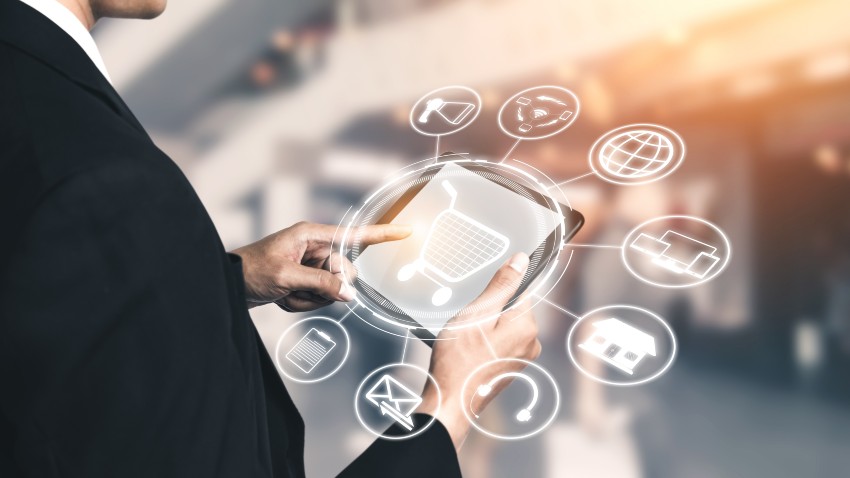 What is an e-procurement solution?
E-procurement is a business-to-business (b2b) mechanism in which buying and selling of products and services is carried out via the Internet. These solutions enable centralized management of business purchases and supplies on an electronic platform. The electronic platforms on which the e-procurement software solutions are hosted dematerialize the act of purchasing.
Who is e-procurement for? The purchasing department has the maximum use for e-procurement solutions. Using procurement solutions optimizes procurement strategies. End users who place orders can use e-procurement to buy goods/services. Approvers who confirm the orders can use e-procurement solutions to manage orders. E-procurement solutions are also used by the finance and accounting personnel for making payments.
Traditional procurement systems involved paper-based processes for purchase and selling. These systems slowly migrated to an electronic option where orders were printed and stored electronically. The rise in popularity of e-procurement led to procurement moving from paper-based processes to websites and emails. The e-catalogs that are provided by procurement solutions give users a complete picture of the goods and services offered. Modern procurement software provides the necessary data security and advanced tools that enable e-procurement entirely over the internet. The e-procurement platform provides a comprehensive suite of solutions for various procurement functions. E-sourcing, e-auctioning, e-ordering, and e-catalog.
E-sourcing – these tools help identify potential suppliers during the selection process.
E-tendering – these tools are used for sending out tenders that outline procurement requirements, delivery schedule, and contract terms.
E-auctioning – these tools are used to integrate potential suppliers identified in the sourcing phase into a single umbrella to participate in the auctioning process. These tools operate under 2 mechanisms, the upward price mechanism, and the downward price mechanism.
E-ordering – these tools are used for procuring items. Employees usually use these tools for making ad-hoc purchases.
How do e-Procurement solutions work?
Unlike e-commerce software, e-procurement works on the supplier's closed system and is available to registered users only. The interactions between preferred suppliers and customers by way of bids, purchase orders, and invoices. The goal of e-procurement is to acquire goods and services at the best possible price at the best possible time. How does e-procurement work?
The need to manually carry out laborious procurement-related tasks is eliminated by e-procurement solutions. It streamlines the regular procurement process by automating the process. The elements of procurement and finance are blended by the e-procurement solution. The key components of e-procurement are listed below:
Supplier management: this system takes care of organizing and administering supplier information, interactions, relationships, and performance. Supplier management helps the procurement team gain complete visibility into the supplier's database. Supplier management is made up of supplier relationship management and supplier information management.
Sourcing and Contract Management: this process takes care of end-to-end sourcing and contract management, which includes identifying and sourcing products and services. Strategic sourcing activities and contract management are taken care of by e-sourcing, e-auctions, and e-tendering processes.
Procurement: the entire lifecycle of ordering a product or service from a supplier, and payment of services is covered by the procurement process. Product ordering, supplier requisitions, budget authorization, receiving delivery, and invoice processing are the processes included in the procurement lifecycle.
Analytics: analytics is an important part of e-procurement tools. Analytics allows procurement and finance professionals to track, control, and manage spending across the business.
Functions of E-Procurement Software
The main functions of e-procurement cover several aspects of the organization like procurement, finance, and inventory management. The day-to-day operations of the organizations and supply chain activities are affected by the e-procurement software. The key functions of e-procurement are:
Automating manual processes to free up time and resources and minimize human bias and errors.
Streamlining and simplifying the procurement process through touchless processes, advanced technologies, and improving compliance.
Giving employees and stakeholders a centralized platform for monitoring and optimizing procurement performance
Enabling streamlined negotiation between multiple partners and stakeholders
The e-procurement solution is made up of different types of tools with varied purposes. Electronic data interchange systems, internet applications and platforms, and e-ordering and purchasing tools, are part of the e-procurement solution. An electronic data interchange system facilitates messages and information exchange between partner companies.
The e-procurement starts with a purchase requisition that can be electronically approved by the user with the authority to do so. Once a purchase requisition is approved, purchase orders are automatically generated based on the requisition data. The purchase order is then digitally delivered to the supplier. Once the item is delivered, it is marked as "received" by the system. The invoice is then created and sent to the accounts payable for processing the payment.
Advantages of using e-Procurement Solutions
E-procurement solutions provide substantial benefits for the business.
1. Smart Spending:
an e-procurement system enables an organization to transform its spending practices. The software helps in tracking spending, costs, and gathering real-time procurement information. Employees are encouraged to indulge in smarter spending practices, thereby, saving operating expenses.
2. Better Cost savings:
a dedicated e-procurement software provides greater visibility into the status of the purchase order and non-purchase order spending throughout the organization. Ensuring that purchase requisitions and approved Pos are in place for all purchases helps reduce operating costs and maverick spending.
3. Eliminating process redundancies:
e-procurement cuts out administrative and manual tasks from the procurement lifecycle to improve speed and efficiency. The software also reduces the error rates by automating processes like sending Pos, requesting information, approval of POs and invoices.
4. Stronger supplier relationship management:
e-procurement standardizes the procurement process, which facilitates better supplier relationship management. It also helps lower transaction costs mitigate supplier risks. Monitoring supplier performance and tackling poor supplier performance can be done by using the data from the e-procurement software. The software fosters stronger and more strategic relationships, which eventually mitigates supplier risks.
5. Standardized buying:
e-procurement brings standardization into the purchase process. The software provides a clear and real-time view of their expenses for better control over expenses and better budget control.
6. Reduced errors:
e-procurement systems bring down the dependency on human effort. Reduced human effort translates to reduced errors and improved accuracy.
7. Eliminating paperwork:
digitizing procurement transactions saves a ton of paperwork for the team. Less paperwork requires less storage space and money. Digitization of procurement data makes it easy to locate older documents.
8. Improved productivity:
e-procurement systems shorten the procurement cycles by eliminating redundant and repetitive steps. Shorter procurement cycles mean improved productivity and efficiency of operations.
9. Increased visibility and transparency in spending:
digitizing the procurement process increases the visibility into the status of the PO. Electronically conducted procurement processes provide complete transparency into procurement policies and procedures.
10. Avoiding delays and duplicate payments:
matching data on invoices, purchase orders, and goods received notes is a time-consuming process. Invoices are approved only after the matching process is complete. E-procurement software accelerates the matching process and increases the accuracy of matching. Delays in invoice approval and payments are a thing of the past with e-procurement. Accurate matching of invoice and PO data eliminates the incidence of fraudulent or duplicate payments.
11. Breakdown data silos:
procurement processes revolve around requisitioners, vendors, finance teams, procurement leaders, inventory managers, and many more. Disparate procurement systems and data silos affect the quality of procurement output and result in a lack of clarity and missed opportunities. E-procurement unifies the entire procurement lifecycle and data exchange across various steps.
12. Mitigate procurement risks:
an e-procurement platform enables the swift and reliable exchange of updates and documents, which reduces the operational risks of duplicate payments and off-catalog purchases.
13. Eliminate dark purchasing:
when organizations use outdated or disparate tools to manage procurement, the scope for dark purchasing increases. Dark purchasing leads to incurring redundant purchases, unapproved vendors, and more. E-procurement enables proper data aggregation and transparent spend management.
14. Strategize with data insights:
using siloed tools like emails, chat threads, or spreadsheets does not offer a complete insight into the procurement process. E-procurement tools allow purchases to collect and organize data about purchases in the past and vendor performance with ready-to-use visual reports. Key metric data like PO cycle time, spend under management, supplier lead time, etc. provide deep insights for procurement managers for improving the process.
Ways to Improve the E-Procurement Process
Continuous improvement is required for building a sustainable business. The procurement process needs to be evaluated and improved continuously to find new and innovative ways of meeting evolving market needs. Before going into ways to improve the procurement process, identifying the steps in the procurement process is important.
Identifying and anticipating service or material needs
Evaluating potential suppliers
Choosing the right supplier
Releasing and receiving purchase orders
Continuously measuring and managing supplier performance
In order to get the best out of the e-procurement process, businesses need to adapt to new market requirements. Here are a few ways to improve the efficiency of the e-procurement process:
Use of electronic catalogs to improve vendor selection and market research – use of electronic catalogs simplifies the research and communication with suppliers. An effective research and selection process leads to better supplier management.
Implementation of advanced metrics and automation – leveraging advanced machine learning and mathematical modeling techniques in e-procurement software ensures that real-time data is used to give operational insights.
Proper termination of supplier contracts: e-procurement software needs to have a proper termination procedure for supplier contracts. A proper close-out procedure provides valuable business insights.
End-to-end workflow automation
Build fully-customizable, no code process workflows in a jiffy.
Top e-Procurement Solutions for 2022
A number of procurement companies have adopted e-procurement solutions to streamline their procurement processes. Choosing the best e-procurement solutions available in the market requires scrutiny of the features offered by the solution. Some of the must-have features of e-procurement software are listed below.
Easy and intuitive user interface – the software must provide an easy-to-use interface that can be operated by any member of the procurement team. Usage of the software must not require extensive training.
Centralized dashboard – a centralized dashboard provides a bird's eye view of the current status of Pos and invoices.
On-premises and cloud support – the e-procurement solution must be compatible with cloud and on-premises hosting.
Integration – the software must integrate seamlessly with other software/systems that are being used by the business.
Analytics and reporting – the software must support real-time analytics and reporting.
Cflow from Cavintek is a workflow automation software that can automate key business workflows like procurement, finance, accounting, marketing, HR, etc. By automating key steps in the procurement process, businesses can save time and money, and improve process efficiencies. The top 5 e-procurement solutions that businesses must watch out for in 2022 are:
SAP Ariba
Coupa procurement
Procurify
Oracle procurement cloud
GEP Smart
Conclusion
A recent study on the Global Procurement Market by Mordor Intelligence revealed that the market is expected to register a CAGR of 10.2% during the forecast period 2021 to 2026. Key market drivers are an increasing need to automate procurement processes and the materialization of e-procurement technology. E-procurement solutions enable the procurement team to stay updated on the status of POs and invoices and make data-driven purchase decisions. It is important that the e-procurement solution keeps up with the complex demands of the procurement function. Make sure that the e-procurement solution you choose suits your business requirements. Get visibility and control over business spending with Cflow. Sign up for the free trial to explore the insane automation capabilities of Cflow.
Get your workflows automated for FREE