Contract Management Process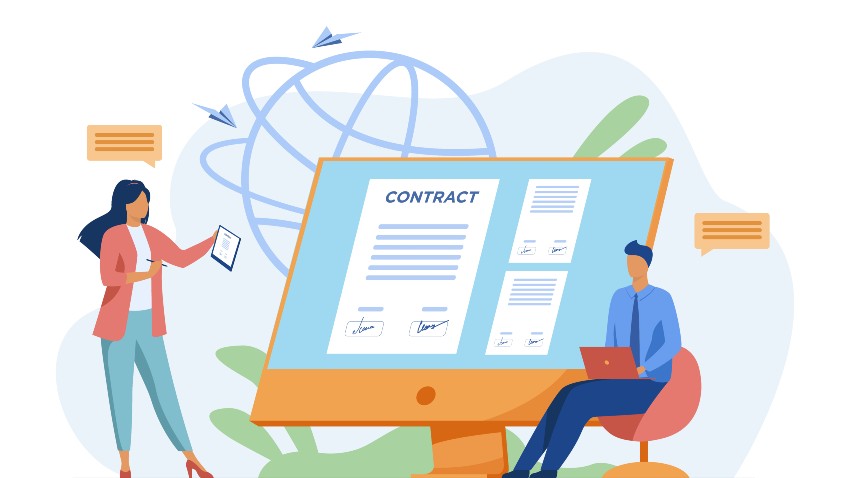 Contracts are an essential part of every business process, and there is a specific protocol for handling contracts. Every contract that a company makes has a life, and it expires at a particular time and date. The contract's lifecycle begins when it is first drafted and terminates on the date of expiry is reached.
However, most businesses use the traditional methods of managing contracts manually. They are not familiar with the concept of the contract management process and the way it benefits their businesses. So, in this article, we will discuss in detail contract management, contract management in procurement, its benefits, best practices, and contract management software.
What is Contract Management?
Contract management can be defined as the process of managing agreements between parties from inception until their termination. In this process, the contracts are created, executed, and analyzed to maximize operational and financial performance. Also, effective contract management can help reduce financial risks. Manual contract management can be a tedious process, and therefore, a proper effect, and automated contract management system is absolutely necessary.
Procurement Contracts
So, what are procurement contracts? Procurement contracts, otherwise known as purchasing contracts, establish a legally binding contract between the buyer and the vendor throughout the procurement process. An effective procurement contract protects both your company and the vendor on legal grounds. "Time is money," and this adage is the heart of procurement contracts. Timely delivery of goods as per the procurement contract is vital for businesses to be competent in the marketplace. In turn, vendors need to trust your company such that the end bargains on both sides are received upon mutual agreement and compensation.
When both parties agree upon the contract terms, the procurement contracts provide a solid blueprint that allows the company and the vendor to collaborate effectively. Further, these procurement contracts enable businesses to diversify their resources and outsource certain activities to make them cost-effective. The details of the procurement contract contain all the agreed-upon details, such as the services offered, quality of the materials, parameters of the services, requirements, delivery time, fees, costs, compliance, security, etc. The buyer generally formulates the procurement contracts at the beginning of the project, where they discuss the technical aspects, funding, and other requirements.
There are three types of procurement contracts:
1. Lump-sum or Fixed price contracts: The roles and responsibilities of both the buyer and the vendor are transparently defined and straightforward. The main focus would be on the buyers' goods and services to pay for the vendor. This type of procurement contract is easy to manage.
2. Cost Control contracts: Otherwise known as cost-reimbursable contracts, where the buyer pays for the actual expenses during the contract period, including indirect utilities and salaries. In return, vendors will have a profit percentage over the fixed cost price.
3. Time and materials contracts: In this type of contract, the vendor acts as a third-party employee and attributes it to the reimbursement of materials used along with the payment made by the buyer for the amount of time actually spent on the project.
Procurement vs Contract management
Let us see contract management in procurement. Contract management organizations control their spending and execute their operations based on the timely acquisition of goods and services. The procuring and contracting team generally relies on manual processes and spreadsheet systems for their strategic functioning. When they automate their sourcing and procurement activities, they enhance their purchasing power and supplier communication. Therefore, contract management is an integral part of a company's procurement cycle.
When the companies incorporate suitable procurement contract management software, the procurement and purchasing firms boost their compliance with the vendors, reduce vendor prices and execute new contracts much faster and safer. The procurement contract management process includes:
Companies can effectively manage their contracts as a part of their legal documentation, which comprises the work relationships with the vendors, customers, and also partners
Easy negotiation of terms and conditions of the contracts
Transparency in compliance
Documenting and mutual agreement of any changes in the contract by both the vendor and your company
Before understanding the importance and benefits of contract management in procurement, it is essential to comprehend procurement vs. contract management. The definition of procurement can be characterized as when the company makes a one-time purchase of goods and services necessary for a project. The procurement process includes costs of goods and services, delivered items, quality, repayment term, etc. Whereas the contract definition can be characterized as when the company makes a recurring purchase of the same materials and services for a specific period of time, which is agreed upon by mutual terms and conditions.
Importance of contract management Process in procurement
Procurement is never seen as a separate function in any business, and a solid contract management plan is of absolute importance. Having strong contract management enhances the company's business functioning by accurately identifying the needs and implementing precise strategies based on the company's objectives. In addition to this, when a company successfully manages the contracts, it can effortlessly manage its financial transactions and have control over its spending due to better visibility. So, when you have better control, you have better compliance with the vendors, which reduces risks.
Moreover, it is necessary to have contract management in procurement as you can evaluate suppliers based on their qualifications, allowing you to streamline the best easily. Furthermore, you can have a centralized system for monitoring supply chains and managing vendors when you use contract management software and tools. Modern contract management software enhances your procurement process by providing the best KPIs and SLAs with vendors, analytics, audit trials, supplier metrics, and compliance.
End-to-end workflow automation
Build fully-customizable, no code process workflows in a jiffy.
Procurement contract management best practices
Contract management is often overlooked despite being an important part of the procurement process. Many organizations think that contract management only begins after signing, but they fail to realize that it starts at the negotiation stage itself. Following are some of the best practices of procurement contract management:
An excellent sourcing strategy is a crucial step in procurement contract management. The primary objective of the sourcing process is to enable businesses to have exceptional customer satisfaction at low-cost ownership. Having the best sourcing strategy means you can categorize vendors, consolidate synergies and maintain a good negotiation position.
Next is to include the contract resource procurement process where the company invests and buys specific materials and utilities, enhancing the company's work measurement, ergonomics, employee satisfaction, and reliability.
Since contracts are vital for an organization, it helps the employees learn about the company's rights and responsibilities.
Especially during the pandemic, employees reached for their company's contract to better understand how to conduct business with suppliers when they could not deliver their products.
Centralizing is another vital practice in contract management. It would become difficult to assess if the contracts are not stored in a prime central location. It doesn't matter how good the contract can be; centralizing is crucial.
Finally, in addition to managing, regular auditing is critical to check whether the procurement needs are met and are obliged to within the specifications mentioned in the contract.
Top Procurement Contract Management Software
Contract management software, otherwise known as contract lifecycle management, is a digital platform that is designed professionally to help companies efficiently manage their contracts. It acts as a repository and offers several features such as contract creation, contract e-signature, visual analysis, contract negotiation, contract renewal, and much more. It is user-friendly, and the company can store and view its contracts at any time. In the past, the contract management process was done manually, which led to companies storing vast volumes of documents. Now, with technological advancements, companies are slowly adopting the digital way of managing contracts. The legal, human resources, procurement, and finance sectors utilize contract management software.
Among the many platforms available, some of the best contract management software as of 2023 include:
Cflow is suitable for all industries where it offers affordable features suited to the needs based on the company's size. It provides content and contracts library features, contract duplication, payment processing, E-signatures, and much more. However, the content library is limited only to businesses, and bulk data management costs additional fees.
DocuSign offers a wide range of features suitable for small-scale businesses. It provides reusable templates, recipient reminders, a content repository, and more. However, it has problems syncing documents and a complex workflow setup.
Concord is made for large scales businesses as it offers bulk upload and unlimited contract viewing and storage. It provides template storage, live editing, OCR search, and more. However, it has difficulty integrating contracts signed outside the platform and creates long data logs that limit the storage space.
Outlaw, offers track key data points and excellent visibility with unlimited storage of contracts. But the software can be used only by a specific company.
Conclusion
The need for an effective contract management tool is increasing at an alarming rate with each passing year. But many businesses still use the old and traditional ways of managing their contracts. According to a statistical report by World Commerce & Contracting, at any given time, it is estimated that the Fortune 2000 companies have 20,000 to 40,000 active contracts on average. About 9.2% of those companies have ineffective contract management.
By 2023, it is estimated that about 40% of businesses would be switching to using AI-augmented contract management tools which have greater agility and enhance productivity. Cflow by Cavintek is a workflow automation procurement tool that helps businesses to automate their workflows. A cloud BPM helps companies efficiently manage their contracts and vendor details with unlimited storage and a centralized system. It allows easy accessibility from any place at any time. know more and signup for a free trial.
What would you like to do next?​
Automate your workflows with our Cflow experts.​
Get your workflows automated for FREE
---