We are proud that Cflow has received a High Score Under the Workflow Management Software Category from FinancesOnline Directory.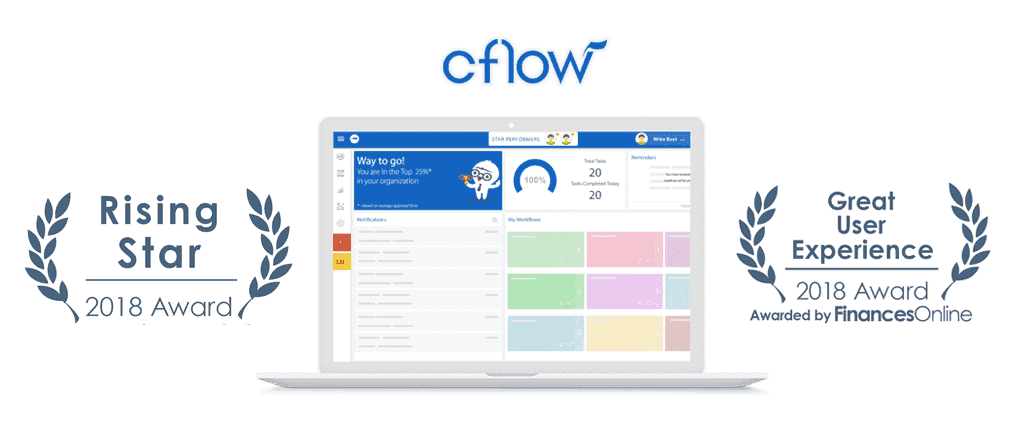 We are celebrating the moment right now at our Cflow offices and there's not just one but two reasons to celebrate.
We are proud that Cflow has received a High Score Under the Workflow Management Software Category from FinancesOnline Directory.
Cflow Wins Two Awards for Workflow Software in 2018
FinancesOnline, one of the most reputed and popular software directory, has picked Cflow with two awards under two different categories. After scrutinizing our features, product quality and value for money, they have award Cflow with the following:
#1 Great User Experience 2018 Award
#2 Rising Star 2018 Award
It's a proud moment for the entire team at Cflow as these awards reflect the hard work and sincere efforts put in by our team towards satisfying our customers and building a strong workflow automation software that solves the most repetitive requirements in every organization.
How FinancesOnline Review Rates Cflow's Features?
According to FinancesOnline, Cflow has three major features that make it the best workflow automation software in the B2B sector. The features include:
Ability to create custom workflows quickly

– Cflow lets its users quickly create workflows that match their requirements. It doesn't need any coding knowledge and the user interface (UI) is easy to understand even for non-tech users.

Reliable security of data

– Organizations are skeptical about data security but this software solves it through full data encryption making it near impossible to break in the digital world and an equally strong security for physical servers by hosting in the Amazon Cloud (AWS).

Easy access to files on the cloud

– Files are readily accessible from the cloud and makes it easy for users to view them on mobile devices, perform approvals and speed up the decision-making process.
End-to-end workflow automation
Build fully-customizable, no code process workflows in a jiffy.
Most Promising Entrant in Workflow Automation Software
FinancesOnline, after conducting an in-depth review and analysis of our software, has awarded Cflow as a Rising Star, claiming it to be one of the most promising companies in 2018 and an innovative product that has the highest level of customer satisfaction. They have also listed the program in their Top 15 Workflow Management software list, a testament that we are a reliable partner to solve some of the most repeated issues that organizations face ranging from repetitive tasks to bottlenecks in decision making and ability to access files quickly.
Highest Level of Customer Satisfaction
Apart from reviewing and analyzing all major Cflow features, FinancesOnline has reviewed our position in social media and the customer satisfaction grade. Based on their research, it has been identified that our product has "zero" negative reviews and has nearly 100 positive social mentions. It shows that we also excel at satisfying our customers on a much simpler level apart from the more complex and effective features we provide to automate an organization's repetitive tasks easily.
Cflow has scored an awesome rating of 8.0 based on features, user satisfaction, and support.
The awards from FinancesOnline has boosted our dedication to a whole new level as we are now more inclined to work towards maintaining the goodwill and deliver even more efficient solutions with robust project management methodologies. While we do believe in our product, it's great to see a B2B expert praise and recognize Cflow's abilities.
For customers like you, we now have additional recognition and assurance that we are giving you an award-winning workflow automation software with a comprehensive list of impressive features. Try Cflow now!
What would you like to do next?​
Automate your workflows with our Cflow experts.​
Get your workflows automated for FREE
---