Cflow – Workflow Software
Workflow automation is key to success as a lot of popular brands around the world have already adopted it and witnessing the difference it makes. With Cflow, we help bridge the communication gap between different departments in your organization like Finance, HR, Admin, and IT Operations. When you automate the processes, an invoice, customer onboarding or a leave request sequentially escalate up until the final approval. An intuitive UI combined with timely e-mail notifications allows your employees to stay in touch with automated workflows, do the needful actions to complete mundane tasks easily, and ensures your workforce stays focused on the bigger goals.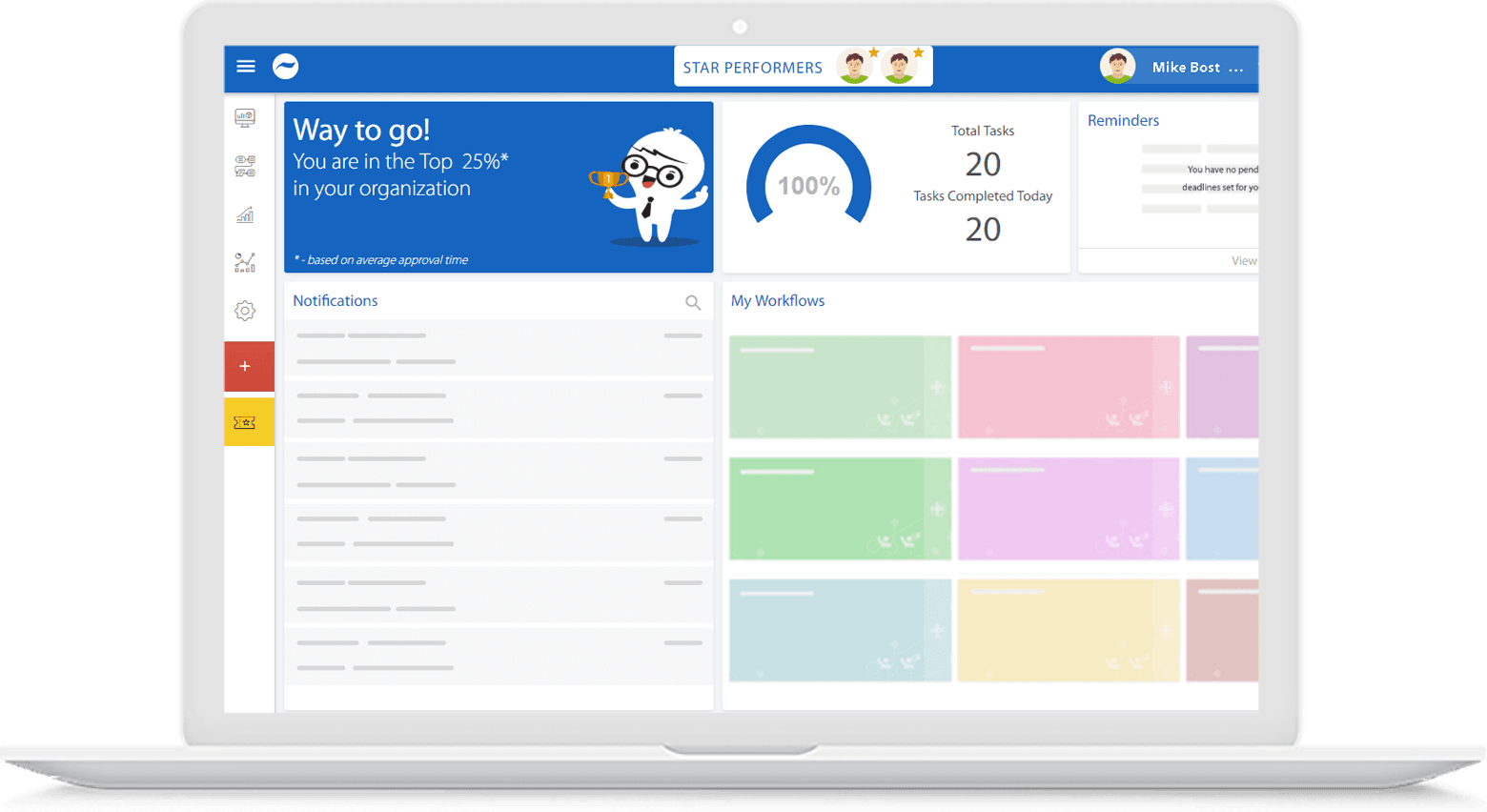 Why Choose Cflow?
Cflow is powered by a visual workflow builder, easy to use for non-it employees
Seamlessly syncs with a range of third-party applications like Slack, SAP, and 1000 other apps
Fully customizable workflow reports and analytics makes keeping track of work easier than ever
The highest level of security provided through encryption, on-cloud storage, and periodical backups
Auto approvals, easy form builder, timely notifications, and much more
Not a Code Savvy?
Easy, GUI allows you to create workflows with no coding.
2 Minutes Workflow
Start automating your workflows in just 2 minutes.
Design Your Reports
Choose from range of criteria to create reports & analytics.
Custom Workflow
Get unlimited customization and accelerate your workflow.

Answer to Your Everyday Problems
Running an office is no easy task, be it big or small because managers and team leaders often end up with growing notifications, emails waiting for their approval, and piling files to be looked into. Cflow simplifies everything by streamlining the processes, providing timely notifications, and keeping the respective team members in the loop to avoid delays.

Do What You Do, But in a Better Way
When you switch over to Cflow, you will still be handling everyday tasks like employee onboarding, HR management, forwarding invoice, and approving subordinate requests. But, the seamlessness of the platform allows you to automate approvals, create one-touch rules for onboarding new hires and create a workflow for every scenario saving your precious time. It's still what you do already but Cflow lets you do it in a better way.

Completely Paperless Solutions
In a fully digitalized world where everything is stored in the cloud and available in electronic format, it's time to go paperless and get rid of the chaos associated with maintaining manual records. Cflow is equipped with a dedicated document management process to scan, store and manage them online. You get access to your most important documents offline as well and getting the convenience to make use of e-signatures to sign them digitally. It speeds up the workflow and avoids any possible delays.