A Comprehensive Management Guide To Accounting Workflows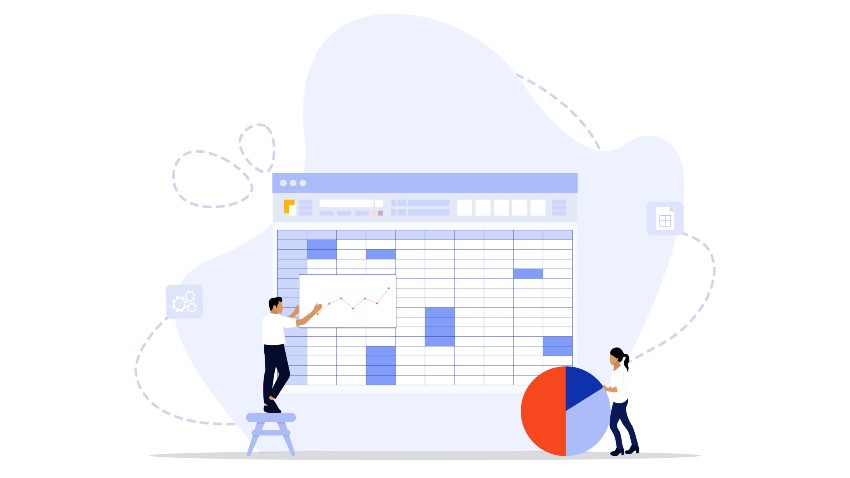 Every person in the accounting or finance department would already know what it involves to organize the tall pile of paper records and track them. Managing that huge pile of records, moving them around, processing them or prioritizing them in a paper-based environment is so much of a hassle.  Your workflows involve physical files and human labor while in a digital environment what it takes to keep track of the virtual paper shuffle is accounting workflows.
Digital accounting files require accounting workflows to accomplish the accounting process without any hassle in a business environment. It is always worth the effort you put up to define your accounting workflows and implement them – so that you always keep track of such records without the need to take assistance from your colleagues when you search for a file or prioritize them. So, keep reading to know what is a workflow for the accounting process in your business firm, their benefits and how to implement an accounting workflow with examples. This read also provides a list of the best accounting workflow software to help you choose the right one for your business practice.
What is a Workflow for Accounting?
Workflows allow you to perform a business activity by organizing the resources and systems in such a way that streamlines the process so that others, whoever accomplish the same task are more likely to perform it in the same way. Either the particular business process can occur at random when a need arises or as per convenience and requires improvement, accordingly, every workflow has variables depending on the complexity of the process. 
Complex or simple, there are going to be multiple steps and variables in a workflow to accomplish the task in an order. Some tasks could be repeatable with embedded practices that you do in the same way all the time, there is an imperative need for a workflow. For instance, when you generate a purchase order in the same way every time, you are likely to have a workflow in place.
Such workflows require improvement and an analytical approach to build a streamlined process that improves your business productivity and efficiency. An accounting firm can make use of an accounting workflow for all of its accounting practices to be streamlined without having the need to overlook the virtual accounting records. An accounting workflow aids your accounting practices on track and helps you know information like what project is live and what is in progress, who is involved in it and its deadline and so on. Likewise, an accounting workflow helps boost your accounting processes' transparency while being flexible to associate tasks as per your/your client's needs. 
To be precise, an accounting workflow solution helps you build a viable accounting practice within your organization where the prime function is to organize, implement and track all your accounting activities.
Managing Workflows for Accounting in Firms and Their Importance
Though defining an accounting workflow and setting up one might look simple, it is essential to get familiarized with the tools and resources involved in workflow for accounting to tune up with the process. With the right set of tools and resources, you can transform your accounting process where the workflow for the accounting process maximizes your process output efficiently. Meanwhile, managing the accounting workflow process becomes imperative to avoid loopholes in digital accounting tasks records. Thus, workflow management is crucial and requires a strategic approach to improve productivity while making the practice align with your business's bottom line. 
The strategic approach should address a few essential components that an accounting firm needs to incorporate to manage the accounting workflows to be efficient and your financial decision to be flaw-free.
Determine the stages involved in your accounting workflow process. Work closely with the resources to get to know about the existing system, participants, their inputs and outcomes.

Assign tasks whilst you define the participant's roles and responsibilities and allocate resources accordingly. Set deadlines and specify the decision points, escalation procedure and approval strategies.

Leverage technological advancements to optimize the accounting workflow with the right set of tools and solutions. Understand the needs and what it costs to evolve the system with the intended outcome. Regular monitoring of the system is the leading factor to arrive at a consistent outcome in the accounting process.

Analyze to identify the areas of inefficiencies, gather feedback and improve your strategies to integrate, collaborate, communicate and track.
Accounting workflows when executed with addressed key components achieve greater operational efficiency while the output quality is remarkable. When done so, accounting workflows facilitate the deliberate enhancement of your accounting process within your organization.
In essence, you should use accounting workflows as they standardize the procedures involved in every stage of the accounting process making your financial statements devoid of any human errors. A standardized procedure helps you with easy task delegation and everyone involved is informed of what is expected from them, which saves up your time and fixes things precisely to increase efficiency.
Why Are Accounting Workflows Necessary For An Accounting Firm?
An accounting workflow encompasses all the steps involved in an accounting landscape from data collection to financial decisions. The data collection usually entails information from various sources like invoices, bills and other transactional statements. This data when collected and recorded manually in a spreadsheet is more likely to be inefficient as it is time-consuming and error-prone. This data is recorded in the organization's accounting system for validation where it is checked for any discrepancies. The data is reconciled and classified accurately to furnish financial reports which can assist accountants, bookkeepers or the authorities in making informed financial decisions. 
A survey by Institute of management Accountants (IMA) has said that their respondents claimed automation has improved the efficiency of their accounting workflows. 
Automated accounting workflows avoid errors or any other factors that drive the process towards pitfalls. Accounting workflows that embrace automation can significantly uplift accounting firms where process visibility, transparency, consistency and accuracy are maintained at top standards complying with the organization's safety/security measures.
Benefits of an Accounting Workflow
The accounting process can be stressful to your bookkeepers/ accounting managers as it involves so many juggling tasks. Accounting workflows in such landscapes bring in harmony as they can automate every process in a way to: standardize the procedure to move the tasks to the next stage, schedule recurrence, and set alerts/ reminders to ease out the accounting process. 
Accounting workflows impose greater benefits in boosting the overall process accuracy, reliability, transparency and accountability.  With an accounting workflow, your internal audits and risk management are under control making the process more efficient elevating your financial decision-making capability.
Examples of Accounting Workflows
As said earlier, every business encompasses a variety of business processes and workflows.  Workflows entail different steps based on many factors like process complexity, firm's norm, size etc. Workflows incorporated in an accounting firm can be as simple as a to-do list but also complex enough to streamline the entire process with all your teams involved. 
A simple to-do list like accounting workflow goes well with a very small team where you ought to check what is accomplished and what is to be done every day. Workflows that require a sequential manner of execution can make use of this accounting workflow.
More advanced workflows allow you to assign tasks to the team, and know what is assigned to whom and their deadlines. Some instances require performing multiple tasks simultaneously i.e. there is no need for the prior step to end as the next step commences. Such robust accounting workflows cater to the other diversified needs of an accounting firm like onboarding clients, integration, customization of alerts, notification for reminders, internal communication, tracking progress and report generation. With such tools in place, you can build an accounting realm that is scalable and flexible to improve your business's financial activity.
The workflows that take up an integral space in accounting management are:
Client Onboarding Workflows– efficient onboarding is paramount as they are the initial step that fosters confidence and trust in your accounting services among your clients. Client onboarding workflows collect essential information, identify the discrepancies and record them in your system.
Task and Practice Management Workflows- these workflows allow you to delegate tasks to the team more transparently and standardize the practice of doing so to streamline the process. 
Service Delivery and Lead Generation Workflows the former focuses on the deliverables and intends to make them efficient. This can be incorporated in bookkeeping, audit, taxation or any other financial activity to build a consistent outcome from your accounting services.
Sales and Marketing Workflows– these workflows bring the generated leads to life. Each step of sales and marketing should be planned and organized in a way that attracts customers and guides them in taking action towards your services. All you need to do is check for compliance.
Invoicing and Client Management Workflows– workflows make this job easy and error-free as it progresses based on the already recorded information. If the policies and amount are set right, there is nothing to worry about. Biding farewells are essential at times and client management workflows facilitate saving your status by ensuring all your services are done and dusted before they exit your company.
End-to-end workflow automation
Build fully-customizable, no code process workflows in a jiffy.
Top Accounting Workflow Software Tools
It is believed by 88% of accountants that cloud-based accounting software has a positive impact on their workflow, says the Accountex USA survey.
Cflow
One of the best and most powerful workflow solutions in the market to harness the benefits of accounting tools to the fullest in an automated environment is Cflow. Cflow is a no-code, cloud-based  BPM tool which can surprise you with its accounting capability. It caters to provide you with efficient and automated data entry which can be collected using dynamic forms.  Digital document management is so intact in the cloud which facilitates easy to store and track whenever and wherever required. The approval workflows are dynamic and rule-based and involve a few drag-and-drops to create a workflow in the intuitive dashboard. Easy integration and real-time reports are accurate, improving your decisions. Sign up for the 14-day free trial to experience our easy accounting features.
FreshBooks
Freshbooks is a  famous accounting workflow software with an inbuilt payment processing portal. This makes the tool compatible with many banks and extends its feature to track your business expenses. With FreshBooks, you are safe to make payments across the globe and also capable of calculating the tax based on the country. It is known for its dynamic capability to meet and customize different clients but can ideally fit small/medium-sized businesses. You can start with their 30-day free trial.
Zoho Books
An advanced accounting workflow solution by Zoho Corporation is easy-to-use and many of its features don't require expert-level users. You can simplify your accounting process with ZohoBooks as their features like receipt scanning, transaction tracking, and automated reconciliation are lit. Separate versions of the application are available for IOS and Android. It supports different types of invoices and forms and facilitates information-driven dashboards. This tool offers a 14-day free trial to get you started. 
Monday.com 
This tool is quite popular among accounting firms as it is more flexible and Monday.com also provides a user-friendly platform. You can make use of predefined widgets to share your reports integrations are impressive as you get cross-platform automation for human actions like status-change, task delegations, and invoicing which counts to 250,000+ and there are around 20 widgets, and 200 customizable templates. Instant messaging and dashboard client conversion view are added to this tool. Make use of their 14-day trial for free before getting started.
Nintex
The best-fit accounting tool for large organizations is Nintex which is super-easy to use with custom forms and built-in integrations. Approvals and escalations are easy to deal with Nintex and integration is so simple. Payroll reports and expense reports make it a comprehensive solution for streamlining accounting processes. They provide a user-friendly drag-and-drop interface to build workflows and are quite expensive. They provide a 30-day free trial.
Final Thoughts
Building workflows from scratch wouldn't be a big deal if not you were using a system that can manage all your activities and level up your finance management. Streamlining accounting workflows with business process solutions like Cflow helps you foster a robust integrating system where your accounting is intact and intuitive. Start streamlining your accounting landscape with Cflow! Bring order into your accounting workflows by starting your free trial now!
What would you like to do next?​
Automate your workflows with our Cflow experts.​
Get your workflows automated for FREE
---