Effective Supplier Management Process to Amplify Your Supplier Relationships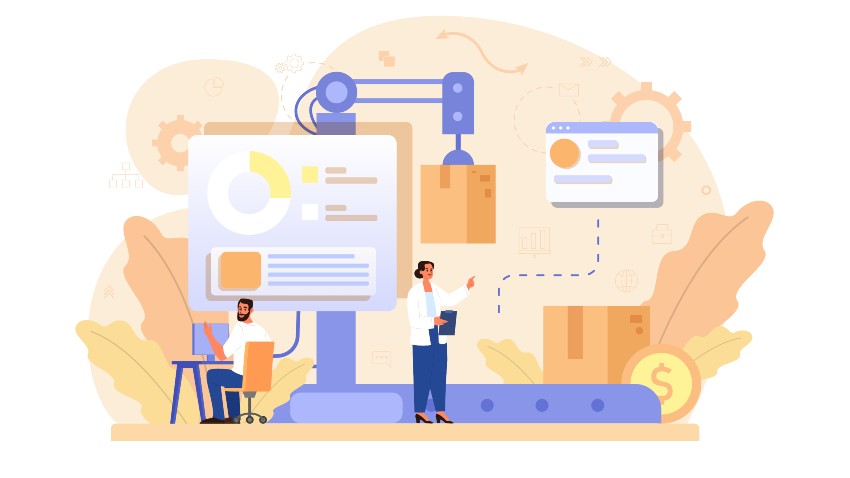 An effective procurement process is the key to maintaining stability and smooth running of the organizational processes. The movement of the necessary goods and purchases must be done without any interruption to avoid delays that could affect the procurement process along with the other departmental tasks.
Suppliers being an integral part of the procurement, the supplier management process becomes a necessary factor. A healthy supplier relationship will ensure the seamless working of your organization's procurement. Supplier management can be easily upgraded with revolutionary solutions like automation.
Read further to explore more about the supplier management process and learn how to effectively streamline the procurement process in your organization. 
What is a Supplier Management Process?
The process of managing the suppliers of an organization for its procurement is known as the supplier management process. Any process and activities that are involved in the complete lifecycle of a supplier can be called the supplier management process.
Several tasks and activities like supplier qualifying, segmentation, monitoring, and managing multiple suppliers. A supplier management process is considered to be efficient when it streamlines all these different tasks within it through a well-defined management model. 
The complexity of the business increases when you have to deal with external factors like suppliers and vendors. Although suppliers are present externally, they are very much an integral part of the procurement process, without whom the process remains incomplete.
Most businesses deal with multiple suppliers and find it difficult to manage them effectively. Having a supplier strategy and implementing the supplier management process can help in inducing a proper framework eliminating all sorts of drawbacks.
What is Supplier Strategy and What Can It Do For You?
Supplier strategy is an approach taken by businesses using which they plan how to work with their suppliers. This strategy is devised to achieve the desired goal which is oriented with the suppliers. This is developed considering different parameters like cost, risk, efficiency, etc.
Having a supplier strategy will enhance your rapport with your suppliers. With a planned framework a discipline is brought to the channeling that happens between both the parties.
The tasks within the process are optimized and an overall increase in the procurement process can be witnessed. With a supplier strategy, organizational goals can be fixed with more clarity and will guide to make the right choice and manage the suppliers meticulously. 
Benefits of Having a Supplier Management Process
To overcome the limitations that come along with the increasing complexity of the process, having a process management guideline is a lifesaver. Several purchase requisitions arise simultaneously that require procurement from different suppliers.
In such a situation, a large workforce is employed to meet all these requirements. Hence, coordination becomes essential in order to ensure the smoothness of the process. Broadly, the overall objectives of supplier management are to
Manage suppliers and monitor their functioning as per the organizational guidelines

To locate areas of improvement and development while simultaneously maintaining supplier lifecycle
Along with these, some operational benefits can be acquired by implementing a supplier management procedure. They are:
Improved Management
A streamlined and improved supplier management can effectively meet the growing demands of your internal and external customers, and suppliers. No matter the different lifecycle stages of them, a supplier management system can handle any hassle skilfully.  
Risk Reduction
A constant tab on the suppliers can be maintained with a supplier management system in place. The data and information about the suppliers are updated regularly in the supplier data management system, reducing the risk of errors or fraud. 
Improved Efficiency
Clarity is brought into the functioning of the process. The employees working with each client will have a clear idea of how to carry out the supply management process. There is development in the relationship and communication between the organization and the suppliers which in turn drives the efficiency of the process.
Cost Reduction
When supplier management processes are running their course, there is a humongous reduction in cost over the years. One of the key factors is the supplier relationship management approach which develops an advantage for the organization with respect to pricing, order levels, and other quality or quantity-based criteria. 
Trackable Supply Chain
A well-established and trackable supply chain is obtained. All the supply chains can successfully combine and reduce the total number of suppliers. This will ultimately streamline the purchase processes and encourage minimized budgets. 
Improved Visibility
Having an inclusive supply management procedure will improve the visibility of the process. It will completely negate the overlapping of different tasks. Confidential and essential data and information of the suppliers are securely maintained and streamlined. 
Steps Involved in a Supplier Management Process
Generally, supplier management is segregated as a 6-stage process. These stages cover the complete procedure, starting with planning and finally the execution. Now, let us look at these six stages in detail.
Setting Organizational Goals and Objectives:
Before carrying out the analysis and selection of the suppliers, you need to have a clear vision of what you are planning to achieve. Setting the organizational goals and objectives will help the business go for the suppliers that would match and guide the selectors to accomplish those set goals. You will also be able to gauge whether they are the right fit for your organization's ethics and working culture. 
Deciding on the Relevant Criteria for Supplier Selection:
Once the organizational goals and objectives have been set, it will function as a framework for the business to decide on which category of suppliers they are looking for. Eventually, a formal list of criteria can be created based on which client analysis and selection can be done. 
Evaluating and Qualifying the Suppliers:
All the potential suppliers' proposals are scrutinized based on the criteria that have been set, eventually shortlisted and selected. The selection is based on different criteria like their capability to provide the necessary goods or raw materials, cost efficiency, and also their terms and conditions as this is a symbiotic relationship.
Negotiating and Contracting:
With the final set of suppliers, the contracting process must be done to seal the deal officially. All the relevant stakeholders also need to be a part of this contract to receive all the insights possible. Not only the procurement team or just the stakeholders, but employees who work with the suppliers also need to be on board with the process. 
Segmentation of the Suppliers:
After fixing the contract with the finalized suppliers, they are segregated into different categories based on several metrics like perfect order rate, cash-to-cash time cycle, freight bill accuracy, and many more.
Supplier Review Process:
The performance of the suppliers must be reviewed based on the key performance indicators to evaluate the regions of success and drawbacks. This evaluation must be carried out periodically to ensure that the objectives and goals are fulfilled. 
Important Factors to Consider in Supplier Management
There are a number of important elements that catalyze the process of supplier management. These factors can help in building the right process for your suppliers, making the process more efficient and goal-oriented. The key elements are:
1. Expanding Operational Reach:
Increasing your operational area to many local and global suppliers must be carried out diligently to be able to manage all of them together.
2. Multiple Supply Chains:
With more supply chains the complexity increases in managing them. This will increase the depth of the supplier base and maintaining and tracking them can be a laborious task. 
3. Risks in Supply Chains:
If not managed effectively, your supply chains can develop internal risks that might not be visible but will affect the performance of the procurement process. 
4. Supplier Data Management:
Conventionally, supplier data and information are generally stored using paper-based documentation or manually entered into systems. This method generally reduces the pace of the process. A solution like automation can be a savior in a situation like this.
5. Supplier Relationships:
If there is a lack of understanding and trust between you and your suppliers, there is a high chance of that malnourished relationship falling into failure. Nurturing long-term relationships with suppliers is essential to business. 
6. Competition:
The organization must always be prepared to face the increasing competition in the industry. Therefore, the tasks and the processes must be optimized to actively acquire a competitive advantage. 
7. Match the Industrial Standard:
The suppliers' performance drives your organization's performance. This gives you an upper hand in industrial standards or even sets new standards. 
Effective Strategies to Enhance the Supplier Management Process
Considering the risks involved in a highly networked and interconnected process, it is always crucial to adopt some strategies. These strategies have to travel along the same current as your business and also must have the potential to carry your business to its final output. Here are some basic strategies that organizations can adopt.
Installing an Automated System: The procurement process works well when automated. There is a reduction in the resources used like cost, time, human labor, etc., and more visibility is generated. 
Supplier Information Management (SIM): Supplier Information Management refers to the process of acquiring and storing the supplier data from all the systems. This is done to have a set of collected data on supplier, process, and their relationships.
Performance Measurement using KPIs: Having Key Performance Indicators will help analyze the performance that has resulted from the collaboration between your business and your suppliers. Areas of improvement can be known and improvement strategies can be devised accordingly. 
Resolving Supplier Risks: Different strategies can be adopted to minimize the risks in the supply chain of your organization. One of the most popular and widely used strategies is the implementation of automation software to streamline processes so that risks are reduced. 
Establishment of Long-term Relationships: Creating in-depth and long-term relationships, enriched with proper communication channels, with your suppliers is essential to having a successful business. The resulting synergy and dynamics can do wonders for businesses. The organizational goals and terms and conditions must be communicated properly with the supplier base. These two-way relationships can be leveraged when needed so that business does not get affected. This can be done through Supplier Relationship Management.
End-to-end workflow automation
Build fully-customizable, no code process workflows in a jiffy.
What is Supplier Relationship Management?
This is a relationship management approach where the organization monitors a supplier's contribution and role in any undertaking. Using this approach the organization decides on steps and tactics that could improve their collaborative performance. This approach will optimize their relationship as well as the supplier management process. There are different types of business-supplier relationships. 
Different Forms of Supplier Relationships –
Buy the Market:
This is a basic buyer-seller relationship that is straightforward and business-oriented. This form of relationship is established just for transaction purposes. There is very little communication regarding the procurement and its fulfillment. Once the process is completed, they generally deal off the contract and no further communication or relationship is entertained.
Ongoing Relationship:
This type of relationship can be formally or informally based. Here one supplier is preferred and selected over the other. A much more in-depth communication of information and details is shared and a strong relationship is nurtured.  
Partnership:
A long-term contract is what maintains a partnership. Here, both parties share duties and responsibilities and work towards the goal equally. There is a deep-rooted trust and accountability that is shared between them. 
Strategic Alliance:
A strategic alliance is a well-planned and defined relationship where both parties have agreed to work together for longer periods. They are on the same level and are equally responsible and accountable. There is a high level of collaboration energy with the same interests and increased communication. 
Backward Integration:
In this form of a relationship, the business owns the supplier within their business. Hence, they share a common culture and ethics. They also share information and plans. In this setup, the supplier and the organization are the same entity. 
Ways to Strengthen Supplier Relationship Management
With different types of supplier relationships, it is necessary to understand how these can be improved and strengthened, especially the ones that go over several years. Not all types of supplier relationships can be managed in similar ways. Extensive studies must be conducted to choose and follow the best practices. Here are some ways in which you can cement your relationship with your best suppliers.
Have clear and visible communication habits. Transparency is an essential attribute to possess and it will ease tensions and areas of risk while working together. This must be practiced throughout the process, especially when setting goals, expectations, pricing, etc. Open communication with suppliers helps with the smooth running of the business. It will eventually ensure that both parties are on the same page. 

Build a relationship that is beneficial to both sides. If the relationships are maintained for a longer period, a huge amount of trust and favors can be shared between them. 

Regular monitoring of the activities will give proper guidance to the ways things have to be done. This monitoring will detect areas of problems and opportunities at an early stage.

Installing and adopting tech tools and systems like automation will drive the process and the business relationships. Automation can really change the face of the company by becoming more self-dependent and management can be done effortlessly. 
Automation in Supplier Management Process
Automation can transform the way different organizational processes are carried out. It is an exceptional tool that improves quality and delivers a professional edge to organizations. With specific to the process of procurement, automation can perform wonders. Many repetitive and delaying tasks can be completely automated and the entire process is optimized. While in a quest for an automating tool, considering some parameters becomes essential.
6 Features to Look for in an Automation Tool for Supplier Management Process- 
1. Automatic Three-way Matching
Look for an automation solution that will render an automatic three-way matching of your requisitions. With this automatic matching system, organizations can make sure that the details of the order, delivery, and receipts are matched in an instant. Investing time and labor for this process can be canceled. 
2. Cloud-based Storage
With a paperless process, automation tools can document everything using a cloud-based storage system. Therefore, go for a centralized storage system where document tracking and assessment are easier. 
3. User-specific Permissions
A solution with user-based permission is more viable. It guarantees the security of the data that has been stored. Moreover, a level of transparency is maintained. Conditional access can be placed and only those users will be granted permission. 
4. Supplier Index
Information regarding your supplier base will be available readily for you. These records can be procured without wasting much time. The cloud-storage property will easily maintain an inventory of all your suppliers. Choose a solution where you can navigate easily within these different interfaces. 
5. Design Easy Workflows
An automation tool must be able to create simple process and approval workflows.  These workflows can easily streamline all the processes. A zero-code platform can help any employee create a workflow as it is non-technical.
6. Automated Notifications
Go for automation software that supports automatic reminder and notification systems. This will ensure a proper flow of work. 
Cflow's Automation Platform for the Best Supplier Management
Cflow is a platform that will offer you the best procurement solution ever. Being one of the best in the industry, Cflow is designed to make navigation and user experience the easiest and best. The platform makes your supplier management process intuitive and seamless. With its no-code service, it efficiently makes streamlined workflows. This platform also encourages integration with more than a thousand other business applications.
With Cflow you can:
You can completely automate and optimize your supplier management process

Store and maintain data in a more secure and hassle-free manner

Create effective workflows for our employees encouraging more clarity in the workspace

Keep track of all your supplier bases in one space

Manage seamless review and approval of suppliers shortlisted

Have structured control over logistics and inventory of the procurement process
Supplier Management Process – An Unparalleled Technique
Traditional ways of managing your suppliers often have proved to be insufficient when you aim to create a space within the industrial sector. There is always a constant push to adapt to certain industrial changes quickly, and also be successful in it at the same time. Hence, adapting to an automated system will be the best choice to achieve this.
The complete automation of your procurement process can drive you to the results faster. It enhances your work experience as well as your suppliers. This further will develop a strong relationship with them. Cflow is here to offer you an effective supplier management process experience with its free trial. Sign up now!
What would you like to do next?​
Automate your workflows with our Cflow experts.​
Get your workflows automated for FREE
---