A beginner's guide to workflow mapping
At present, corporate organizations are making significant progress in business process optimization. But the truth is that they are still far from being perfect. In a corporate corridor, you will be hearing these phrases managers throw around, "we must implement workflow automation" and "we need to use process maps to identify redundancies" to increase their company's performance.
Well, for novices, the terms workflow mapping and workflow automation may be jargon, so keep reading to learn more about how important workflow mapping and automation are.
What Is a Workflow?
Before understanding workflow automation, you must understand the concept of workflow. Simply put, a workflow can be defined as a system that manages repetitive processes and tasks. Whether you are manufacturing a product, a service provider, or any value-generating activity, enterprises accomplish their tasks using workflows.
While a business process may comprise a complex set of multiple workflows, a workflow is distinguished by its simplicity. It is straightforward and is typically used for visualization and as a checklist. The foundation for the concept of the workflow was developed by mechanical engineer Fedrick Taylor and Henry Gantt – the former with his scientific management theories and the latter famously known for his Gantt chart. Workflows are essentially used today for project management in various industries, engineering, and other businesses. Workflows provide them with a logical and systematic way of approaching complex real-world problems.
Now you might be wondering what is the difference between a workflow and a project? The key difference is projects comprise a bunch of tasks with a specific individual outcome, while a workflow is a defined sequence of repeatable tasks.
Sounds confusing? Well, think of some repeatable tasks in a specific process in an organization, for instance: recruiting new employees, evaluating, and authorizing creative ad campaigns, onboarding new applicants, customer support, and complaint escalation.
The above tasks sound familiar, right? These are some of the common repeatable tasks with high optimization potential. Companies actually save thousands of dollars simply by implementing workflow automation. CISCO systems saved around $270 million in their operating expenses by employing workflow automation.
What is Workflow Mapping?
Drawing a picture has always had a positive and clarified impact on any human being. Right from the days of cavemen to Egyptians and graffiti culture, pictures allow easier understanding. The exact concept, when implemented in a business environment with the help of workflow mapping, can boost the process flow like no other solution.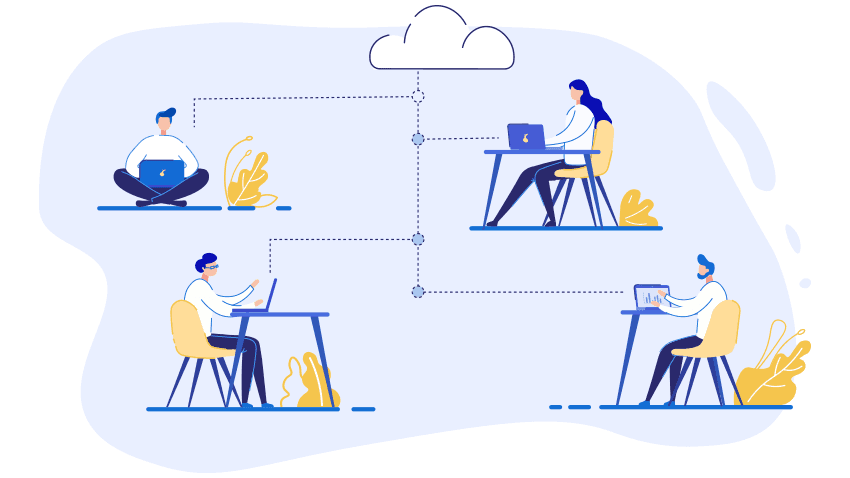 The mapping is a visual representation of the process where a series of diagrams, signs, and indicators work together to establish the workflow process. Since workflows comprise discrete step-by-step tasks, workflow mapping gives better visualization and a deeper understanding of the overall workflow, enabling better optimization.
The workflow map should be so clear and simple that anyone who is entirely new to the organization should be able to understand what should be done next. Such clarity helps the entire workforce to perform better at every stage.
To put it in simple words, workflow mapping can be defined as simple visualization from the start to the end of a process. Now, you need to know how to map a workflow? Well, there are different ways to create a workflow map, such as product roadmaps, SIPOC process charts, value chain mapping, swimlane diagrams, or even using a simple flowchart. When visualizing your workflows, it is essential to consider simple and suitable flowcharts that prioritize your visual representation.
To better understand workflow mapping, consider this procurement scenario:
The following procurement workflow can be automated with workflow automation tools. Now visualize the procurement workflow.
The procurement team receives a purchasing request from the sales department's VP for purchasing a new CRM tool.
The procurement team gathers necessary information and proceeds to select a vendor. They negotiate with the vendor in terms of pricing and a list of final candidates. The approval budget with respect to the chosen vendor is sent for final approval to the department head.
Now, the procurement team discusses with the finance team to create an official request for the new CRM tool and chosen vendor.
After getting the necessary approvals, the internal stakeholders approve the contract. The contract is made between the company and the vendor.
Now you will receive invoice and order details from the CRM vendor. The invoice is reviewed and moved to accounts payable to set it as recurring payments upon invoice approval.
Finally, the CRM vendor is approved and added to the enterprise's list of approved vendors inventory list and is now an ongoing partner of the company.
Imagine a need for at least a dozen tools at a time. Various departments in an enterprise initiate purchase requests simultaneously. Each department needs to collaborate with one another to enhance the company's output. But the layer of complexity increases, and you are essentially performing the same tasks. The same idea applies to workflow mapping of different business processes from HR, and sales, to product manufacturing and launches – you name it.
Steps involved in workflow process mapping
When you are building a workflow process map, you need to follow these six steps.
Identification
The first and foremost step is to identify the workflow process to be mapped. Have clarity while identifying the workflow and see if it fits the automation criteria. Discuss with team members and ask yourself if the workflow to be mapped is developed enough to be automated. Try to identify possibilities of errors.
Gathering relevant information
When you have clarity, gather all information as much as possible to achieve the workflow map. The information should lead to eventual automation. Outline all
Developing the workflow process map
In this step, you will develop the actual workflow map. Outline the steps from start to end in sequence. While the detailing of information is entirely up to you, typically, you need to include metrics, inputs, outputs, and stakeholder information.
Analyzing
Using a workflow mapping tool makes the task much more straightforward. The workflow mapping will help you configure different components per your requirement. The workflow mapping tool will be ideal for documentation and creates centralized access. This will give you better visibility and help identify the redundancies in the workflow map.
Review
In this step, you will get feedback. Review the workflow process map with the stakeholders for validation. Different teams involved in the process will help identify the frequent bottlenecks and errors. You can now align the process and improve by consolidating, eliminating, and re-ordering steps.
Finalizing and Monitoring
This is the final stage of the workflow mapping, where the workflow map is approved and monitored continuously based on the improvements made.
Can Workflow Mapping Really Strengthen Efficiency?
Any trained speaker can spend hours explaining the process but given a piece of the diagram, it is easy to witness that a group of people will understand the idea in minutes.
Sometimes you need to root out the inefficiency and make an effort by using smart workflow mapping tools.
The process of workflow mapping may take a couple of hours but once it is perfected, every employee will be able to quickly understand what is expected of them. The process, how it flows from one step to another, the people assigned for different stages, how to carry it out and the indicators make up for an easier understanding.
The primary purpose of having a map is to provide an overall picture for every last person. It helps motivate them a lot instead of instructing someone to move a file or write something that they will never understand why it is being done.
Here is an example of a business travel workflow map: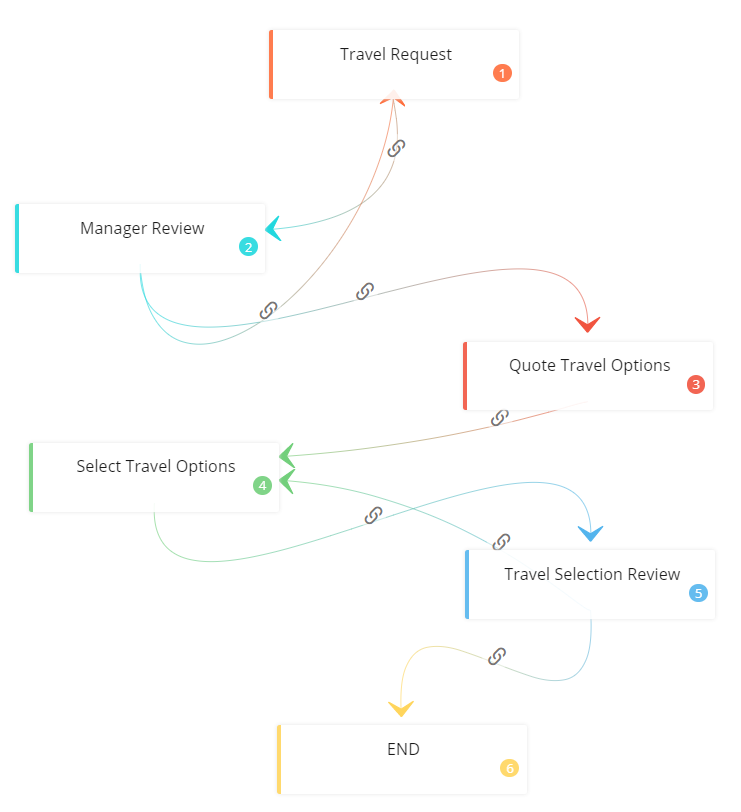 Fig: Workflow Mapping Example
The employer can create a sense of belonging and by providing a clear idea, it will get the job done with more precision and efficiency.
Besides, the mapped workflow will be the only guide anyone has to refer to. Every detail including the tasks to be done, alternate routes if there are an obstacle, and deciding authorities will be mentioned.
It is easy to compare the mapping to Google Maps which automatically suggests the best route, obstacles, and the proposed time it takes to reach a location.
Moreover, workflow process maps reveal different approaches to a task. When you drill down a process, ensure people have mentioned all the tasks appropriately.
People may not leave some tasks intentionally, but when you compare the workarounds of a process map, you will know precisely how the process is being performed. Charles Cox, Principal at Firefly Consulting, says, "as people work at a job, they develop workarounds and shadow processes. These workarounds are mainly not intentional and are unconscious. And when the workarounds are easily hidden within office transactions, it is revealed once the action is completed."
Though it doesn't need to, workflow mapping can optimize efficiency and is always done as a part of re-engineering your processes. When you and your teammate can see all the tasks in a process clearly, you can put together all the pieces of the puzzle to get the bigger picture. This becomes easier when the process is automated. Therefore, when you use workflow automation tools like Cflow, this re-engineering becomes much simpler and leads to more efficiency.
Workflow Use Cases
Manual mapping is susceptible to human error and redundancies, affecting customer experience and product quality. Any operational procedure within an organization is described as a workflow. There are many workflow use cases and some of the most common types include.
E-commerce and retailing:

When a customer buys a product and submits payment information, the transaction is processed, and payment is received. The ordered item is picked from the warehouse, packed, and shipped to the customer.

Purchase orders:

Purchase orders in an organization are approval workflows involving support and finance managers. The purchase orders go through the departments to establish a final budget for purchasing items. The process includes legal and company compliance requirements.

Customer service support:

The ticketing system is one of the most effective forms of workflow use cases and is an integral part of digital workflows. They are designed to provide systematic routine steps to be followed while resolving customer problems.

Banks:

The bank workflow use cases comprise an account opening by a new customer involving a series of sequential tasks. The identity credentials and the financial information of the customer are collected. The financial institution then discloses relevant account information. The transactions are documented and maintained for auditing purposes.

Onboarding new employees:

Onboarding new hires into the company is quite a challenging process that involves a series of steps to be completed – from legal paperwork, access to a network and other IT resources, training, and orientation.

Healthcare:

Medical institution workflow maps typically comprise the logging of every patient visiting the clinic, their medical records, diagnosis, and management procedures followed.

Manufacturing and other industries:

Product manufacturing involves complex workflows as the product can move linear and through different patterns depending on what is being manufactured.
The Primary Benefits of Workflow Mapping
With the help of workflow mapping software like Cflow, the number of benefits that you will instantly gain is plenty. The visual roadmap creates better clarity on the work that is being carried out and eradicates any shortcomings if found.
Turn it into a Picture
Converting your business into a picture is no easy task unless you start relying on workflow mapping. Because it is the only and the best way to see the path a task travels before it reaches its final completion stage.
When you create workflow maps, you are making a baseline for the process. You will have your work cut and see others involved in successfully completing a process. This is why it is critical to map out as you get a bird's eye view of the process. With this, no task will go undocumented and certainly see the areas of development clearly.
Is Something Wrong?
Oftentimes, the decision-makers and top management may feel something is wrong but will just not be able to pinpoint the issue. The visual mapping helps in identifying problems rather than feeling lost amidst tons of different tasks.
Find the Delay Areas
A lot of tasks once commenced years ago will be handled in the same manner until someone identifies that there is a redundancy. Instead of leaving things to luck, you should consider finding where the delays happen and fix them.
Let People Take Responsibility
Every task will be assigned to a specific person and will move from one step to another. They will have an opportunity to work more efficiently and take responsibility in case of errors occur. Most management issues arise from accountability which can be fixed by mapping the business process.
Better Way to do it
There is always a better way to do any process because what is being currently followed will often be marred by errors. With the help of workflow process mapping, it is easier to identify the best way to do any process, improve the flow and weed out the inconsistencies.
Compliance
Industries and businesses have their own regulatory bodies. They follow those regulations for compliance. The standard compliance regulations such as ISO 9000 for practicing quality standards. Auditing compliance regulations can be cumbersome and time-consuming. While auditing, when you present a library of process maps, the auditor can review it easier and quicker to comprehend.
An auditor in a Triaster's ISO 9001:2015 audit mentioned that when the company used online interconnected flowcharts as the basis of their business management system it made it easier to navigate and the audit was completed successfully. Even before starting the actual auditing, the workflow process maps will show precisely the areas that need to be concentrated for compliance.
Knowledge transfer
When you are creating workflow maps, you are not only making for the benefit of process completion but also for knowledge transfer. When an employee moves out from your company, the knowledge moves with them. Therefore, workflow mapping is an excellent way of knowledge sharing. One key thing in workflow management is that it will have updated information about a specific ongoing process in your company. Employees can easily access this information whenever needed. Moreover, since each step in a process is captured and stored for reference, this makes people involved accountable and reduces errors.
End-to-end workflow automation
Build fully-customizable, no code process workflows in a jiffy.
Workflow Mapping Tools
Having robust tools for workflow mapping would simplify your task. Since workflow maps are graphical, a simple drawing tool will come in handy. You can do free workflow process mapping using the available free tools when you don't want to spend a fortune. Giles Johnston, Chartered Engineer and Co-Founder of Fraction ERP, says, "I'd love to tell you that I do loads and loads of really complicated stuff in my working life, but the fact is a simple flowchart can be enough. You can also use sticky notes on a whiteboard and make connections using a marker. Don't let your lack of fancy implements stop you from considering the benefits of other workflow mapping tool options."
When you think of workflow mapping software, we always look for free tools initially. The free tools often hold leverage in holding your data independent of a proprietary system. But even free tools will have limitations in exploring all the features. So, you will need to upgrade to a paid version to take full advantage of the workflow mapping tool.
The most basic workflow mapping tool will be pen and paper. These are simple tools but effective in providing better understanding. However, manual workflow process mapping is not good for long-term shareability and management. But pen and paper and sticky notes are suitable for conducting brainstorming sessions before going digital.
Enterprises more commonly use cloud-based drawing and graphing tools. These digital cloud-based tools are more lucid and give you better sharing and access controls. When cloud-based, the workflows can be shared by members from remote locations as and when needed. The workflow maps can also be stored in your drive for easy management.
Purpose-built workflow management tools like Cflow help you visualize a workflow and features for controlling activities that you add to a workflow. Cflow provides workflow automation features that help you keep track of the workflows and automate tasks requiring frequent approvals based on the compliance requirements. For instance, when you have workflow management software, possibilities of errors and redundancies are reduced as you will have enhanced transparency, eliminating human intervention as much as possible.
Even with the workflow mapping tools, some people hate working with flowcharts. Some people prefer working with digitized workflow maps over the manual paper and pen workflow maps. People often feel that drawing a flowchart requires extensive training, and a simple demo in a paper flowchart will not be sufficient. With the technological advancements, there are dedicated online workflow mapping tools to help you create workflow maps using the correct symbols for each task.
Moreover, using a digital workflow mapping tool will make it easier for you to capture the essence of the process, decide on alternatives, connecting conditional paths, which leads to improvement. Besides, digital workflow mapping tools will allow you to add supporting text documents, graphics, images, videos, and reference guides to enhance it. The best part is that digital workflow mapping and management software will help you automate your workflow processes.
Workflow Mapping with Cflow – The Simple Solution to Complex Problems
Making your organization more competent requires a clear and honest visualization and understanding of the workflows as they are. Witness change when you create a visually mapped workflow using Cflow, the #1 workflow management software. The easier set of tools and indicators makes it easier for any employee to create a workflow that helps the entire process. With the right kind of tool, you can not only be more competitive but also you can communicate and collaborate on how the workflow maps can be improved which you can do without the need for extensive software training.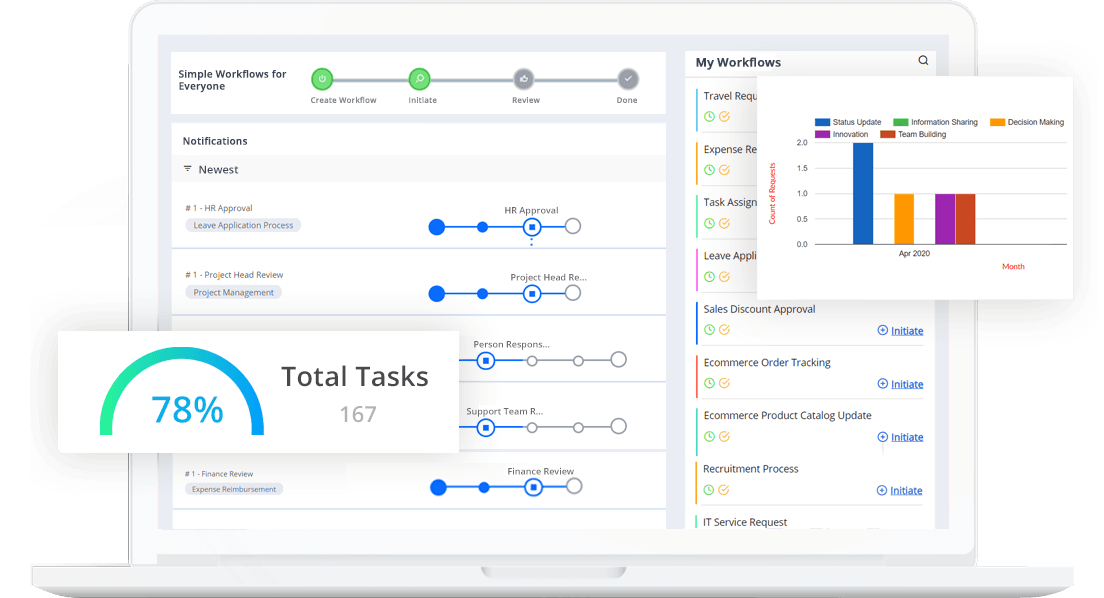 The preparation injects clarity into your organization, boosts efficiency, and encourages employees to work more productively because they should contribute only for their part, while everything else will be done by the respectively assigned personalities. A great workflow mapping solution for your team is Cflow.