The Thin Line Where Human Resource Management and Organizational Goals Align
Human Resource Management and Strategic Human Resource Management are two different things even though they sound very much the same. HR management is about hiring the right employees, negotiating their salary and making sure the organization is running at the right pace through the year.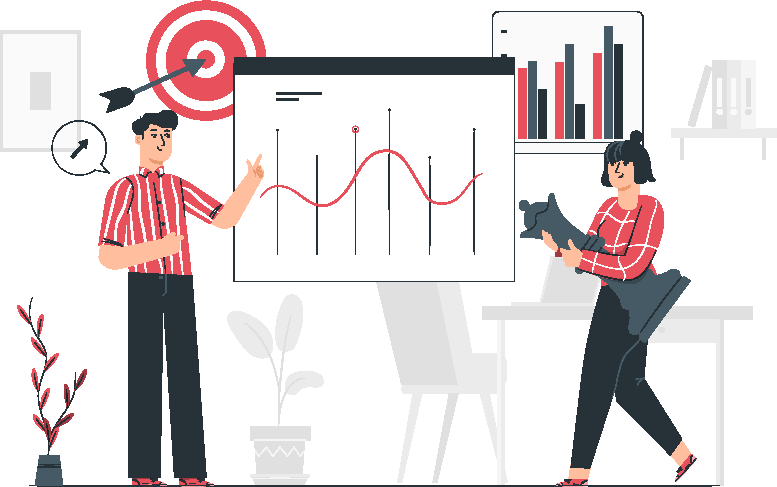 However, a company has to drastically change its approach to do strategic human resource planning because it is achieved only when an organization's common goals are in sync with the HR team and its management process.
How does strategic human resource planning work?
The backbone of a company's success relies on the efficiency of its employees and the human resources team is responsible for implementing it. The HRs act as a strategic partner and help the board bring out the best potential of every employee, every team in the organization through the efficient hiring process, training and providing rewards to keep them going towards the right direction. 
What are the most important things the HR team should do?
To implement better management process, they should ensure,
Employees should work with the highest level of job satisfaction so they contribute with commitment

Improve the work culture to make it a fun and productive place for everyone to work for

Ensuring customer satisfaction that leads to better payscale and motivation

Effective resource management to make the most out of what is available

Proactive approach and encouraging employees to contribute 

Productivity monitoring by encouraging people to work with one another
4 Golden Rules for Strategic Human Resource Management
1. Educate Your HR Team and Share the Company's Future Objectives
Instead of giving random instructions and commanding your HR team to work on the day to day tasks, give them a complete picture of your future goals. Having an idea of the objectives will encourage the HR team to work with utmost dedication as they will have a good idea of what to expect in the end. Such clear communication also allows them to know the type of candidates they should hire during interviews. 
2. Understand and Provide the Tools Both HRs and Employees Require
Requesting your employees to work towards a common goal without providing them the necessary tools is not the right way to make them contribute. Encourage contribution by making a list of software programs, hardware or anything else they might need. Automation software can help speed up the process while a CRM helps in maintaining customer database in a much easier manner.
3. Implement Ideas Practically and Identify Real World Issues
A lot of ideas may not convert into productive results immediately which is why you should never hesitate to implement them and make changes accordingly. 
Speed the recruitment process and ask your HR professional to find talent through more unconventional means such as hackathons if you are looking for coders and skilled programmers

Create a better interview process where the same set of questions are distributed to everyone to make sure you know-how is better on the same scale

Design a better onboarding process with the help of workflow automation software and let the employees know what they should expect during the induction process 
4. Help Your HR Team Directly By Providing Better Support and Resources
Strategic human resource management can be achieved only when your HR team receives the highest level of support and instructions based on which they could work. Encourage them to read through informative and educational content. Here are some quick ones to help you get started.
The 

Sage Journals

 article on strategic human resource management  

Science Direct

 article on how HR resource management and the company's growth is parallelly linked to one another 
A Philosophical Approach – Learn from Your Past Mistakes and Plan Your Future 
A common human tendency is to make a lot of mistakes in the present, forge them when they become the past and focus on the future. As the saying goes, you should always learn from your past mistakes and implement the changes in the future. It works so well for an organization.
What to Note Down in the Past?
What were your initial goals?

How did you go about implementing them?

What are the challenges you faced?

What are the hurdles that delayed the process and the implementation?
What to Do Now for the Future?
Plan things that you did earlier but make corrections to avoid previous mistakes

Understand new technologies that could help you get things done like automation 

What are the changes to anticipate in your industry and how to prepare for it?

What kind of employees you need and how to retain talent? 
All these questions could be provided a very detailed explanation but instead of doing it yourself, ask your HR people to do it after providing a good idea of what you expect the organization to achieve shortly. 
Ever Knew Automation is the Solution to Most of Your Problems?
When big business terms like strategic human resource planning are used, business owners assume they should invest thousands of dollars to adopt a new business strategy. In reality, many of the answers to your questions are much more affordable and more efficient than an expensive solution. 
A workflow management software like Cflow is the only software you will ever need to experience the power of automation and how it could change your business strategies forever. Hiring employees, identifying their skills and nurturing it while creating a better onboarding process and task management couldn't get easier than this. 
Unlike CRMs and other solutions made for business, Cflow was not designed to manage customers or projects. Rather, we designed it from scratch to be a workflow software meant for the backend, to help businesses achieve their goals by empowering their human resources management team.
All you need to start is a couple of workflows that will put you on track and whenever there are unique requirements, there is always the option to create your workflows using the visual workflow builder and it's true, you don't need to be a coder to do this! 
Check out the Cflow application where you could know how easy automation is and this is the key to strategic human resource planning where automated workflow implementation could do wonders!