Improving Efficiency of Source to Pay Process through Workflow Automation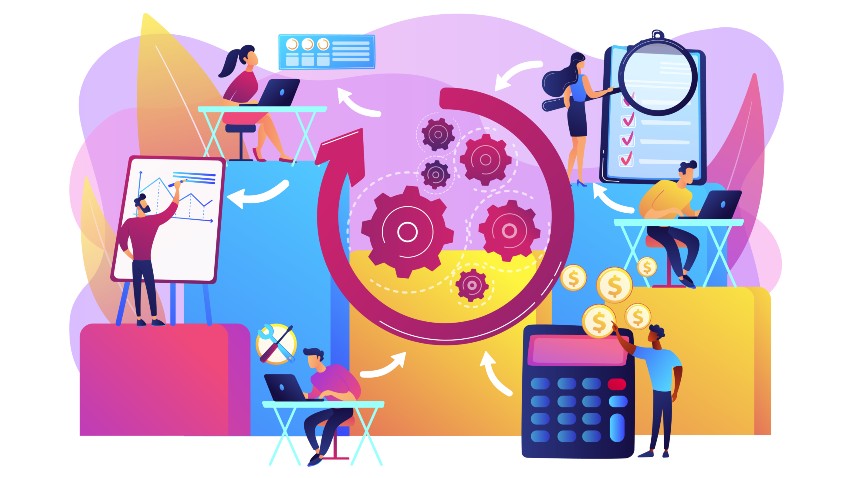 The procurement function in a business has a direct impact on business savings. Procurement of good quality goods at competitive prices is possible with a streamlined procurement function. The source-to-pay process in procurement involves tasks like supplier identification, vendor evaluation, contracting, and payment for goods delivered. What is the source-to-pay process? Read on to learn more about the source-to-pay system and effective ways to streamline the source-to-pay process.
What is the Source-to-Pay Process?
The source-to-pay process (S2P) or source 2 pay covers all the procurement activities that involve the supplier (vendor) and the organization. Identification of the right supplier is the first step of the source-to-pay process and payment to the supplier is the last step of the process. Another definition of the source to pay is the end-to-end sourcing and procurement process for finding, evaluating, and contracting with suppliers of goods or services, ending with vendor payment.
The source-to-pay process includes strategic procurement activities like spend analysis, sourcing, contract management, supplier management, and final activities like e-procurement, purchase order processing, invoice automation, accounts payable, and payment processes. When compared to the procure-to-pay process, the S2P process adds the strategic sourcing step before the procurement process. The source-to-pay process spans a series of activities like spend management, strategic sourcing, vendor management, purchasing, performance management, and accounts payable.
When does a business use a source-to-pay system? A source-to-pay system is useful when businesses need to find new vendors that offer better purchase terms, lower prices, or new goods that are not offered by current vendors. How does a business benefit from a source-to-pay system?
The benefits of having a source-to-pay system are:
Consolidates the entire supply chain for improved procurement efficiency
Combines critical procurement processes into a single sourcing platform
Improves regulatory, contractual, and procedural compliance
Helps business forecast more accurately and consistently
Enables accurate spending analysis
Improves collaboration among suppliers and other trading partners
Evaluates supplier performance against numerical standards and benchmarks like pricing, number of on-time deliveries, cycle time for invoicing and purchase order processing, and other key performance indicators.
Having a streamlined source-to-pay process provides increased visibility into procurement and spending. Instead of treating procurement as a series of disparate tasks, source to pay aggregates purchases across business units for improving performance, driving business value, and improving spend analysis.
End-to-end workflow automation
Build fully-customizable, no code process workflows in a jiffy.
A Typical Source to Pay Lifecycle
Source to pay is a digital journey that leads to e-procurement. The source-to-pay process can be tedious and time-consuming without a proper strategy. The following steps are part of the source-to-pay life cycle.
1) Finding suppliers: The first step in the S2P lifecycle is the identification of potential suppliers. Finding the right supplier requires extensive market research. The sourcing teams would send out requests for information (RFIs), requests for proposals (RFPs), and possibly requests for quotes (RFQs) to potential vendors. Some organizations use templates for gathering vendor information easily. E-Auctions are a popular way followed by sourcing teams to get the best deals for goods and raw materials. Finding reliable and affordable suppliers is more effective through e-auctioning.
2) Vendor evaluation and vetting: The vendor information collected through RFX and results from the e-auction help the sourcing team vets the vendors to find suitable matches. Effective sourcing is all about finding the balance between the affordability of products and realizing profits. The raw materials must come at affordable prices so that the company can make a profit. Suppliers are evaluated not just on their quality, but on pricing, minimum order quantities, delivery times, and other factors. Once the sourcing team narrows down on the right buyer negotiations begin.
3) Negotiating and contracting: After evaluating vendor information of several vendors, the sourcing team may narrow it down to 2-3 vendors with whom they engage. Negotiating and contracting phase focuses on narrowing down the right vendor. Businesses are always on the lookout for ways to keep production costs low along the supply chain, and the sourcing stage is the best point to reduce costs. When larger quantities are sourced the purchasing price of goods can be reduced drastically. An accurate determination of the price and order quantity is required for issuing contracts.
4) Purchase order: The purchase order is issued based on the agreed pricing and quantity of goods. Once the vendor accepts the purchase order it becomes a legally binding document. It contains all the terms of the contract between the buyer and vendor.
5) Goods delivery and payment: This is the final step in the source-to-pay process. Once the goods are received, the data in the goods received note is verified against that in the purchase order to ensure that the goods received are as per the PO. The quality of the goods received is also inspected at this stage. Once the verification is complete payment to the vendor is processed. Depending on the business requirements, a delivery and payment schedule is set up to ensure accurate verification and on-time delivery and payment. Following a delivery and payment schedule ensures that raw materials are delivered on time and that production processes are not interrupted.
The entire source-to-pay lifecycle can be effectively automated to save time and effort. A source-to-pay software delivers a wide array of functionality across the procurement cycle.
Source to Pay Best Practices
In the supply management industry, source-to-pay embodies an integrated process workflow that connects strategic sourcing and procurement to accounts payable (AP) and financial operations. It is a closed-loop process that can be standardized, linked, and automated for the holistic management of goods as per business requirements. The best practices in source to pay may be categorized as people, process, and technology.
People's best practices in S2P:
Developing a hiring and staffing strategy that recruits and retains staff with the right mix of skills and competencies
Investing in developing, training, and equipping a workforce for being future-ready.
Acknowledging the growth of the Gig Economy and the Future of work and planning accordingly.
Driving seamless communication, and collaboration across the organization and in supplier relations.
Process best practices in S2P:
Standardizing processes up and down the source-to-pay spectrum
Integrating and linking processes to close process gaps and drive efficiencies for a closed-loop data lifecycle
Optimizing and rationalizing process workflows vis-à-vis technology
Automating processes for a seamless process workflow and driving efficiencies
Technology best practices in S2P:
Adopting a holistic view of the source to pay transformation
Consulting functional partners and business users to understand and fulfill technical requirements at various levels
Migrating to cloud-based solutions and deployment models
Exploring next-gen technologies and related use cases
Source to Pay versus Procure to Pay
Source to pay and procure to pay are two closely related procurement processes that are mistakenly thought to be the same. Another procurement process is purchase to pay. What is the difference between these processes? Before we go into the source to pay vs procure to pay vs purchase to pay, let us first understand the definition of each process.
Procure to Pay (P2P) process combines the company's procurement and accounts payable functions. The starting point of this process is when the need for goods/services arises, and the ending point is the payment for the goods/services. The purchase-to-pay process on the other hand covers the entire process from point of order through payment. The source-to-pay process covers all the tasks from sourcing to payment for goods and services.
| Source to pay | Purchase to pay | Procure to pay |
| --- | --- | --- |
| The process that organizations go through in order to source, order, and pay for goods and services | The process that organizations go through to place an order for goods and pay for them | Like purchase to pay, the procure to pay also starts with ordering goods and paying for them |
| This model is designed specifically for organizations with complex procurement needs. | The purchase-to-pay process is beneficial for organizations with relatively simpler procurement needs. | The procure-to-pay process is used by businesses with simple procurement systems |
| Businesses use source to pay when they require a dedicated, strategic sourcing process | Sourcing is not part of the purchase-to-pay process | The procure to pay does not involve the sourcing step. |
| Automating the S2P process is beneficial for the business | Automating the purchase-to-pay process saves time and money for the business | Automating the procure-to-pay process improves the efficiency of the procurement function |
Businesses can choose to automate the source-to-pay or the procure-to-pay process as per the unique requirements of their business.
Digitizing the Source to Pay Process
Technologies that are available today could effectively automate more than half of the source-to-pay process. The various source-to-pay tools available in the market are designed to streamline the source-to-pay process by eliminating repetition and redundancy. The S2P tools help lower procurement costs, greater savings, and more opportunities to explore new sources of value. According to a McKinsey survey, automating the source-to-pay process can reduce spending by 3.5%. The potential for automating the entire source-to-pay process is put at 56% of the tasks within the workflow by the survey.
The opportunity to automate was found to be highest in the more transactional parts of the S2P process, more specifically in the placing and receiving order phases. 88% of the tasks can be automated and around 93% of the tasks in payment processing can be effectively automated. Further, 47% of the vendor selection process and negotiation activities can be automated. The potential to automate is depicted in the image below.
Choosing the right automation tools for the source-to-contract process flow is a crucial business decision. Each of the automation technologies like robotic process automation, machine learning algorithms, cognitive agents, smart workflow technologies, and natural language processing (NLP), can be used to automate various phases of the source-to-pay process. The McKinsey survey reveals the suitability of each of these automation technologies for source-to-pay workflow.
NLP technologies are suitable for tasks that act as a bridge between human inputs and the most structured data used by machines.
RPA technology is most suited for transactional activities associated with procure-to-invoice and invoice-to-pay activities.
Smart workflows are useful for more complex transactional activities associated with vendor management that deals with contextual information and coordination with multiple parties.
Cognitive agents and machine learning capabilities are used for dealing with complex activities related to the initial parts of the source-to-pay process, like the development of spend category strategies.
For companies, the first and most important step is to identify the best targets for automation within the procurement process. The current level of automation should be ascertained, and it should be compared to what is technically achievable for each task in the source-to-pay process. The value of closing this gap can be estimated by the team. The estimation is based on the amount of work that can be automated and improvements in compliance, cycle times, and payment terms in each step. With the digital landscape evolving continuously, businesses that are looking at automation must make thoughtful and focused decisions on implementing appropriate technologies for digitizing the S2P workflow.
Advantages of Source-to-Pay Software
Automating the S2P process could be a huge time and money saver for the business. Businesses that adopt source-to-pay software see higher sourcing savings through increased visibility into procurement. Key business processes can be integrated into a single platform to get signed contracts faster and more efficiently. S2P software can strengthen procedural, contractual, and regulatory compliance. The relationship with trading partners can also be improved by using source-to-pay software. Digitization of the source-to-pay process enables better pricing and accurate forecasting.
The main advantages of automating source to pay process workflow are listed below:
Faster and timely creation of purchase orders and faster approvals
Minimizes errors in ordering and requisition by automating process steps
Procurement teams get better visibility and accurate financial insight into procurement operations by using a source to pay for software
Automation frees up procurement staff from mundane procurement activities to focus on mission-critical activities
Automation also provides high cost and time savings.
Handling of non-PO-based invoices and invoice exceptions is more efficient with automation
Automation of the source-to-pay process enables quick processing of invoice receipts, validation, and matching of purchase orders against invoices.
Contract lifecycle management and strategic sourcing that supports vendor relationships and handles negotiation stages
Electronic procurement process that supports approval of purchase requisitions and purchase orders. The order and delivery of products and services can be simplified through automation
Timely payment processing and reconciliation is another advantage of automating the s2p workflow
Automation also enables the timely optimization of working capital and payment discount management
Automation enables efficient supplier information management, which helps understand supplier background and stability, and minimizes supply chain risks.
From simplifying the process flow to improving process efficiency to cost savings source-to-pay software brings several advantages to a business. A workflow automation software like Cflow can streamline the source-to-pay workflow by automating repetitive and redundant steps. Cflow is a cloud-based process automation solution that can be used for automating workflows in key business functions like finance, procurement, HR, and sales and marketing.
The visual form builder in Cflow allows business users to create custom workflows as per the unique needs of their business. Even a person with a non-technical background can easily create a workflow using Cflow. Businesses can do away with cumbersome paperwork and accelerate growth and success by using Cflow for automating their business functions. Working with third-party tools has never been this easy, integration with G Suite, Office 365, etc. via Zapier is a breeze with Cflow. The best part is that Cflow provides advanced functionality that enables people without a Cflow user license to approve a Cflow request.
Conclusion
The source-to-pay workflow plays an important part in the procurement function. It combines strategic sourcing, negotiating, ordering, and finance functions. Automating the source-to-pay process is a cost and time-efficient decision for a business. Workflow automation not only cuts out the repetitive and mundane steps but also improves operational efficiency drastically. The procurement team also gets time to focus on strategic initiatives that are essential for business growth when labor-intensive steps are automated.
Choosing the right workflow software makes all the difference to the success of automation. A feature-rich cloud automation software like Cflow enables businesses to automate key workflows quickly and efficiently. With Cflow you get all the business spending and supplier information onto a single automation platform for convenient access and control. Get started with workflow automation today by signing up for a free trial of Cflow.
What would you like to do next?​
Automate your workflows with our Cflow experts.​
Get your workflows automated for FREE
---