Travel request approval is imperative for every business as facilitating your employees to travel easily will enable them to carry out their work in an efficient manner.
When the company's process requires lots of traveling, it is important that you simplify the workflow and allow your employees to easily submit reimbursement requests. For team leaders and their subordinates traveling for business purposes, they may have to submit a request to the manager every time.
A streamlined workflow approval will allow them to spend less time on gaining approvals and the program should also be capable of automatically notifying managers of requests that need their immediate attention.
Elements Required in a Travel Request
With Cflow, it is easier than ever to set a travel request approval in motion and it requires some of the basic information to be processed.
The person creating the travel request should provide,
Purpose of the travel

The place they are going to and the duration of the stay

The cost involved in the trip

Any team members joining them which should be specified as it increases cost and further detail can be provided in the comments
The Workflow Process
Once a travel request is made with all the information specified, it will be directed to the Finance and HR team for further verification. The final step is to get it approved by the manager and all conditions have to be met for it to pass the final stage.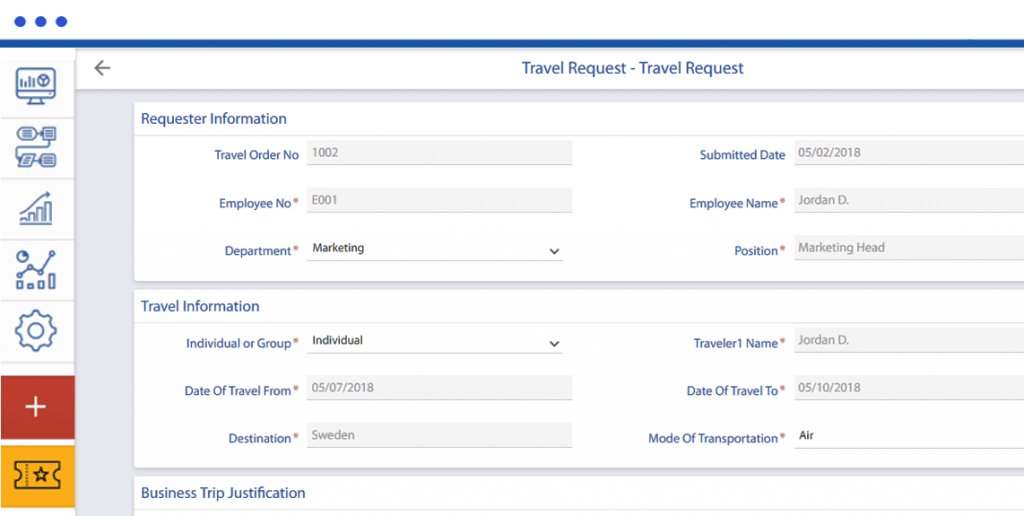 Easy Steps to Create Your Travel Workflow using Cflow
Create a new workflow titled 'Travel Request' and it should be made public so that all your employees can access it.

Create columns for travel information to be filled out including travel destination, request ID, requester name, itinerary, proposed cost, train/ flight tickets, and accommodation requirements.

Specify to whom it should be forwarded to, the Finance and HR team in most cases

The manager can be set as the travel request approval's final stage

You can set it to be forwarded to the requester and other departments so as to prepare for the upcoming trip.
Advantages of Using Cflow for Travel Request Approval
Employees don't have to spend time visiting multiple departments in a company

Can avoid using paper-based requests which are prone to errors and could go missing

HR and Finance team will get all details at once to plan to cost, on work leave ahead

Managers can approve the final request in one easy step

Timely notifications keep everyone notified of the upcoming trip

Helps avoid last-minute plans which lead to increased travel costs and also comply with the company's travel policies
Save Time, Make Travel Request Approval Quick & Easy
Cflow workflow software can help simplify travel request approval in quick and easy steps. The visual builder allows a person without coding knowledge to create workflows and share them with your employees.
Designed to make tasks easy, introducing Cflow in your organization can help employees plan their trips ahead, save cost on travel expenses, comply with company policies and create an amicable environment for your employees to get approvals from their team leaders or managers.
Try Cflow now and bring about a change in your travel request approval process.
Get your workflows automated for FREE