Simplify Travel Request Approval For Your Employees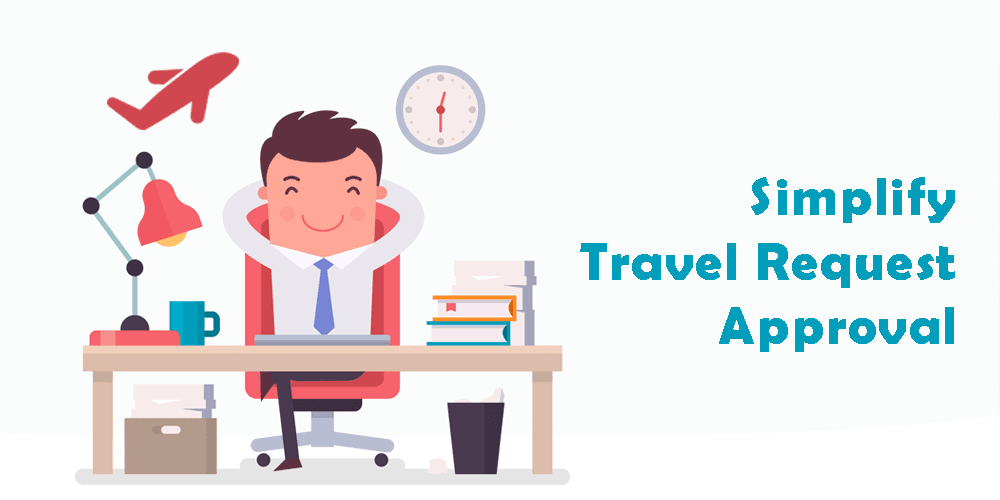 Travel request approval is imperative for every business as facilitating your employees to travel easily will enable them to carry out their work in an efficient manner.
When the company's process requires lots of traveling, it is essential that you simplify the workflow and allow your employees to easily submit reimbursement requests. For team leaders and their subordinates traveling for business purposes, they may have to submit a request to the manager every time.
A streamlined workflow approval will allow them to spend less time on gaining approvals and the program should also be capable of automatically notifying managers of requests that need their immediate attention.
Elements Required in a Travel Request
With Cflow, it is easier than ever to set a travel request approval in motion and it requires some of the basic information to be processed.
The person creating the travel request should provide,
Purpose of the travel
The place they are going to and the duration of the stay
The cost involved in the trip
Any team members joining them which should be specified as it increases cost and further detail can be provided in the comments
The Workflow Process
Once a travel request is made with all the information specified, it will be directed to the Finance and HR team for further verification. The final step is to get it approved by the manager and all conditions have to be met for it to pass the final stage.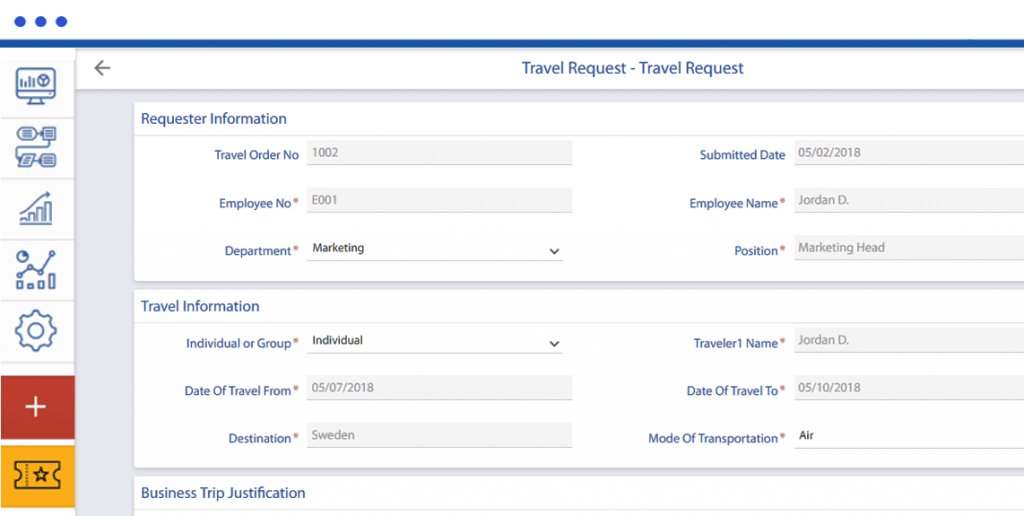 Easy Steps to Create Your Travel Workflow Using Cflow
Implementing a travel request workflow helps set a standard procedure for handling employee travel requests. Once the travel expense is incurred, the employee creates a form that details out business expenses during the entire trip. In most companies, domestic and international travel needs to be approved prior to booking a trip. You can either choose a workflow software or internal travel pre-approval process to handle travel request approval. Using a workflow automation software for approving travel requests speeds up the process considerably, and ensures timely review and approval of requests. 
Approvals for travel requests can be sought through emails or via an automated travel request workflow. Travel requests sent via email provide complete details on purpose of travel, category of expense, duration of travel, along with supporting documents as attachments. Approval process carried out on email is prone to delays and overlooks. 
Implementing an approval process workflow for temporary or permanent processes within your business, and help establish standards and procedures that are easy to follow. Such a workflow can be useful for both managers and employees. Managers can use automated workflows to organize a team's request in one central location for easy tracking and timely approval. For employees, it becomes easy to track the status of their request when they are logged into an automated approval system. 
An automated approval system comprises multiple workflows that work in tandem. While some workflows may use a shortcut to submit a request for approval, others may utilize the reaction-added trigger to ask follow up questions, approve/deny the request, or route it to a private channel for further discussion. An automated travel request workflow in Cflow enables you to – 
Browse all pending requests from employees

View all details of the travel request, including cost categories and attachments

Review and approve travel requests

Reject or re-route travel requests to employees for revision

View the history of employee travel requests
Cflow simplifies travel request management with the visual form builder that is used to create travel request workflows by simply moving visual workflow elements. 
Creating Workflows Using Templates
You can create and publish a form in Cflow within a few minutes by choosing from the templates available in the library. 

The template can be downloaded and form fields can be modified according to the travel request being submitted. 

The form fields in the template are usually used to gather all relevant information on the travel. Common fields to be included are "Travel Request ID" , Date of Submission, Travel request details like date and destination of travel, and relevant description. 

The user must upload relevant documents like ticket, cab bookings, stay details, etc. So, the template must have provision for the same.

Including a comments section prompts the user to furnish any additional information that is not included in the form fields. 

The reviewer has to be assigned in every workflow. 
Creating a workflow using flowcharts
Cflow also allows users to create travel request workflows from scratch with the help of flowchart-based forms. The visual form builder lets you choose the required form fields, set rules for routing the request, and also set a reviewer for each request. Steps for creating a workflow in Cflow include – 
Create a new workflow titled "Travel Request" and ensure that it is made public, so that all employees can use it.

Create relevant columns like travel destination, travel dates, request ID, requestor name and employee ID, itinerary, estimated costs, ticket details, and accommodation specifications. 

Once the form fields are fixed, next comes the reviewer/approver details. Who should be reviewing the travel request must be clearly mentioned in the workflow. 

Workflows that have multiple review/approval levels must be created with the name of the approver at each level, and the route of the request until final approval must be clearly defined. 

Travel requests usually involve inter-department approvals. The department in which the employee works, Finance, and HR are usually in the loop for approval of travel requests. 

What happens to the request when rejected, or the path for re-routing to employee for additional information, etc must be clearly defined while creating the travel request workflow.
End-to-end workflow automation
Build fully-customizable, no code process workflows in a jiffy.
Advantages of Using Cflow for Travel Request Approval
Employees don't have to spend time visiting multiple departments in a company
Can avoid using paper-based requests which are prone to errors and could go missing
HR and Finance team will get all details at once to plan to cost, on work leave ahead
Managers can approve the final request in one easy step
Timely notifications keep everyone notified of the upcoming trip
It helps avoid last-minute plans which lead to increased travel costs and also complies with the company's travel policies
Save Time, Make Travel Request Approval Quick & Easy
Cflow workflow software can help simplify travel request approval in quick and easy steps. The visual builder allows a person without coding knowledge to create workflows and share them with your employees.
Designed to make tasks easy, introducing Cflow in your organization can help employees plan their trips ahead, save cost on travel expenses, comply with company policies, and create an amicable environment for your employees to get approvals from their team leaders or managers.
Try Cflow now and bring about a change in your travel request approval process.
What would you like to do next?​
Automate your workflows with our Cflow experts.​
Get your workflows automated for FREE
---