Email Workflow Automation – Delivering Personalized Customer Engagement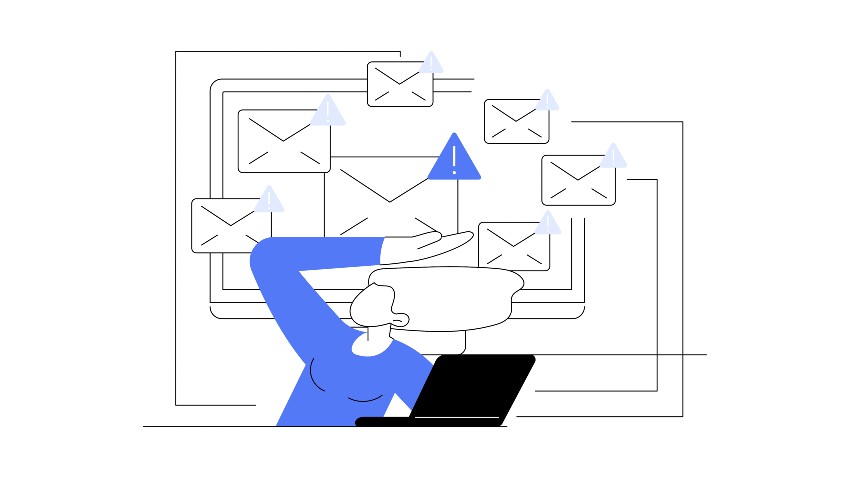 Customer engagement is a top priority for marketers. From using AI to predict customer behavior to hyper-personalization for delivering personalized customer experiences – marketers are leaving no stone unturned to actively engage their customers.
Email workflow automation is a great way to engage your contacts and create a good brand impression. You need a solid email workflow strategy to engage your customers actively.
Learn everything about setting up email automation workflows, types of automated email workflows, and email workflow automation examples. 
What is an Email Workflow?
From welcoming your new contacts to engaging them through your journey – creating a good brand story is only possible with a solid customer engagement strategy. Email workflow automation simplifies email marketing with pre-built templates that lay out the perfect customer engagement plans.
Email workflow automation is the process of creating automated email campaigns that keep the customer engaged. The customer behavior data and data profile are the triggers for automating these email series.
Email marketing automation workflows help marketers engage customers at every touchpoint. Every touch point in the content marketing journey contains relevant content based on the customer's behavior and data. 
An email workflow is a succession of emails that you trigger to send automatically based on predetermined criteria, like contact action, preference, or other custom data. Each email campaign should have mini-conversion goals that help guide the customer through the journey from initial contact and purchase to retention and loyalty.
An email automation workflow is particularly effective in automating your marketing efforts. Email workflows are triggered with subscriber behavior or data, like when a contact submits a form on your website, or clicks one of your email links or ads, or views a page on your blog. 
The primary aim of an email campaign is to accomplish a marketing goal like onboarding new clients or nurturing leads. They also encourage engagement with your existing customers by sharing interesting and relevant information. If nurturing brand loyalty is important for your business, then an email automation workflow can bring efficiency into the lead nurturing process. 
Email marketing automation workflows help marketing teams keep a tab of the status of email campaigns in real time. A few examples of automated email workflow triggers that are most commonly used by marketers include –
Leads who subscribe to your email list

Leads who viewed a specific website page

Leads with anniversaries or birthdays coming up

Leads who are located in a particular zip code
Setting up email automation workflows is quite a simple process when you have an email automation workflow template for each task in the email campaign. With the right email automation tools and templates, you can break the email campaign automation into 4 simple steps –
Creating the plan

Choosing the automation suitable for the campaign/business

Setting up the email automation workflow

Creating performance metrics to measure the success of workflow automation
With email automation, you can lead a customer down a dynamic path made up of a series of steps that change according to the customer's evolving needs. 
Types of Emails that Marketers Send
There are several types of emails that marketers can send to prospects and customers. Knowing the types of emails that are sent by marketers, helps create targeted email automation workflows. 
1. Informational emails
These are one-to-many emails that can be sent to people to bring them up to speed with regard to your latest content, product announcements, and more. 
2. Product update email
Sending product emails must be done with a considerable amount of deliberation. People generally don't want to receive these emails, basically because they are not typically as interesting or engaging as something like an offer email. Product update emails are simple and straightforward. 
3. Digital magazines or newsletters
Companies choose to send a roundup of stories or articles that are published on a weekly or monthly basis. The best way to get people to read these email round-ups is to make them visually appealing. 
4. Event Invitation
Email can be a great way to promote an upcoming event that you are hosting. Using a lot of visuals to showcase why the event is worth attending. 
5. Customized emails
Sending a dedicated email to a particular group of people to alert them about some events that might be of interest to them.
6. Co-marketing email
When two or more complementary companies partner together for some mutually beneficial task, promotion, or event, it is called co-marketing. Co-marketing emails aim at leveraging the audience of another company to increase its reach. 
7. Social media send
Sending a LinkedIn Announcement, creating a Google+event, or messages on other social media, are examples of social media sends. 
8. Internal updates
Sending internal updates or newsletters to their employees updating them about new product updates, marketing offers, or events is as important as external communication. 
9. Transactional emails
These are one-to-one emails triggered by specific actions, such as completing a purchase or signing up for a newsletter. 
10. Confirmation emails
Automatic confirmation emails are sent when you register for an event or make a booking. 
11. Form submission emails
Whenever a prospect, customer, or lead fills out a form on one of your landing pages, a kickback email must be automatically triggered upon form submission. Automatic emails make CTAs big and clear and link to the direct offer, not the form. 
Need for an Automated Email Workflow
Why do you need an automated email workflow? As per Radicati Group Research, the number of email users across the world is expected to exceed 347 billion by the end of 2023. Another survey by Content Marketing Institute found that 87% of marketers use email campaigns to nurture their audiences.
The majority of marketers who successfully nurture their leads use email campaigns. With email marketing playing such an important part in lead nurturing and engaging prospects, you need an email workflow automation that helps you manage email workflows better. 
Here are other reasons why you need to implement an automated email workflow –
Enables businesses to leverage all customer data that is available

Provides a base to manage a growing number of leads with a variety of needs

Develops a content strategy with the agility to adjust to user needs in a timely manner

Prompts users to open emails

Get users to click links within emails

Allows teams to focus on more important tasks

Offers lead segmentation

Makes reaching contacts with relevant content at the right time easier

Boosts marketing performance in the sales pipeline

Improves quality of leads

Encourages contact action like upselling, purchasing, and brand evangelism

Builds stronger customer relationships

Improves email open rates

Measures email marketing ROI accurately

Reduces customer churn

Increases customer lifetime value

Grows the lead database

Increases customer lifetime value
Email marketing automation gives businesses more control while minimizing human error and positively impacting your bottom line. 
How to Develop an Email Workflow?
Creating an email automation workflow can be simple or complex, depending on the clarity that the business has on the purpose and the tools chosen for automating the workflow. If you choose a no-code workflow automation solution like Cflow, then you can set up the email workflow within minutes by simply moving the visual elements of the workflow.
Email workflows can be linear or dynamic depending on the email campaign strategy. The strategy will decide the type of workflow, the various workflows that can be combined, and how to launch the automated workflow. 
Types of Email Workflows
The 2 main types of email workflows are
Drip campaign workflows

Nurture campaigns workflows
Drip campaign workflows
A drip campaign is an example of a linear, automated workflow that sends content to a segmented group of contacts on a set schedule and contains little or no marketing personalization.

Drip campaign workflow is mostly used for outreach campaigns that introduce new leads to your brand at a slower pace.

The drip campaign workflow can be triggered to send an email to a contact present in the lead database.
Nurture campaigns workflows
A nurture campaign is more of a targeted type that sends out personalized content to relevant interests and preferences of a contact at a given stage of the contact's journey. The schedule for sending out the nurturing emails is more strategized.

Nurture campaign workflow can be triggered based on a web form submission, content download, or any other specified user action.
In some cases, a marketer launches a drip campaign that includes a variety of links to its most popular posts, providing the contact with a number of choices. The manner in which the contact interacts with the email content provides insights into their interests and helps the marketing team determine which type of content to use for follow-up purposes. 
The automation setup for each of these 2 types of marketing workflows is different. Every business can use email campaign workflows in multiple email streams. What type of automation your business needs depends on the business context. There are several ways in which email marketing automation workflows help businesses with email management –
You can sell products that expire or have limited life

You can sell products that are complemented by others

You can follow up with leads better

You have access to customer purchase history and other preferences data to segment them

You can follow up on customers that don't always complete their purchases

You can send personalized series of emails to target audiences
Building and Managing an Automated Email Workflow
The key to building out and managing an automated email workflow is a robust campaign content strategy in place. A successful content marketing plan can be built and managed following the following steps –
1. Map out your campaign workflow
Use a flowchart to map out each email campaign workflow from start to finish. Mapping out the workflow helps the team visualize every step in the workflow to figure out improvement areas. 
2. Gather your resources
All the assets needed for your workflow need to be gathered once the workflow is mapped. Web forms, CTAs, landing pages, and all the key types of content needed to guide your lead through all the touch points, must be included while planning the workflow. The forms used within the workflow should work in accordance with the goal of the workflow where the customer is their journey. Some of the different types of content to focus on are- 
Educational/training

Blog posts/articles

Press releases

Announcements

Sales pitches

Frequently asked questions
3. Determine workflow triggers
Decide which event will set the automated workflow in motion. Some examples of workflow triggers are – 
New contact added to the list

Content downloads

Form submissions

Page visits

Brand interaction frequency

Opening of emails

Purchases

Clicks

Opt-ins

Transaction-based events

Contacting the sales and support team

Custom conditions

Contact tags based on specific user events

Milestones
4. Determine workflow conditions
Set conditions and utilize lead tags to help filter and segment your leads based on custom criteria. For instance, you can add a lead to a designated workflow if they have viewed a certain page. You can also cut off a lead from one workflow and add them to another based on the purchase history. 
5. Set email history
Establishing how far you want to space out your emails is important while building email workflows. The frequency varies depending on the type of workflow. For example, a new user email workflow must contain content that is different from what is added in an email for a lead that has signed up for a free trial. Getting this step right is very important for setting up the email workflow. When done right, this step helps the marketing team stay fresh in the lead's mind without overwhelming them. 
6. Launch the automated email workflow
Once the setup process is complete, the next step is to set the plan in motion. A set-and-forget strategy is not conducive to a successful marketing workflow. Timely review of the performance of the workflow, measuring the results, and conducting tests to see what is working and what is not is important to ensure that email automation works fine. 
7. Measure email workflow performance
The effectiveness of email automation can be measured by monitoring key performance metrics. These metrics provide high project visibility and the ability to track real-time results at a glance. The key performance data that needs to be captured includes –
Emails sent

Email open rates

Conversion rates

Retention rates

Subscribe/unsubscribe rates

Average order value

Total contacts that completed the workflow

Active contacts in workflow
End-to-end workflow automation
Build fully-customizable, no code process workflows in a jiffy.
Email Workflow Automation Examples
Not all types of email workflows can be automated. There are some situations where you need to send out customized emails on a case-to-case basis.
Here are a few examples of email workflows that you should automate in your business. 
Welcome email
The welcome email is triggered when a user subscribes to the email newsletter or registers on the website. This is the most basic form of an automated email that is a good chance to remind contacts of the value they can get from your blog, encourage them to review their subscription settings and promote your brand and products. Welcome and thank your contacts for subscribing, and then you can let them know about the following-
Popular, relevant, and top-performing content that might be of interest

Where they can find you on social media

Where new customers can find helpful training guides

More information about your business or product, as well as promotions and new products
Topic workflows
These emails are triggered when an offer is downloaded. The download of industry-related content like an e-book or white paper triggers a series of follow-up emails that promote related content. You can combine an email workflow for each topic. 
Lead nurturing workflows
These emails are triggered by top-of-the-funnel conversion events. When visitors download marketing offers, customized workflows can nurture these potential customers by sending them content for the next stop in the funnel. 
Re-engagement workflows
These workflows are triggered when there is a period of inactivity with respect to customer engagement. A re-engagement workflow is a way to reconnect with inactive or dormant customers. The contact list can be populated based on customers who –
Have made purchases but haven't returned them for some time

Created accounts or registered their emails with your website

Signed up for free trials with little or no follow-up engagement
Abandoned cart workflow
This workflow is triggered when a user abandons the shopping cart. People often place products in their carts and then leave the site without buying anything. Sending emails with a subject line that says "It looks like you have forgotten something.", whenever there is an abandoned cart. 
Free trial Sign up Workflow
People that sign up for free trials are potential customers. Automating the free-trial emails ensures a high conversion rate. The email content could be thanking them and offering them any onboarding information that can help them convert into paying customers. 
Conclusion
Your automation will only be as powerful as the email marketing automation workflow. A fully customizable workflow automation software like Cflow helps create email workflow automation without coding even a single line of code. The visual form builder in Cflow allows users to create workflows within minutes.
To explore how Cflow simplifies the email automation workflow and makes it more effective, sign up for the free trial right away. 
What would you like to do next?​
Automate your workflows with our Cflow experts.​
Get your workflows automated for FREE
---