Content Creation Workflow – Know How You Can Optimize and Strengthen Your Content Marketing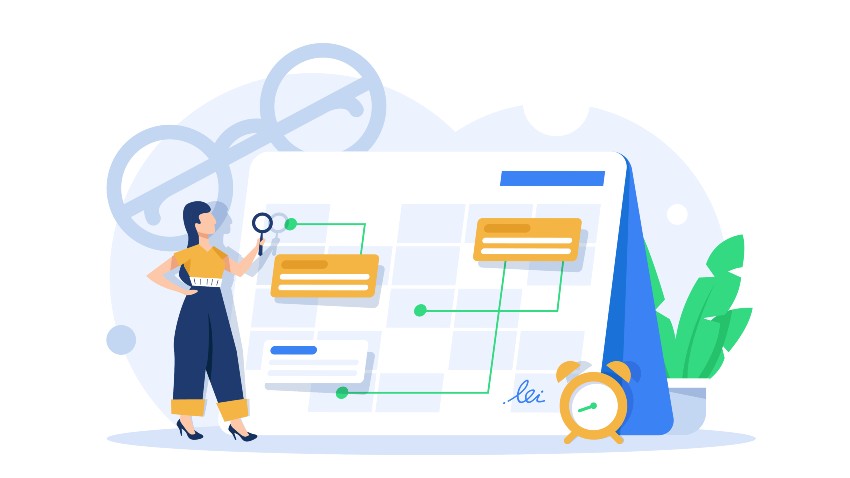 With the constant pressure of always wanting to be creative in developing content, it is difficult to manage all the projects that line up simultaneously. On top of that, the entire content team has to be in perfect coordination that will help them research, organize and delegate the work correctly.
This is where the role of content creation workflow gains relevance. Want to know how having a content creation workflow is beneficial? You are here at the right place. We have some pointers below on the attributes of a content creation workflow and how to develop an effective one. 
What is a Content Creation Workflow?
Creating content has become a challenge. The goal is to produce optimized content and be consistent in it. For this, the hassles of planning and delegating the tasks have to be done away with for the content specialists to invest their entire focus on creating exceptional content. Having a good content creation workflow is the best solution here. An automated creation workflow streamlines all the processes, starting from keyword research to approval and publishing, into creating any content. 
A content strategy workflow encompasses a set of tasks aligned resulting in the publishing of any content. This content can be a blog post, social media content, or webpage content and they all can be put under a strategizing workflow to produce superior content for your organization. This workflow shows the pathway of how your organization produces content as it entails your team's strategy and tactics for delivering effective work. 
How is a Workflow different from a Process?
A process generally describes the sequence in which a particular task is supposed to be carried out. It acts as a step-by-step guide that you can follow and complete all the activities that go inside a particular task. So what makes a workflow any different?
A workflow is a task-sequence presenter that shows the tasks that go behind each organizational process. There are a few things to understand and remember when it comes to workflows.
Firstly, each team or department's work process is just one workflow component. Multiple such processes across teams make up to form a workflow.
Secondly, your workflow will detail everything from the beginning to the end of content creation. Finally, the one thing that makes workflow different from a process is that the former also includes details of parameters like roles, responsibilities, availability of resources, and even deadlines that are part of creating content.
Why Do You Need Content Creation Workflow?
Marketing is one of the most involved teams when it comes to the promotion and sales of your product/service. Your content team has been working on a calendar, regularly updating SEO topics and keywords, followed by assigning it to content writers and developers. This existing system can be standardized and made more proficient using automated workflow.
Having an automation workflow gives you space to optimize your processes. This in turn escalates your overall efficiency in developing content along with clarity and precision in the organization that goes behind it. Let us compare the situations – with and without a content creation workflow. 
Content Creation Workflow – With vs. Without
With Content Creation Workflow
Without a Content Creation Workflow
Process Breakdown

You have a step-by-step breakdown of the processes. It makes it more systematic and trackable. 

You will not have a defined flow of work. Sometimes this can create unclarity due to the lack of systematic instructions. 

Consistency in Publishing

Your publishing schedule will move forward on a regular basis. This helps you bring in consistency, which is essential for content flourishing.

Without a creation workflow, your team may not be under any scrutiny. This could result in lethargy and not regularly updating content. This will bring down the engagement on your posts.

Delegation of Responsibilities

There is a proper delegation of responsibilities and tasks set in place. This improves the productivity of the team

In the lack of a workflow, roles and responsibilities might not be clear. Due to this, there will be an absence of proper delegation of work and responsibilities

Handling Bottlenecks

There will be no bottlenecks in the presence of an automated workflow for content creation.

It is more likely to pile up a lot of projects simultaneously due to the absence of a task chronology.

Quality Assessment

In a workflow system, your content will go through a standard quality check at each step. This will enable the team to come up with the most efficient content for your organization.

Generally, a manager or an editorial team will have to sit and spot errors, do corrections, and make suggestions. It simply wastes time.

Visibility and Tracking

With content creation workflow, the stages of the processes are trackable and the progress of each employee is visible.

On a traditional non-streamlined workflow, the manager will not be able to track 

Resource Utilization

Processes are streamlined effectively so that there is no waste of any resources or time.

Without proper handling of tasks, most often steps are repeated and resources are wasted without any curb.

Efficiency and Productivity

With a content creation workflow, the content produced is matchless and perfect. It gets distributed and promoted well. This drives the productivity of your organization.

With the lack of a content strategy workflow, the team is likely to spend a humongous amount of resources and skills compromising on quality. Content produced may not garner the expected engagements. This will affect the overall productivity of your organization.
Task-based and Status-based Content Creation Workflow
Going for any workflow automation for content creation may not be very rational. You have to choose the apt type of workflow that will be suitable for your team's running and the organization's productivity. Workflows can be typically classified into two, namely, task-based and status-based.
Task-based:
In this type of workflow, the tasks are made as the different stages in the sequence. Here, the tasks are defined step-by-step in a detailed manner. Hence, all the team members will automatically know what is supposed to be done. This type of format is much more suitable for a content creation team who are less in number or beginners where there is clarity of the jobs, what has been covered, and what needs to be done further. An example:
Status-based:
If we are looking at an experienced team, then a status-based workflow will be a good choice, and it can be easily managed. This format workflow becomes handy when you need to track the progress of any work. In case your team is using a status-based workflow, it becomes mandatory that your teams have a clear idea of your content creation process. An advantage to this type of workflow is that it is flexible in nature. The template does not have to be changed at all even if the type of the content changes. An example: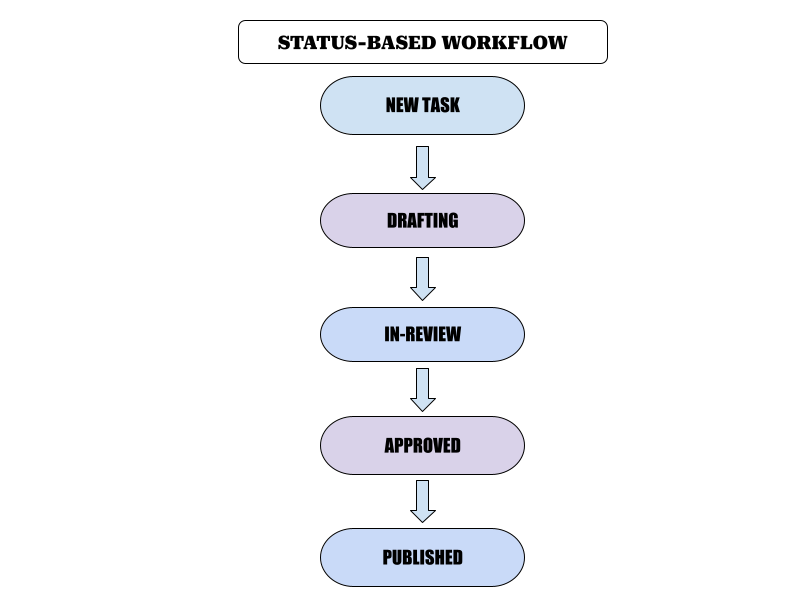 Attributes of a Content Creation Workflow
Planning and organizing your content creation workflow is an essential process. Your team has to understand their strengths and weaknesses and draft an appropriate structure that will be beneficial to each member and the organization in general. Therefore, understanding some important features of a workflow is mandatory. We have some of them listed below.
Visual Workflow Generation:
The team must be able to produce a visually appealing workflow that is simple so that every member of the team can easily understand and follow without much complication. 
Defined Stages of Content Creation:
A content creation workflow must have a provision where at each stage the processes are defined elaborately and clearly. These defined stages include processes from planning, managing, producing, and publishing, to even analytical criteria detailed regarding the content. 
Tasks involved in Processes:
The listing of tasks within each process will make it easier for the members, especially trainees to quickly and easily get used to the system. It also nourishes the result by aiding in the productivity of the team.
Specified Roles and Responsibilities:
This is a notable feature in a content creation workflow. The roles and responsibilities of each team member at each stage must be specified with clarity. This feature avoids unwanted communication, confusion, and delay. A system like this will generate accountability among the team members. 
One example can be the following arrangement: The responsibilities of the content creators can be the conceptualization and deliverance of the content. The role of the editors of the team can be proofreading and editing the content. And lastly, the managers can go for approval of the content produced or ask to be revised. An organization can also include a Search Engine Optimization team that takes care of the analytics and insights of the published content.
Collaboration Tools and Resources:
An effective content creation workflow will encourage the use of collaborative tools and other resources and assets in the production of new content. Certain tools that are regularly used by the content or the SEO team, can be added as a standardized tool for the team. 
For example, keyword research might be done using certain tools, these can be taken as a formal unit of your team. When these instruments and resources are documented officially, they increase the efficiency and consistency of the group, sealing gaps in the work. 
Scheduling of Tasks:
A good feature to have in your workflow is setting a schedule for the tasks. With scheduling, a timeline of the entire process can be created, deadlines for submission or approval, and also generate notifications for reminders for due or expired deadlines. This will allow your teammates to work systematically by organizing and prioritizing tasks. 
End-to-end workflow automation
Build fully-customizable, no code process workflows in a jiffy.
Crucial Steps in Creating a Strong Content Creation Workflow
By keeping all the essential attributes of a content creation workflow in mind, you can easily build an effective workflow for your team. Familiarize yourself with the following steps 
Develop content creation objectives and target audience
Your first step is to establish your team's goals, objectives, and desired outcomes with your team and organization. Your devised objectives need to align with the goals of your organization as well to contribute to overall productivity and success. These set objectives will act as a guide to your team as they will match the content to the outcome expected automatically. This will also lead you to the right target audience.
Distribute Roles and Responsibilities for the Tasks
Here is where you decide what are different tasks to be done, and detail out the roles and responsibilities. Following this, you have to delegate it to your team members. The most common roles in a creation workflow include content creators like writers, an SEO team, designers, etc, editors, strategists, and a social media team. The tasks are designated according to these roles and ensure a seamless flow of work with no overlapping or confusion. This system garners accountability within the team.
 Determine Content Types and Publishing Frequency
The type and the frequency of the content must be decided at this point. A calendar can be built to show the schedule of all the planned tasks and track the status of it as well. Several types of content might go into your publishing channels like blogs, newsletters, video content, social media content, and even podcasts. Therefore, determining what should be the content on each of these channels is essential. All these details can be specified in the workflow that you follow. Make sure the frequency of the post must be uniform as well in order to gain better coverage.
Choose the Right Automating Platform
Creating a workflow is an important step, but before that, it is necessary to choose the right tool to automate the workflow of your choice. A lot of advantages come with automation. Some of the tasks can be effectively automated which saves a lot of resources. Cflow is one such platform where you can easily create a workflow and meet your expectations. 
Engineer a Content Creation Process
When all of the primary planning and allocation of the tasks are done, it is now the right time to develop a content creation process on the automating tool. Build a workflow that is most apt and convenient for your team. Firstly, It is crucial to note that the steps might differ for different types of content, so create workflows that explain the necessary details with clarity. Secondly, set the timeline and deadlines realistically. An impressive output is what matters. 
Measure Performance Rate
Measuring your performance is a step you can never skip. It is highly mandatory to do a proper assessment of the team's performance with the workflow that is present. This will give you an idea of the effectiveness of the workflow generated. If you come across any drawbacks, a detailed analysis of insights will surely help you to make changes accordingly. 
Inspect Your Content Regularly
Your workflow does not end with the publishing of the content. You have to keep optimizing it with the changing trends. It is always better to add analytics to your content creation workflow. Regular auditing of your content will help you optimize your workflow too. 
Create Exceptional Content Creation Workflows With Cflow
Cflow is a platform that enables you to create automated workflows without any struggle. Our platform is among the top no-code workflow automation software available with the best features. A notable speciality of this tool is the ease of use and it is designed to make your workflows intuitive and seamless. Not only content creation but all of the business processes can be streamlined in one space. Some of its unique features include:
With Cflow, you can easily create new workflows with just a simple drag-and-drop action.

There are visual cues available that you can choose from to indicate the different stages making it more visually engaging.

More tools are available in the Control Center which can be used to update your workflow after it is published.

Pre-designed templates are already available for you. You also have the option to customize the workflow according to your needs and liking. 
As Cflow offers a zero coding user experience, it has a deep sense of clarity. An added advantage is that it can be integrated with 1000+ essential business tools making it easier for you to work across different platforms. Some essential third-party applications like SAP, and Zapier among many others are integrated seamlessly with Cflow.  In case, your business demands more features or external support outside of the software, with the integration feature you can easily connect to different applications without leaving the interface. Therefore, Cflow ensures the continuous flow of work.
Building a content creation workflow should never be a laborious task for you. Having creation workflows is very essential to your team and no matter the size of your organization, certain business processes are much more efficient when automated. Automation has become the norm and it holds several advantages over manual processes. Even in the case of constructing content strategy workflows, a strategic approach is required to deliver the best outcomes. Cflow is one such visual workflow builder that can make your workflow creation process so much easier and more effective. Check out Cflow's free trial today and get started.
What would you like to do next?​
Automate your workflows with our Cflow experts.​
Get your workflows automated for FREE
---