A Comprehensive Guide to Business Process Monitoring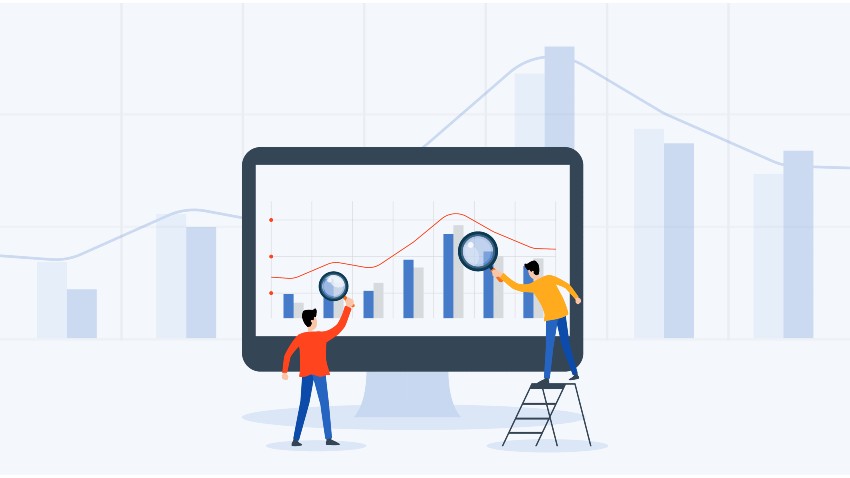 Processes are the building blocks of any business. Whether it is a product or a service company, business processes are the cornerstone upon which the entire business operations depend on. Smooth and streamlined business operations require constant monitoring and optimization of business processes. Process monitoring is essential for the smooth functioning of a business. In this blog we will be talking about business process monitoring, the need for process monitoring, various process monitoring tools, and the advantages of using process monitoring software. The role that workflow automation plays in effective business process monitoring is also explored in this blog.
What is Business Process Monitoring?
Maintaining the quality of products or services is no longer an option for businesses. Product/service quality is not always a cost-benefit trade-off; it benefits the business in the long run by maintaining and improving customer relationships. Good quality products actually boost business profits by lowering costs in the long term. Good quality products mean that you do not have to scrape off products that are not as per specifications or rework bad products.
To achieve such high levels of final product quality, our systems must produce low-variability products at every step. Discovering the poor quality of the product at the end of the product lifecycle results in huge losses and results in resource wastage. Instead, processes must be monitored in real-time, intermediate steps must be tracked, and raw materials must be scrutinized before being used in the process. Timely process monitoring helps detect deviations and variations in the process and helps take corrective actions immediately.
Business process monitoring is the proactive and process-based monitoring of the core business processes. The process of monitoring includes observation of all the technical and application-related functions that are required for a smooth and reliable flow of core business processes. Business service monitoring involves complete observation and tracking of business process performance key indicators, background tasks, and program scheduling management tasks. To monitor business processes we need detailed procedures for error handling and problem resolution, the precise definition of contact persons, and escalation paths.
What are the Goals of Process Monitoring?
* To detect problem situations as early as possible so that they can be solved before they cause critical damage to the business
* Using a tool to provide defined monitoring procedures and to enable the organization to respond to and solve problems more proactively
Business monitoring includes all activities of reviewing and analyzing the performance of such processes for identifying successes and problems. The monitoring process is part of the business process management (BPM) lifecycle. BPM monitoring is carried out via business process monitoring software or tools.
Components of Business Process Monitoring
Business process monitoring covers a wide scope of activities that focus on every target of the business. For a business process monitoring system to be successful, a structured approach is needed. The components of a business process monitoring solution include:
Functional monitoring – Functional monitoring involves a specific application and reviewing how it is performing its role within a specific process. BPM monitoring is an effective way of detecting any problems within a system or a process. Findings of functional monitoring need to be applied within the broader business context to make improvements and figure out potential solutions.
Technical business process monitoring – This component of business process monitoring focuses on the performance analysis of specific systems, software, or equipment. Technical monitoring is quite popular in organizations, especially those that are keen to check that their ROI is healthy and that their systems are operating at optimum levels.
Activity monitoring – Activity monitoring is a comprehensive type of BPM because it encompasses the entire spectrum of activities and workflows that exist in a business. This type compares the performance of systems, equipment, and software, and how they integrate and work within a whole process. It is an essential part of business process monitoring systems.
Need for Business Process Monitoring
Why do you need a business process monitoring system? There are several ways in which process monitoring can help a business.
Real-time monitoring – BPM monitoring is the ideal way of monitoring the performance of all processes and comparing performances across different processes. Monitoring processes help identify duplicate or repetitive tasks and identify problems that cause performance issues. Once the process loopholes are identified, it becomes easy to make improvements and track progress. This is one of the critical reasons why BPM monitoring can be effective.
Enables interdepartmental integration – A business runs on several interrelated processes that span various departments. Using a business process monitoring system integrates various processes that span across departments so that business goals are reached.
Regular health checks on processes- Business processes are not fit-and-forget types. They need to be reviewed regularly to ensure that their performance is aligned with overall business goals. Regular health checks of business processes can be done by business process monitoring systems. There are so many things that change in processes on a daily, weekly, or monthly basis. Monitoring processes helps businesses to keep up with these changes and ensure that they accurately reflect business operations.
Types of Process Monitoring
Depending on the end goal of monitoring a process, process monitoring may be classified into the following types. The types of monitoring include:
Business Activity Monitoring –
Activity monitoring is mostly implemented during the initial stages of a project. The sole purpose of activity monitoring is to monitor business inputs and resources, along with examining how activities and outputs are delivered. It is often conducted in conjunction with compliance monitoring and feeds into impact evaluation.
Compliance Monitoring –
The purpose of compliance monitoring is to ensure that processes are compliant with donor regulations, grants, contract requirements, local governmental regulations and laws, ethical standards, and with expected results of the project. Processes must be compliant at all stages of the project execution.
Context Monitoring –
This is also referred to as situation monitoring. The overall setting in which the project operates is monitored in context monitoring. Context monitoring helps us identify and measure risks, assumptions, or any unexpected situations that may arise within the organizational, political, and landscape. These assumptions and risks are external factors that are not within the scope of the project. Situation monitoring helps identify these external factors in time to influence the success or failure of the project.
Beneficiary Monitoring –
The need for Beneficiary Contact Monitoring may arise at any stage of the project cycle. The main focus of beneficiary monitoring is to track the overall perceptions of direct and indirect beneficiaries related to the project. It includes beneficiary satisfaction or complaints with the project and its components.
Organizational Monitoring –
Organizational monitoring tracks institutional development, communication, collaboration, capacity, and sustainability, both within the organization and with its partners and stakeholders.
Financial Monitoring –
The main intent of financial monitoring is to measure financial efficiency within a project. All the expenditures incurred by the project in comparison with the allocated budget can be tracked by financial monitoring. This type of monitoring helps the project team form strategies to maximize outputs with minimal inputs.
Results Monitoring –
Monitoring the results of a process helps gather data to demonstrate a project's overall effects and impacts on the target audience. It helps the project teams determine if the project is on track and moving towards intended results and whether there are any unintended impacts.
Benefits and Advantages of Business Process Monitoring
Business process monitoring is not just a tool, but rather a set of comprehensive procedures that take care of error handling, problem identification, and resolution. The main advantages of a process monitoring system are listed below:
Complete monitoring of business processes – A good business process monitoring system ensures end-to-end monitoring of all the processes that run the business. The stakeholders of these processes are kept informed about the progress of respective processes so that they can make informed business decisions.
Proactive and process-oriented alert monitoring – A process monitoring system that empowers stakeholders to proactively monitor the process status. Alerts and notifications are issued to the managers in charge of reviewing and approving tasks to ensure that processes are not delayed.
Better visibility and process overview – Process monitoring systems provide a graphical representation of the business process which helps the team understand the process flow and status of various tasks. The graphical representation provides deeper visibility and a complete process overview.
Structured and documented error handling – Automated processes have very less or nil error margins. The process monitoring tool properly documented the incidence of errors or deviations so they can be avoided in future projects.
Detecting and responding to problems proactively – real-time process monitoring helps teams to identify process issues immediately and find the right solution quickly and efficiently.
Lower the total cost of ownership – Process monitoring helps identify redundant tasks in the process so that they can be removed from the workflow. Eliminating repetitive and redundant tasks brings down the time and costs associated with the process.
Prevents cost-intensive process downtime – Long process overtime presents huge financial losses for the business. Monitoring processes continuously helps reduce the frequency of process downtime.
Process Monitoring and Management
Organizations that are process-managed need to follow the process monitoring approach that uses indicators that provide guidance for continuous process improvement and effective resource utilization. To be able to make the right decisions in the area of quality management, it is necessary to know the quality level of the subjects that are in the subject of the decision. Process monitoring involves –
Process evaluation
Making corrective action that will help increase the possibilities of the process
Recording and controlling deviations
Process learning
Compare results with external and internal references
Each process has a goal, and process management aims at reaching the goal as efficiently as possible. The goals of the process are derived from the goals of the organization. It is important that they must be aligned with the company's strategy and customer requirements. Process goals must be Specific, Measurable, Achievable, Achievable, Relevant, and Time-Bound.
Process monitoring is usually done based on key performance indicators (KPIs). The effectiveness of a process indicates the extent to which planned activities are implemented and planned results are achieved. For example, for a process, the measure of effectiveness may be the ratio of the number of defective products to the total number of products. The effectiveness of management processes is measured against the goals that the organization intends to achieve as a result of the decisions made.
Common KPIs that process monitoring systems take into account are:
Quality – Meeting the requirements and expectations of internal and external customers
Profitability – Described by the ratio of profits achieved to the capital employed, profits achieved, or sales volume
Productivity – Defined by the ratio of the number of products delivered by the system to the number of resources used to produce a product or service
Quality of work life – Regarding employees' acceptance of working conditions, measured by employee satisfaction
Innovation – The ability of the organization to create new, more efficient, and more functional products or services
How to define the indicators for a process?
The following 2 points must be borne in mind while defining performance indicators for process monitoring –
Process attributes – These attributes constitute reference points for process improvements
Process goals – Goals that are aligned with the overall organizational goals
The various indicator types are – Key result indicators (KRI) that measure the effectiveness of results; result indicators (RI) that measure result effectiveness; key performance indicators (KPIs) that measure process efficiency; and performance indicators (PI) that measure a specific area of the process.
Is it just enough to establish process indicators?
Process requirements are formulated around process indicators. Process wonders must use process monitoring results based on the metrics so that informed decisions may be taken. Monitoring a process without reacting to failure to meet its objectives can cause resource strain and result in a lack of process improvement. Process measurement only makes sense if the metrics are calculated based on process data that is continuously collected and documented. Process indicators enable organizations to –
Gain feedback on actions taken
Make fact-based decisions
Maintain objectivity in decisions
Recognize the involvement of responsible persons in achieving results of their work
The main aim of business process monitoring is to provide transparency about the end-to-end process health based on key performance indicators.
End-to-end workflow automation
Build fully-customizable, no code process workflows in a jiffy.
Cflow – An Effective Business Process Monitoring Tool
Business processes need to be monitored at all times to ensure that the tasks are running on time and their outcomes are aligned with the overall business goals. Business leaders need to stay on top of the progress of all the business processes to ensure that operations are going on smoothly. Automating the key business processes is the most effective way to monitor business processes. Cflow is one of the best business process monitoring tools that can automate key business workflows. This BPM tool is a no-code platform that can be used to automate business workflows like Finance, Procurement, HR, IT, and marketing.
What is a workflow automation and how will it help in process monitoring? Seamless process workflows are necessary for smooth business operations. Process workflows that are devoid of redundant and repetitive steps help in cost and time savings. Workflow automation helps eliminate process redundancies and standardizes business processes. A workflow automation software like Cflow brings standardization into business processes. A process workflow is a series of activities that can be streamlined for better performance. Automation software improves the performance of workflows by turning them into rule-based processes. When processes are run by rule-based software, tasks automatically run the way they are supposed to and expected business outcomes are achieved.
The logic and rules that run the automated workflow are like instructions that tell the program what actions to take and how to move from one task to another. The software works on these rules to perform a series of tasks from beginning to end so that humans no longer need to waste their time on mundane tasks. All organizations could benefit from automating repetitive notifications, permissions/approvals, and other basic tasks. A Zapier report, reveals that 95% of small and medium-sized businesses said that they perform repetitive, time-consuming tasks using automation software.
Why do organizations go for process automation?
* To increase efficiency
* Minimize errors
* Boost productivity
* Accelerate business process
Cflow helps automate business processes so that stakeholders can monitor business processes at all times and track their progress. Workflow automation software can be used by small, medium, and enterprise businesses.
How does Cflow help in process monitoring?
Visual form builder- businesses can use the visual form builder to create workflows through simple drag-and-drop options. Visual workflows make it super easy to track and monitor business processes.
Integrations – Cflow enables seamless integrations with third-party applications like SAP, and Zapier, among others, for a smooth flow of process workflows. Integration with other business applications makes it easy to track processes that are interconnected.
SLAs and escalations – automated processes make it simple to deliver a common set of instructions across all employees. Business leaders can easily track business processes and their SLAs with Cflow.
Documentation of workflows – Cflow aims to reduce the workload and stress on process documentation. All related documents can be digitized, stored, and managed easily online. Tracking processes' progress via the digital path is much easier, and access to important documentation can be easily given to stakeholders for monitoring processes.
Business rules engine – Cflow makes processes more reliable and predictable with the rules engine that provides rules that ensure tasks are executed in the right sequence. Once the business rules are set, tracking and monitoring the process becomes easy.
All core business processes can be effectively automated with Cflow. This no-code automation software helps create efficiencies that scale as your business grows with streamlined workflow management.
Conclusion
Business processes are the life and blood of any organization. Maintaining the health of a process requires a process monitoring system. Monitoring a business process requires constant monitoring of key performance and result indicators. Once we automate the key processes using workflow automation software, it becomes easy to track the progress of the process. Business process monitoring is essential for the health of an organization. Constant monitoring of the process ensures that the process is going as per the schedule and the results are aligned with the overall organizational goal.
Business leadership can rest easy when Cflow is taking care of its processes. Business operations can be streamlined and standardized by the software so that the outcomes can be measured and tracked at all times. The visual form builder helps build customized process workflows. To explore the rich features offered by Cflow, contact us for a quick demo.
What would you like to do next?​
Automate your workflows with our Cflow experts.​
Get your workflows automated for FREE
---