Business Process Automation – A Boon or Bane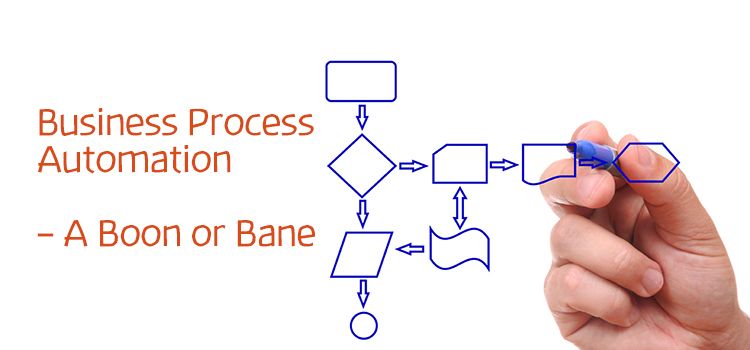 Automation, whether business process automation or general automation essentially means, "The use of computers or other control systems to control a particular process to increase reliability and efficiency, often through a reduction in labor." What does this line convey to you? I see both a boon and a bane in this definition of automation.
Automation increases reliability and efficiency and thereby productivity. At the same time, it does cause a reduction in the employee workforce. There are certain advantages to the employees due to automation that might outweigh the disadvantages.
To find why your company needs to adopt workflow automation, here I have listed some of the compensating benefits of business process automation and recorded a few yet noteworthy banes of automation also.
Automation Benefits
Automation of the business process is it a small, medium, or large business influences both efficiency and effectiveness.
Increased efficiency is achieved by reducing the time involved in meting out paperwork.
Effectiveness is accomplished by increasing data precision and reducing excess manual work.
The competence of both the managers and employees improves and leads to better and quicker decisions.
Administrative burden reduces considerably.
Business process automation can be achieved across various industries and different departments within companies. HR process automation is a frequent use case, and companies may choose to either use a workflow software for automating some typical processes like leave approvals and expense approvals or use a dedicated HR management system like Cflow or CavinHR for automating all HR-related processes within the organization. A fully featured HRMS goes beyond approvals and provides self-service features to empower employees.
Recruitment automation is another crucial area of HR management. Hiring is simplified. Gone are the days of meeting first, technology enables us to screen & scrutinize the profiles with the right keywords and zero in on the right resource for the right job. Cavin Recruit will be a simple, easy-to-use, and incredibly useful 'Applicant Tracking System' for your company.
Report generation across all types of industries is made easy through automation. People do not work on reports for days now. It can be generated in a jiffy, and you do not have months of training to enjoy these exceptional benefits of automation.
One of the significant roles of automation in industries both technical and manufacturing is 'Cost-Saving.' Resource management and Time management have been made easy. Chances of repetitions, errors, and rectifications are also reduced considerably.
End-to-end workflow automation
Build fully-customizable, no code process workflows in a jiffy.
Shortcomings of Automation
Automation is all about data, and one of the primary disadvantages of automation is that information is prone to corruption/hacking/data losses.
Training the employees to gain specific knowledge to utilize the automated applications will be an initial investment in which the organizations should be ready to invest.
Data entry errors are possible as automation performance depends solely on human programmers and end-users.
Reduces human interaction and interpersonal contacts.
The proclivity of being dependent on technology will reduce the reliance on human resources, thus it poses a high risk to the necessary foundation of HR.
From the above pointers, we see the benefits of automation overshadowing the failings, and I would conclude that automation in industries is a blessing in disguise in making the business process more effective and efficient, along with savings in costs and making the tasks more accurate and less time-consuming.
What do you think? Ponder over and share in your contributions to the boon or bane aspects of automation.
What would you like to do next?​
Automate your workflows with our Cflow experts.​
Get your workflows automated for FREE
---